Escalating Tensions Between U.S. and China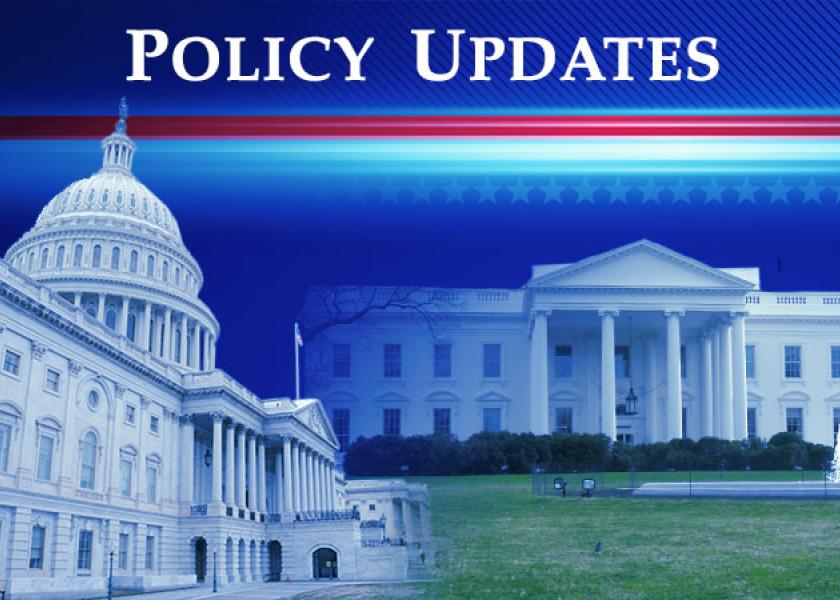 Funding and spending issues remain in push for BIF, BBB end zone
---
In Today's Digital Newspaper
---
Market Focus:
• Chinese newspaper warns more real estate developers likely to default on bonds
• Bunge reports strong Q3 results, raises full-year outlook
• Biden administration presses ports, terminals, and trucking industry to address backlog
• U.S. now bitcoin mining leader after China crackdown
• Ag demand update
• Grain, soy futures part of broader selling overnight
• China's coal futures drop again
• Russia extends current grain export taxes for another week
• Bunge reports strong Q3 results, raises full-year outlook
• Choice beef pushes higher
• Hog market cash fundamentals weaken 
Policy Focus:
• BBB and BIF: Funding and spending issues stymie end zone push 
Biden Administration Personnel:
• Senate confirms ambassador picks
China Update:
• FCC votes to cancel permission to operate in U.S. for a unit of China Telecom
• China warns U.S. support for Taiwan poses 'huge risks' to ties
• U.S. climate envoy John Kerry meets today with his Chinese counterpart
• China's coal futures drop again 
Trade Policy:
• Reuters reports rise in U.S. rejections of contaminated meat from Australia 
Livestock, Food & Beverage Industry Update:
• Lawmakers urge White House hunger conference

Coronavirus Update:
• Pfizer vaccine for younger kids wins backing of FDA panel
Other Items of Note:
• Iran's president: Cyberattack meant to create 'disorder'
---
MARKET FOCUS
---
Equities today: Global stock markets fell today after Australian inflation rose to a six-year high and a Chinese newspaper warned more real estate developers are likely to default on bonds, while investors looked ahead to U.S. economic growth data due out this week. The U.S. stock indexes are pointed to slightly lower openings. Earnings from Coca-Cola, McDonald's and Kraft Heinz, expected before the opening bell, will offer hints about how companies are dealing with shortages of workers and raw materials. Asian equities ended mostly lower as Australian inflation data come in above expectations. The Nikkei fell 7.77 points, 0.03%, at 29,098.24. The Hang Seng Index declined 409.53 points, 1.57%, at 25,628.74. European equities are weaker in early action with traders monitoring earnings updates. The Stoxx 600 was down 0.3% with regional markets nearly steady to down 0.5%.
     U.S. equities yesterday: The Dow ended up 15.73 points, 0.04%, at 35,756.88. The Nasdaq gained 9.01 points, 0.06%, at 15,235.71. The S&P 500 was up 8.31 points, 0.18%, at 4,574.79.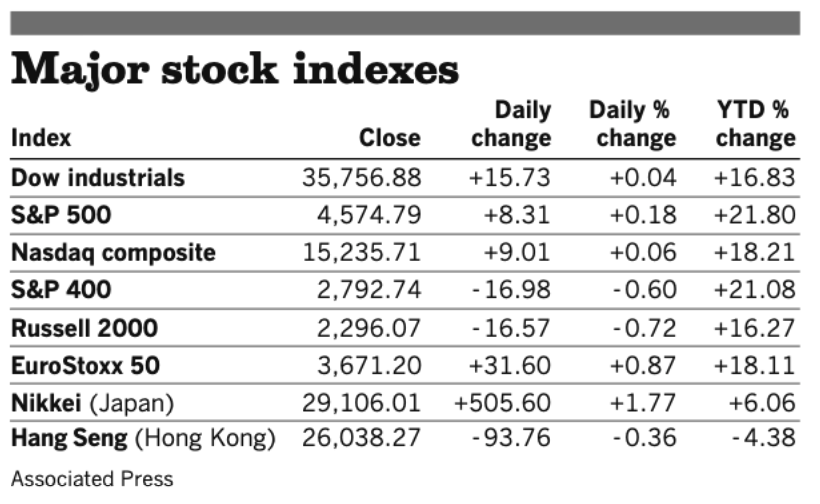 On tap today (see detailed list of events and reports below):
     • Durable goods orders for September, due at 8:30 a.m. ET, are expected to decline 1%, after a 1.8% increase in August.
     • Bank of Canada releases an interest rate decision at 10 a.m. ET.
Bunge reports strong Q3 results, raises full-year outlook. Bunge reported profits of $4.28 per share and a net income of $645 million in the third quarter. Greg Heckman, Bunge's CEO, commented: "We delivered a truly exceptional quarter. Our team was nimble, insightful and proactive, effectively managing supply chains, capacity and risk. Our global platform has allowed us to serve our customers — both farmers and end consumers — in today's volatile environment... Looking ahead, we expect the favorable market trends to continue. We are well-positioned to help our customers across the supply chain address the challenges in meeting increasing consumer demand for sustainable food, feed and fuel." Bunge now expects full-year adjusted income to be at least $11.50 per share from the previous outlook of at least $8.50 per share.
Biden administration presses ports, terminals, and trucking industry to address backlog. The Washington Post reports two weeks after Biden administration officials announced steps toward round-the-clock operations at the nation's chief port complex, the backlog of ships anchored off the coast of Southern California has only grown larger. There is little sign that truckers are taking advantage of terminals' extended hours to move containers off the crowded docks. The WaPo says this "deepening freight logjam is defying President Biden's hopes of restoring normal cargo movements, hampering the economic recovery and threatening consumers' holiday shopping plans." The WaPo adds "as complaints mount from affected shippers, administration officials are pressing ports, terminals and truckers to rethink their operations. On Monday, the ports of Los Angeles and Long Beach said they would impose new daily fees on cargo carriers in a bid to clear the docks and make room for containers stuck on ships offshore."
     An adviser to Governor Gavin Newsom (D-Calif.), Dee Dee Meyers, told reporters Newsom was not going to declare a state of emergency in a bid to help with port congestion. "The governor is not declaring a state of emergency," she said. "I don't think... the situation legally checks the boxes that it would need to check." Newsom did issue an executive order after President Joe Biden announced earlier this month that to Port of Los Angeles would operate 24/7, to help speed up the movement of goods by boosting road capacity and opening temporary cargo storage sites. However, she said the decision by the ports of Los Angeles and Long Beach to start charging $100 per day for each container that stays in a terminal too long will help clear the backlogs.
Market perspectives:
     • Outside markets: The U.S. dollar index is slightly weaker ahead of U.S. economic updates, with the euro edging up versus the greenback. The yield on the 10-year U.S. Treasury note was slightly weaker, trading just under 1.6%, with a generally weaker tone in most global government bond yields. Gold and silver futures are under mild pressure ahead of US trading with gold around $1,791 per troy ounce and silver around $24.05 per troy ounce.

     • U.S. is now the bitcoin mining leader after China crackdown. After a gov't crackdown in China, many miners are betting on reliable access to energy and a more predictable regulatory environment in the U.S. More than a third of the global computing power dedicated to mining bitcoin is now drawn from machines in the U.S., up from less than a fifth last spring, according to data from the University of Cambridge. Bitcoin mining has become a lucrative endeavor with the price of one bitcoin currently worth about $60,000. To birth fresh bitcoins, powerful computers, many online 24 hours a day, compete to solve a series of math puzzles in the hopes of unlocking new coins. Bitcoin's network only releases new cryptocurrency every 10 minutes, and the number of coins it releases is set to diminish in the future.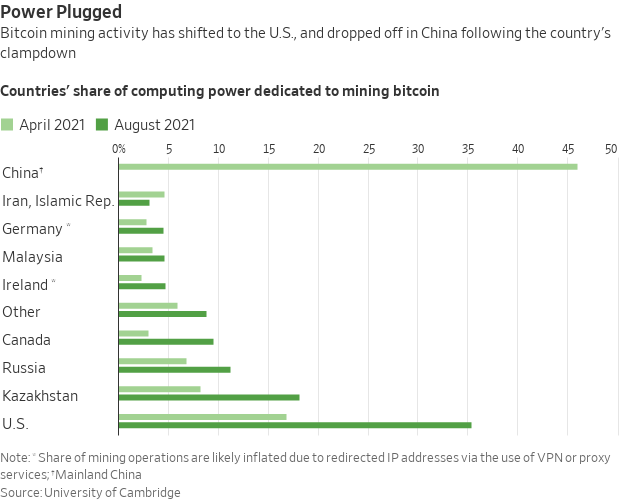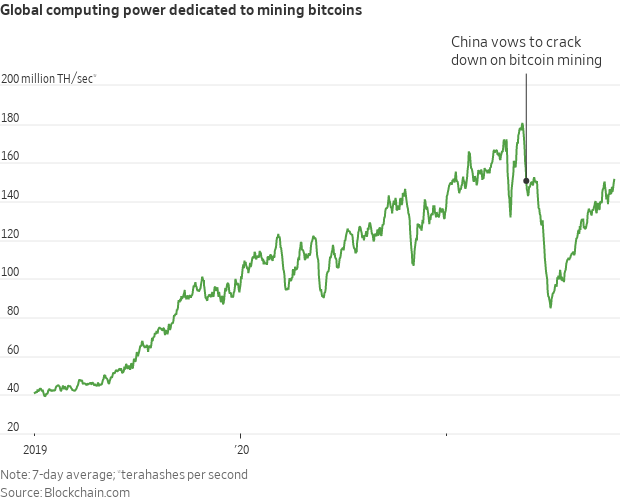 • Crude oil futures are lower as markets await U.S. gov't inventory data due later this morning after inventories were higher than expected in American Petroleum Institute data. U.S. crude is trading around $83.50 per barrel and Brent around $84.70 per barrel. Crude futures were under pressure in Asian trading, with U.S. crude down 47 cents at $84.18 per barrel and Brent was down 33 cents at $85.32 per barrel.
     • Ag demand: Egypt yesterday afternoon issued a tender to buy at least 55,000 MT of soft and/or milling wheat from the U.S., Canada, Australia, France, Germany, Poland, Argentina, Russia, Kazakhstan, Ukraine, Romania, Bulgaria, Hungary, Paraguay and Serbia. Results of the tender are expected later today.
     • NWS weather: Rain and strong winds associated with Nor'easter will begin to wind down across the Northeast today as system moves out into the Atlantic... ...Anomalous low pressure system to spark severe weather across Gulf Coast today and then much of the Southeast on Thursday... ...Wet pattern continues across the Pacific Northwest through Thursday.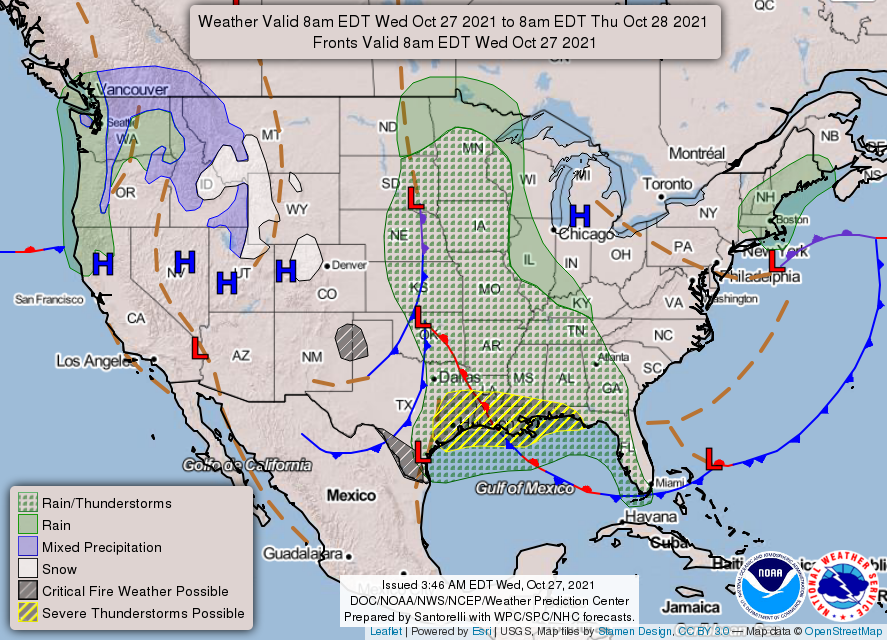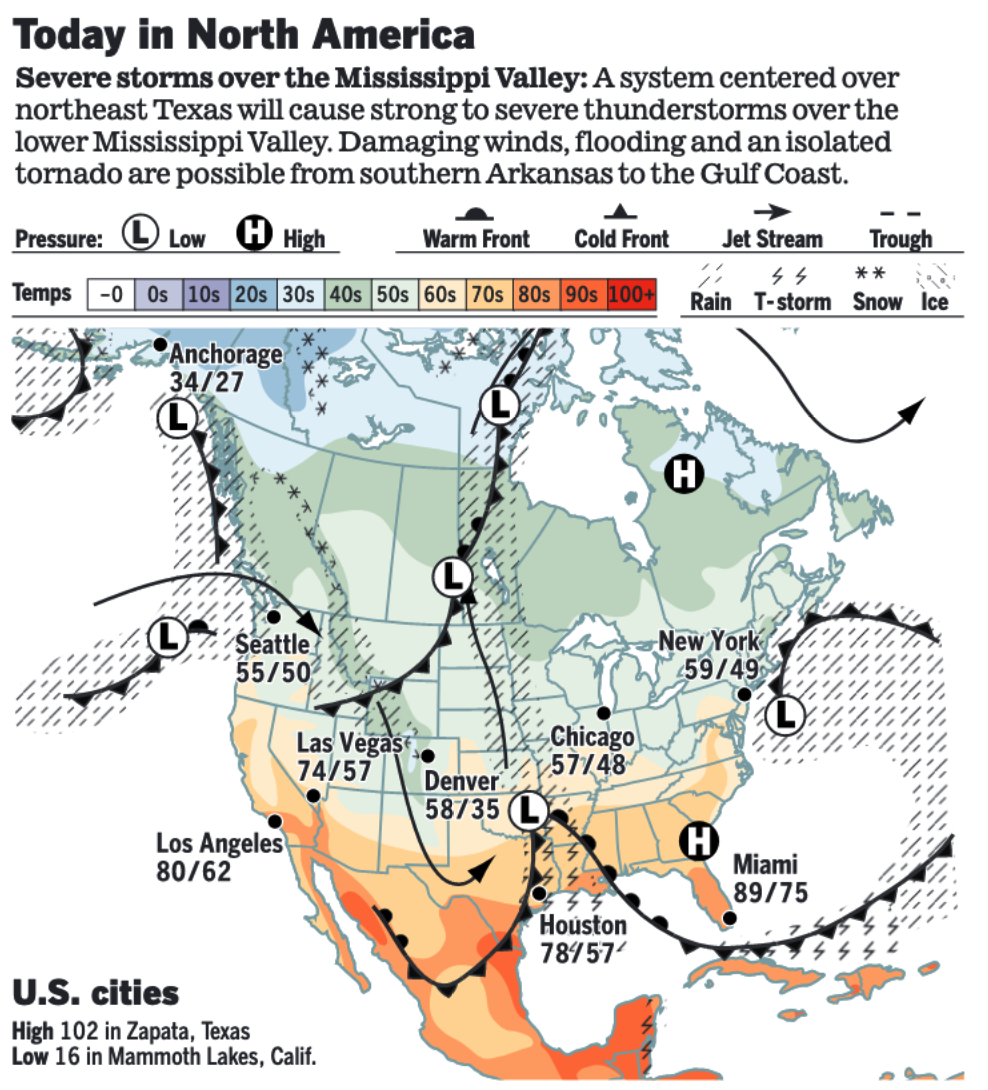 Items in Pro Farmer's First Thing Today include:
     • Grain, soy futures part of broader selling overnight
     • China's coal futures drop again
     • Russia extends current grain export taxes for another week
     • Bunge reports strong Q3 results, raises full-year outlook
     • Choice beef pushes higher
     • Hog market cash fundamentals weaken
---
POLICY FOCUS
---
— Democrats can't be close to framework agreement on BBB because funding options and spending details keep surfacing/changing. Unless there are major areas of agreement before President Biden heads to Europe tomorrow, odds are slim for a major framework accord on the around $2 trillion Build Back Better (BBB), which also continues to change.
     Is the BBB still linked with getting the around $1 trillion bipartisan infrastructure (BIF) package? Yes. And key Democrat progressives are not wavering in that previous grouping. Another short-term extension to expiring (Oct. 31) surface transportation funding could be necessary. House Progressive Caucus Chair Pramila Jayapal (D-Wash.) reiterated Tuesday that progressives "want to vote both bills now"; however, if "the president has, you know, an ironclad commitment from all 50 senators, we will vote both of them out of the House," she said. Rep. Alexandria Ocasio-Cortez (D-N.Y.) took a harder line, saying "a mere framework is not enough… If we have a vote on the bipartisan infrastructure plan, great. We need to have a vote ready for the Build Back Better plan, not a framework. We want to have both of these votes together," she said.
     But signs of a framework/funding agreement are emerging. Progressives applauded when reports surfaced that the White House would include between $500 billion and $550 billion for climate-related provisions in the reconciliation package.
     President Biden on Tuesday again met with Senate Democratic centrists Joe Manchin (D-W.Va.) and Kyrsten Sinema (D-Ariz.).
     BBB funding options are not settled, with some potential avenues being unveiled. Senate Finance Committee Chair Ron Wyden (D-Ore.) released a "billionaire income tax" proposal early this morning. According to Wyden, his plan "would ensure billionaires pay tax every year, just like working Americans. No working person in America thinks it's right that they pay their taxes and billionaires don't." The 107-page proposal (link) would impact around 700 Americans, and it would generate roughly $300 billion in revenue. The tax would only apply to Americans with more than $1 billion in assets or more than $100 million in income for three consecutive years. The Joint Committee on Taxation hasn't scored the legislation yet.
     Other features of the billionaire income tax:
"Non-tradable assets" such as real estate or "business interests" wouldn't be taxed annually, but the capital gains tax plus an interest charge ("deferral recapture amount") would be due when they are sold.

Wyden supports a transition period to adjust to the new system.

A provision would allow affected taxpayers to "treat up to $1 billion of tradable stock in a single corporation as a non-tradable asset" so they don't lose control of their companies.

Rules/language is included to ensure taxpayers can't avoid the tax.
     Key is whether Manchin and House Ways & Means Chairman Richard Neal (D-Mass.) will support the billionaire income tax.
     Another funding option surfaced Tuesday evening. Wyden and Sens. Elizabeth Warren (D-Mass.) and Angus King (I-Maine) released a 15% corporate minimum tax proposal. The supporters said the Joint Tax Committee had estimated it could raise up to $300 billion to $400 billion over a decade, but no formal scoring was unveiled. Sen. Sinema released a statement last night backing the idea.
     Other unsettled BBB areas include specific spending options. For example, Medicare prescription drug negotiations continues to be raised by Sen. Bernie Sanders (I-Vt.) who insisted it must be included, as do Wyden and House progressives. But other Democrats object to the proposal, saying it will hamper the discovery of new drugs and treatments. Some talk has surfaced that the final package may allow Medicare to negotiate on a small number of drugs.
     Expanding Medicare to cover dental, vision and hearing is another plan Sanders has pushed consistently, but Manchin has opposed. Biden has mentioned an $800 voucher for dental work, talks on this topic continue.
     Paid family leave: Biden last week said the initially proposed 12 weeks of paid family leave was trimmed to four weeks. But Manchin still has concerns about this, and he apparently is negotiating on the issue with Sen. Kirsten Gillibrand (D-N.Y.).
     SALT: Latest language on this is for a two-year repeal.
     The IRS bank monitoring provisions: Manchin on Tuesday said that will not be in the final plan, but some House Democrats are still pushing for it. The National Republican Congressional Committee is running a political ad in 15 districts around the country, aimed at Democrats' plan to have the IRS monitor Americans' bank accounts.
---
BIDEN ADMINISTRATION PERSONNEL
---
— Senate confirms ambassador picks. The Senate on Tuesday confirmed several of Biden's ambassador nominations, including former Arizona senator Jeff Flake to be ambassador to Turkey; former New Mexico senator Tom Udall to be ambassador to New Zealand and Samoa; and Cindy McCain to be U.S. representative to the United Nations Agencies for Food and Agriculture.
---
CHINA UPDATE
---
— The U.S. Federal Communications Commission voted to cancel permission to operate in the U.S. for a unit of China Telecom, one of three leading communications providers in China. The U.S. ban of China Telecom (Americas) Corp. signals an escalation of tension. The FCC said it was taking action against the state-owned China Telecom Corp.'s U.S. business because the company was "subject to exploitation, influence, and control by the Chinese government." The decision means China Telecom Americas must now discontinue U.S. services within 60 days.
— U.S./China tensions accelerate further after Blinken calls for U.N. support of Taiwan. Geopolitical watchers say U.S. Secretary of State Antony Blinken's comments are a sign of the U.S. upgrading its support for Taiwan while not yet signaling a major policy change, calling for U.N. member states to support the island taking part in international bodies.
     Beijing protested to Washington over the remarks, saying they would lead to a big disruption in China/U.S. relations. "The U.S. has continued to make mistakes in words and deeds on the Taiwan issue, and China has made a firm and necessary response. If the U.S. continues to play the 'Taiwan card', it will inevitably cause a huge disruptive effect on Sino/U.S. relations," said Chinese foreign ministry spokesman Zhao Lijian.
— Today in London, U.S. climate envoy John Kerry meets with his Chinese counterpart Xie Zhenhua as the two seek an avenue of cooperation while other U.S./China ties deteriorate (see previous two items). The Washington Post reports Kerry reportedly faced opposition from other White House aides in calling for an early summit between Presidents Joe Biden and Xi Jinping to advance climate policy.
— China's coal futures drop again. China's thermal coal futures slumped to their lowest in more than a month, marking the sixth consecutive day of declines, after the country's state planner said it would conduct "clean up and rectification" of unlicensed coal storage sites. The most-traded thermal coal futures contract on the Zhengzhou Commodity Exchange is down more than 40% from the record highs hit last week as the Chinese gov't has stepped up surveillance of the coal situation amid a supply shortage. A slew of gov't measures has caused open interest in thermal coal futures to fall sharply as traders liquidated positions.
---
TRADE POLICY
---
— Reuters reports rise in U.S. rejections of contaminated meat from Australia. USDA's Food Safety and Inspection Service (FSIS) rejected 10 shipments of meat from Australia in 2020 due to contamination with feces or other digestive matter, up from one in 2019 and four in 2018, according to internal USDA data reviewed by Reuters. By contrast, Canada and New Zealand had only one shipment each rejected due to contamination, with Mexico having none.
     For the first two months of 2021, the data showed three shipments of Australian meat had been rejected for the same reasons with none for Canada and Mexico, the data showed. Reuters said USDA did not provide more-recent information when asked.
     The contaminated shipments were from JBS Australia, Thomas Foods, Fletcher International Exports, Australian Lamb Co., and V&V Walsh, Reuters said, indicating they cross-referenced internal data with publicly available information.
     FSIS said in a statement to Reuters that its inspections provide "confidence in the safety of product from Australia that enters into U.S. commerce." FSIS further noted that only 0.6% of mean physically examined in 2020 was rejected, but the agency did not indicate the level of all imports that were examined. Australia's Department of Agriculture, Water, and the Environment (DAWE) told Reuters in a statement that "Australian non-compliances remain very low — both relative to Australia's total volume of meat and meat products exported, and when compared to competitor trading partners." However, internal memos reviewed by the news service indicated Australian officials were concerned over the rising rate of rejections. The item chalked up the rise in rejections to a shift within Australia of meat companies increasingly self-inspecting meat shipments as opposed to checks done by government inspectors.
     Data from 2019 put Australia meat exports to the U.S. at 760 million pounds, 18% of total U.S. meat imports, mostly in the form of lamb, mutton, veal, and beef.
---
LIVESTOCK, FOOD & BEVERAGE INDUSTRY
---
— Lawmakers urge a White House hunger conference. Urban and farm-state lawmakers want the White House to convene a conference on U.S. hunger, which hasn't happened since 1969, and intend to pass legislation calling for one before the end of the year. The effort is bipartisan and bicameral, meaning the bill could easily be included in one of several legislative packages expected to see action in the next few months, including the year-end spending measures.
---
CORONAVIRUS UPDATE
---
— Summary: Global cases of Covid-19 are at 244,629,081 with 4,965,156 deaths, according to data compiled by the Center for Systems Science and Engineering at Johns Hopkins University. The U.S. case count is at 45,616,157 with 738,883 deaths. The Johns Hopkins University Coronavirus Resource Center said that there have been 415,012,026 doses administered, 190,793,100 have been fully vaccinated, or 58.1% of the U.S. population.
— Pfizer jab for young kids gets FDA advisors' nod. FDA vaccine advisers voted to recommend emergency use authorization of Pfizer's Covid-19 vaccine in children 5 to 11. Members agreed the benefits of vaccinating younger kids appear to outweigh risks, and some were reassured by the fact that the dose for younger kids is much lower -- one-third the amount -- than an adult dose. Now, the FDA itself must decide whether to authorize it before the question goes to CDC advisers next week and finally the CDC director.
---
OTHER ITEMS OF NOTE     
---
— Iran's president: Cyberattack meant to create 'disorder.' Iran's president said today that a cyberattack which paralyzed every gas station in the Islamic Republic was designed to get "people angry by creating disorder and disruption," as long lines still snaked around the pumps a day after the incident began.
---
EVENTS AND REPORTS
---
Wednesday, Oct. 27
· Covid and U.S. meatpackers. House Oversight and Reform Coronavirus Crisis Subcommittee hearing on "How the Meatpacking Industry Failed the Workers Who Feed America."
· CFTC nomination. Senate Ag Committee hearing on the nomination of Rostin Behnam to be chairman and a commissioner of the Commodity Futures Trading Commission.
· DOJ oversight. Senate Judiciary Committee hearing on "Oversight of the Department of Justice," with Attorney General Merrick Garland.
· China issues. Atlantic Council virtual discussion on "Europe's energy crisis and the path forward."
· November APEC conference. Center for Strategic and International Studies virtual 2021 Asian Architecture Conference Session Two focusing on the Asia-Pacific Economic Cooperation (APEC) forum in November.
· CFPB review. House Financial Services Committee hearing on "Bringing Consumer Protection Back: A Semi-Annual Review of the Consumer Financial Protection Bureau," with Rohit Chopra, director of the Consumer Financial Protection Bureau.
· U.S. Covid response. House Appropriations State, Foreign Operations and Related Programs Subcommittee hearing on "United States Global Covid-19 Response: Actions Taken & Future Needs."
· EPA nomination votes and nomination hearing. Senate Environment and Public Works Committee markup to vote on the nominations of Carlton Waterhouse, to be assistant Environmental Protection Agency administrator for the Office of Solid Waste; Amanda Howe to be an assistant EPA administrator; and David Uhlmann to be an assistant EPA administrator. The panel also holds a hearing on the nominations of Henry Christopher Frey to be an assistant EPA administrator; and Jennifer Clyburn Reed to be federal co-chairperson of the Southeast Crescent Regional Commission.
· Small business programs. House Small Business Economic Growth, Tax and Capital Access Subcommittee hearing on "A Review of the Small Business Investment Company (SBIC) Program."
· Wildfire workforce issues. House Natural Resources National Parks, Forests, and Public Lands Subcommittee hearing on "Wildland Firefighter Workforce Reforms."
· Energy taxes and climate change. Brookings Institution virtual discussion on "U.S. energy tax policy and climate change."
· TSCA. House Energy and Commerce Environment and Climate Change Subcommittee hearing on "TSCA (Toxic Substances Control Act) and Public Health: Fulfilling the Promise of the Lautenberg Act."
· Drones. Federal Aviation Administration webcast of the Drone Advisory Committee (DAC).
· Maritime and shipping issues. Federal Maritime Commission teleconference of the National Shipper Advisory Committee, with roundtable discussions on detention and demurrage, information sharing, and current observations of the state of the supply chain.
· U.S./China relations. New York University, Washington, D.C. virtual discussion on "From Trump to Biden and Beyond: Reimagining U.S./China Relations."
· Coal issues. House Natural Resources Energy and Mineral Resources Subcommittee hearing on "The Federal Coal Program: A Bad Deal for Taxpayers and a Threat to Climate."
· EVs. The National Academy of Sciences, Engineering, and Medicine (NAS) virtual workshop on "Navigating an Electric Vehicle Future," day three of four.
· Energy infrastructure. Senate Homeland Security and Governmental Affairs Governmental Operations and Border Management Subcommittee hearing on "Strategies for Improving Critical Energy Infrastructure."
· Economic reports.  Durable Goods Orders | International Trade in Goods | Wholesale Inventories  
· Energy reports. EIA Petroleum Status Report | Weekly Ethanol Production | Genscape ARA weekly crude inventory
· USDA reports. ERS: Livestock and Meat Domestic Data NASS: Broiler Hatchery | Peanut Stocks and Processing
---