Cybersecurity Attack on Meat Supplier JBS' IT Systems in U.S. and Australia
More U.S. inflation | Aggressive China | Frost/Freeze in Upper Midwest
---
In Today's Digital Newspaper
---
Market Focus:
• Link to Saturday Policy Updates
• OECD raises world economic outlook but warns recovery is uneven
• OECD: Global economy will return to pre-pandemic levels by 2022
• U.S. prices expected to keep rising this summer… inflation watch continues
• How will we know when inflation is here to stay?
• Friday is focus for key economic updates… Jobs report, Fed speakers
• Potential home buyers on the sidelines
• China became the world's largest movie market for the first-time last year,
• Rising expectations for demand continue to support crude oil
• Some freezing temps came as low as northern Iowa
• Cryptocurrency draws focus in Washington
• Natural gas prices are up 15% this year
• Brazil's corn crop: northern corn areas missed needed rainfall,; Parana garnered some
• Bye-bye bull markets in ag sector?
• Ag demand update
• Frosts and freezes for the Upper Midwest over the holiday weekend
• Marked soy crush retreat expected to be reported for April
• Cordonnier holds S. American crop ests. steady; concerns linger re Brazil's safrinha crop
• IKAR raises Russian wheat crop peg
• Ukraine's wheat exports still shy of 16 MMT with one month left in marketing year
• State weather office expects average Indian monsoon
• Argentina suspends 12 beef exporters, investigating five others
• Beef production drops notably
• Hogs soar into month's end
Policy Focus:
• Paycheck Protection Program (PPP) closes to new applications
• Info coming soon on Pandemic Cover Crop Program (PCCP)
• Biden's blueprint to reform and expand legal immigration, including farm workers
• Two courts block Biden's SBA from passing out benefits by race
Biden Administration Personnel
• President Biden considering naming two Kennedys to represent him abroad
China Update:
• China will allow couples to have three children to cope with aging society
• Official gauge of Chinese factory activity slipped in May
• China gets aggressive to those global fashion brands questioning its practices
Trade Policy:
• Growing number of U.S. businesses urge Biden to lift metal tariffs
Energy & Climate Change:
• Biden's funding request: 24.1% boost to EPA's core rule-writing and enforcement programs
• Texas lawmakers clear bills responding to state energy crisis

Livestock, Food & Beverage Industry Update:
• Cybersecurity attack on meat supplier JBS' IT systems in U.S. and Australia
• Food Box program by name comes to an end
• Sales of organic and cage-free eggs growing fast, as sales of conventional eggs fall
• How trucker shortage is fueling the meat crisis

Coronavirus Update:
• U.S. reports lowest level of infection since early days of pandemic
• Vietnam finds worrisome new Covid-19 hybrid
Politics & Elections:
• Dems 'walking filibuster' stops Texas GOP's sweeping voting bill
• President Biden's schedule this week
Other Items of Note:
• Israel's opposition uniting to eject Benjamin Netanyahu
• Biden, Putin jockey ahead of meeting later this month
 
---
MARKET FOCUS
---
Equities today: U.S. stock futures ticked higher, pointing to tepid gains at the opening bell ahead of manufacturing data. In Asia, the Shanghai Composite Index rose nearly 0.3% by the close, and Japan's Nikkei 225 ticked down 0.2%. The Stoxx Europe 600 rose 1.1%, putting the pan-continental stocks gauge on track to close at a record.
On tap today:
     •  IHS Markit's U.S. manufacturing index for May is expected to hold at 61.5, unchanged from a preliminary reading. (9:45 a.m. ET)
     • Institute for Supply Management's manufacturing index is expected to tick down to 60.5 in May from 60.7 the prior month. (10 a.m. ET)
     • U.S. construction spending for April is expected to increase 0.5% from the prior month. (10 a.m. ET)
     • Dallas Fed's manufacturing survey is expected to fall to 36 in May from 37.3 a month earlier. (10:30 a.m. ET)
     • Bank of England Gov. Andrew Bailey speaks at a Reuters Global Responsible Business event at 11 a.m. ET.
     • USDA Grain Export Inspections at 11:00 a.m. ET.
     • Federal Reserve: Vice Chairman Randal Quarles speaks on the economy and financial regulation at 10 a.m. ET, and governor Lael Brainard speaks on economic and monetary policy at 2 p.m. ET.
     • USDA Crop Progress report at 4 p.m. ET.
OECD raises world economic outlook but warns recovery is uneven. The Paris-based group expects global output to rise 5.8% this year, a significant upgrade from the forecast of 4.2% made in December. Growth of 4.4% in 2022 would bring most of the world back to pre-pandemic levels of activity, it added. "As countries transition towards better prospects, it would be dangerous to believe that governments are already doing enough to propel growth to a higher and better path," said Laurence Boone, OECD chief economist.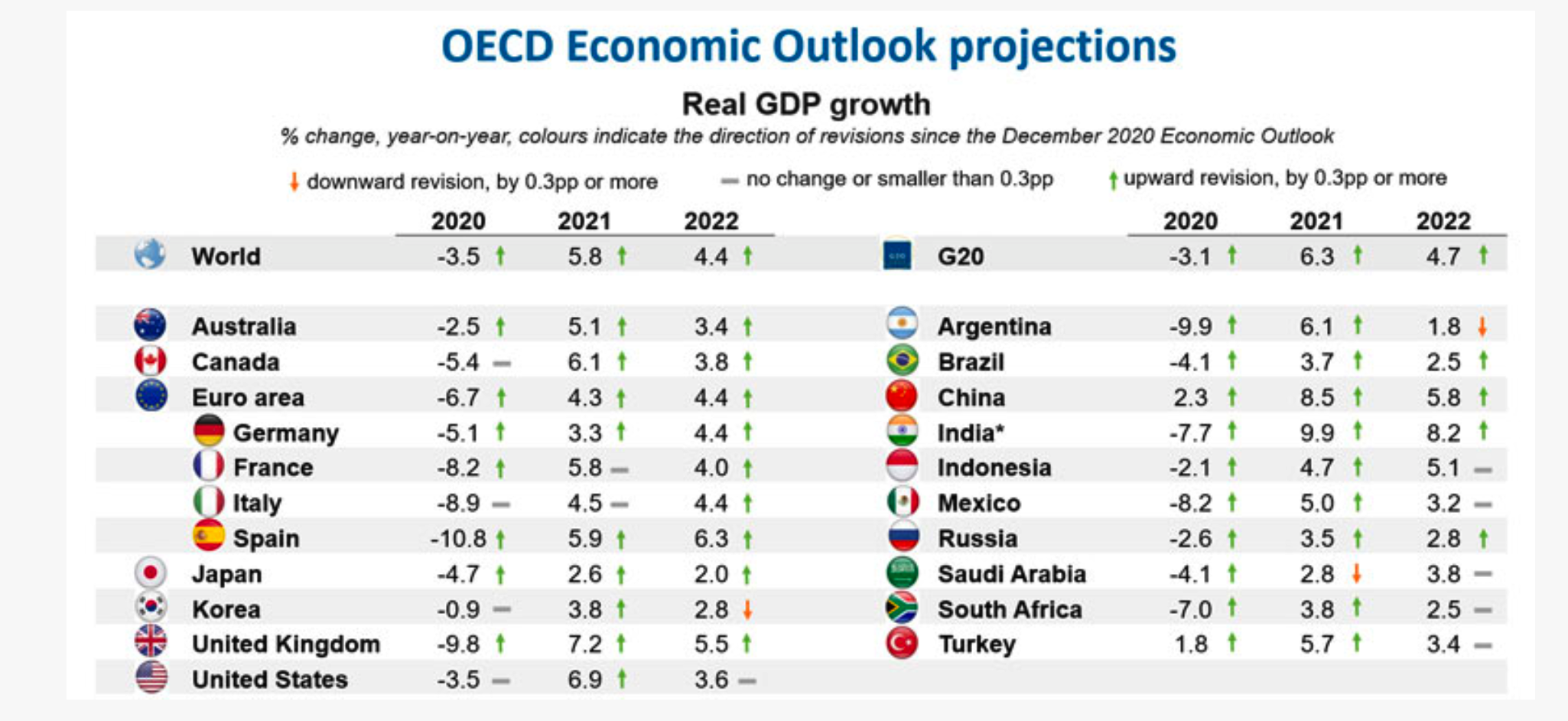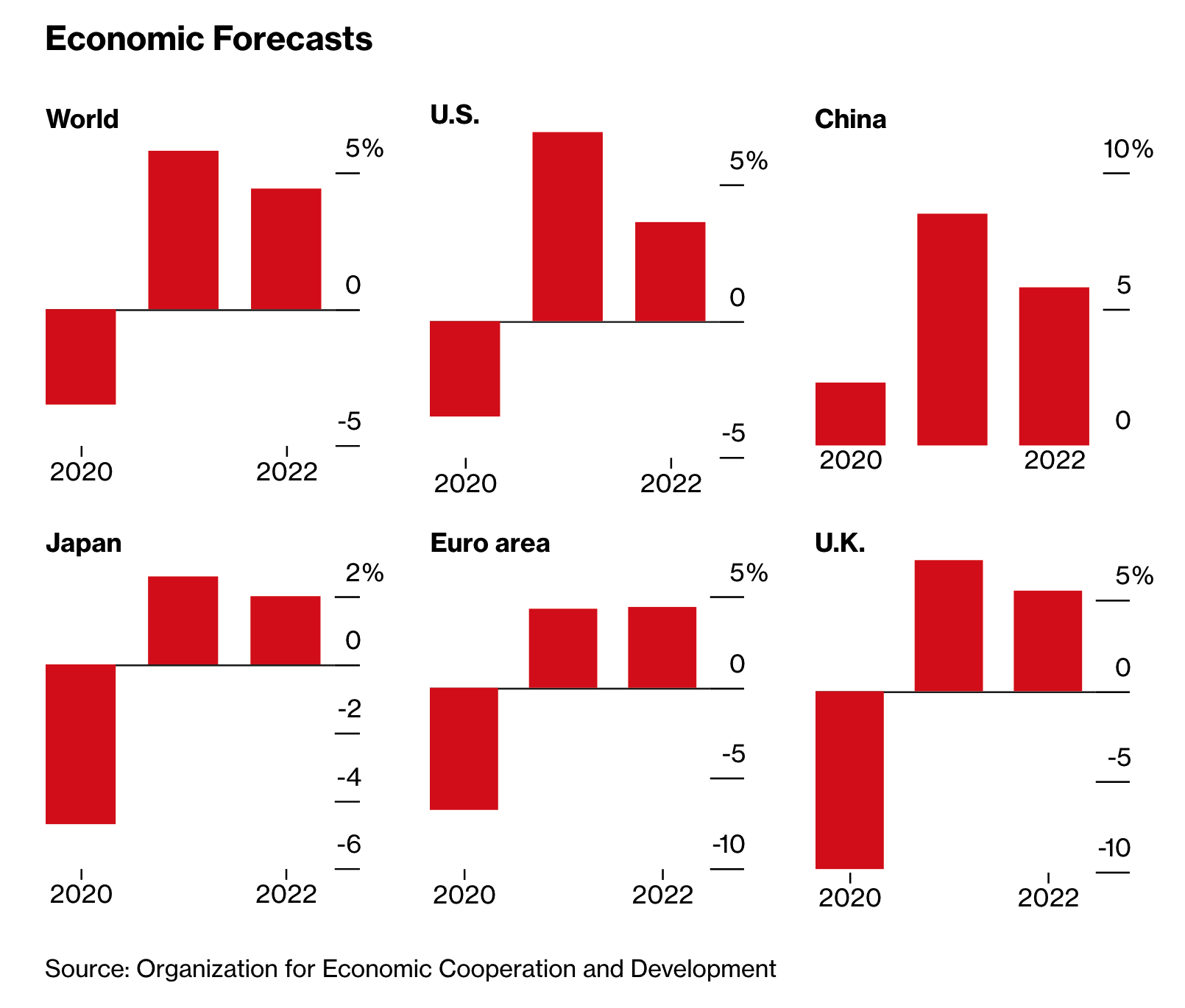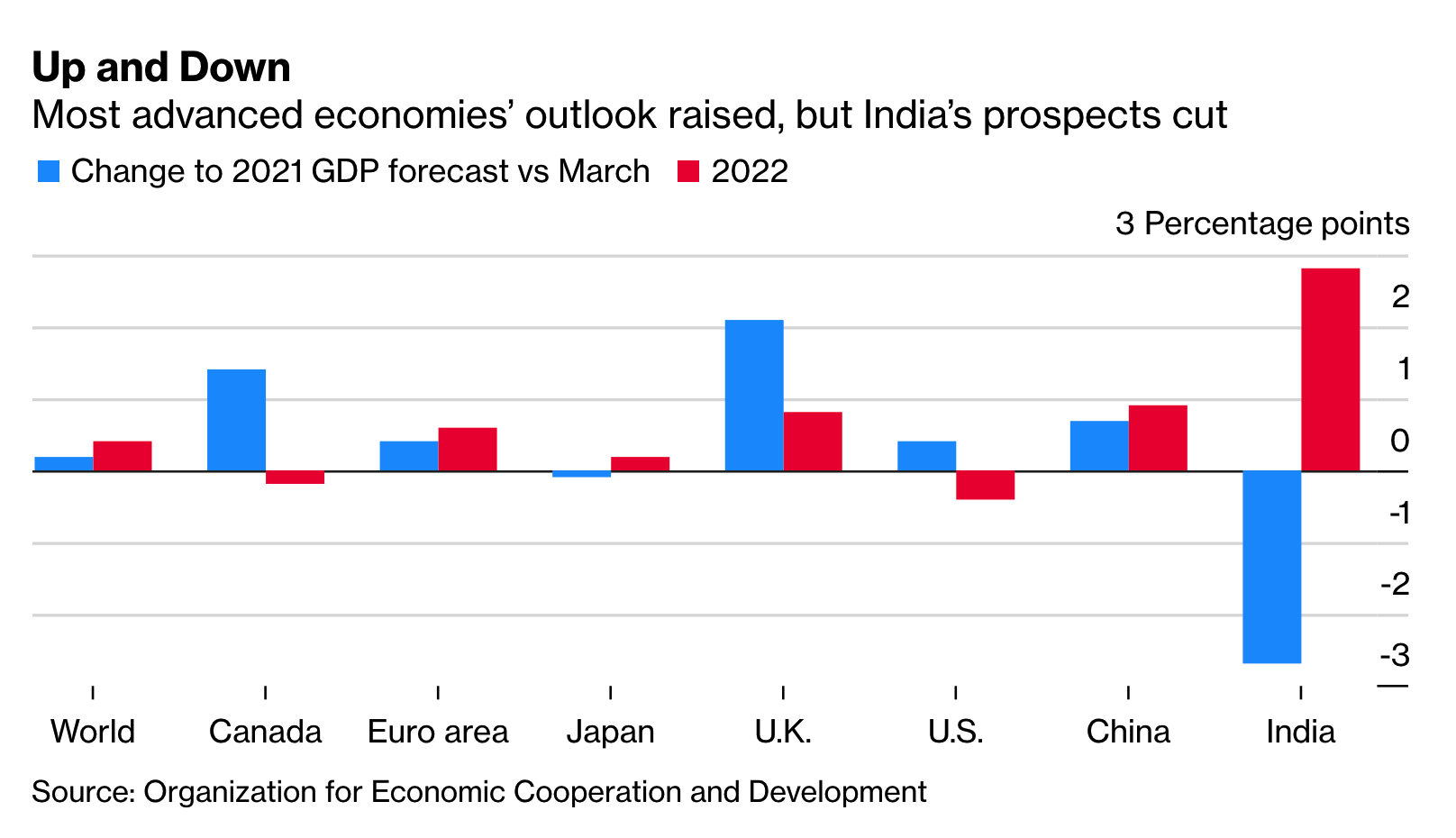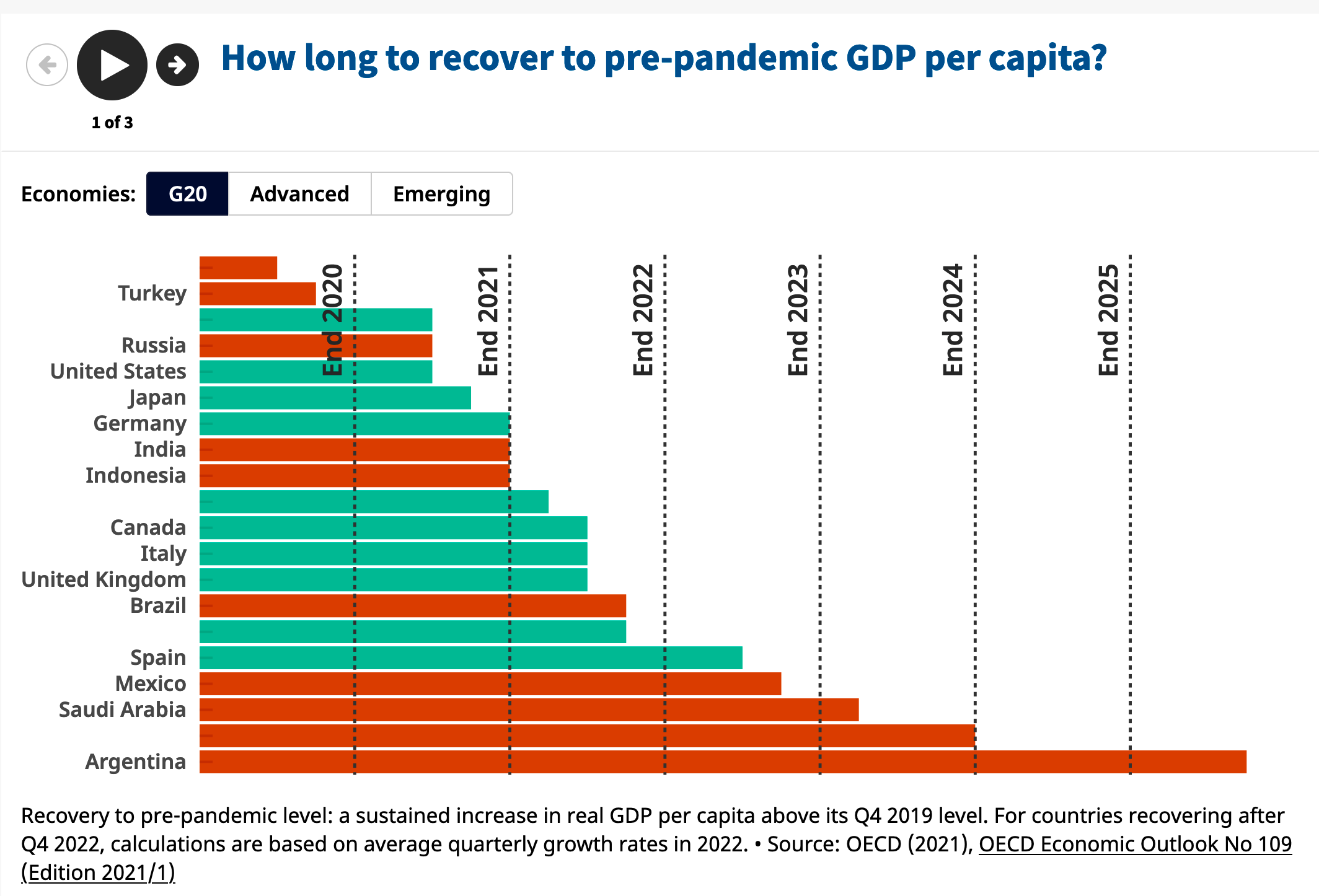 U.S. prices are expected to keep rising this summer, pushed up by bottlenecks for materials/labor + surging consumer demand, Reuters reports (link). Meanwhile, the Commerce Department said personal consumption expenditures, a measure of inflation used by the Federal Reserve, rose 3.6% in April. Excluding volatile food and energy prices, inflation was 3.1%, well above the Fed's long-term target of 2%. Fed officials said earlier that the economy would be allowed to "run hot" to make sure a recovery is established, but investors worry about unexpectedly sharp rises in prices of consumer goods and some commodities. They have been at least temporarily reassured by comments from Fed officials that it is too early to change direction.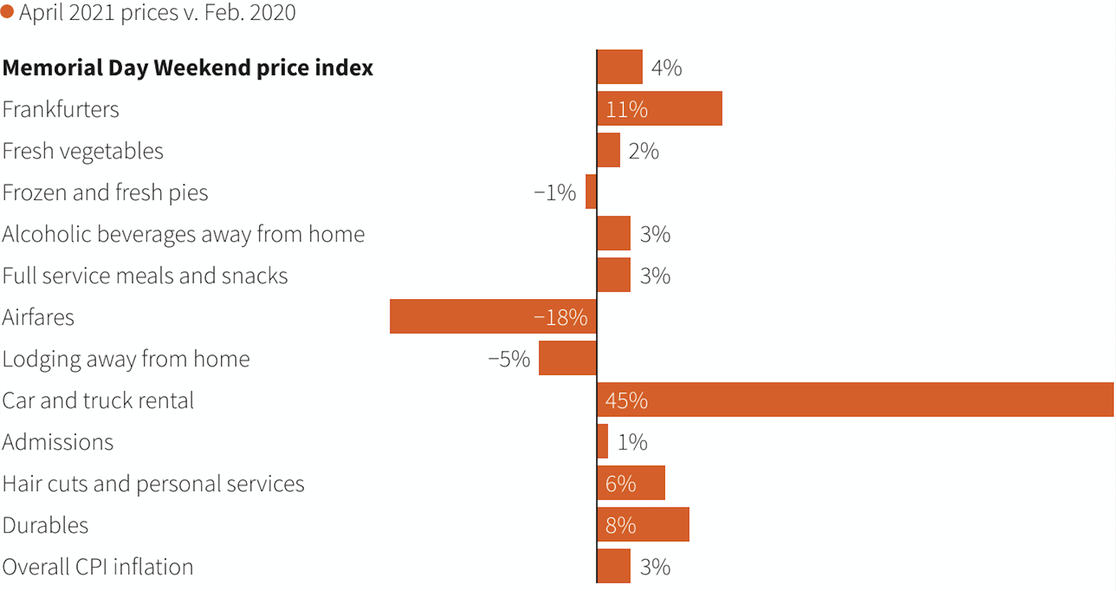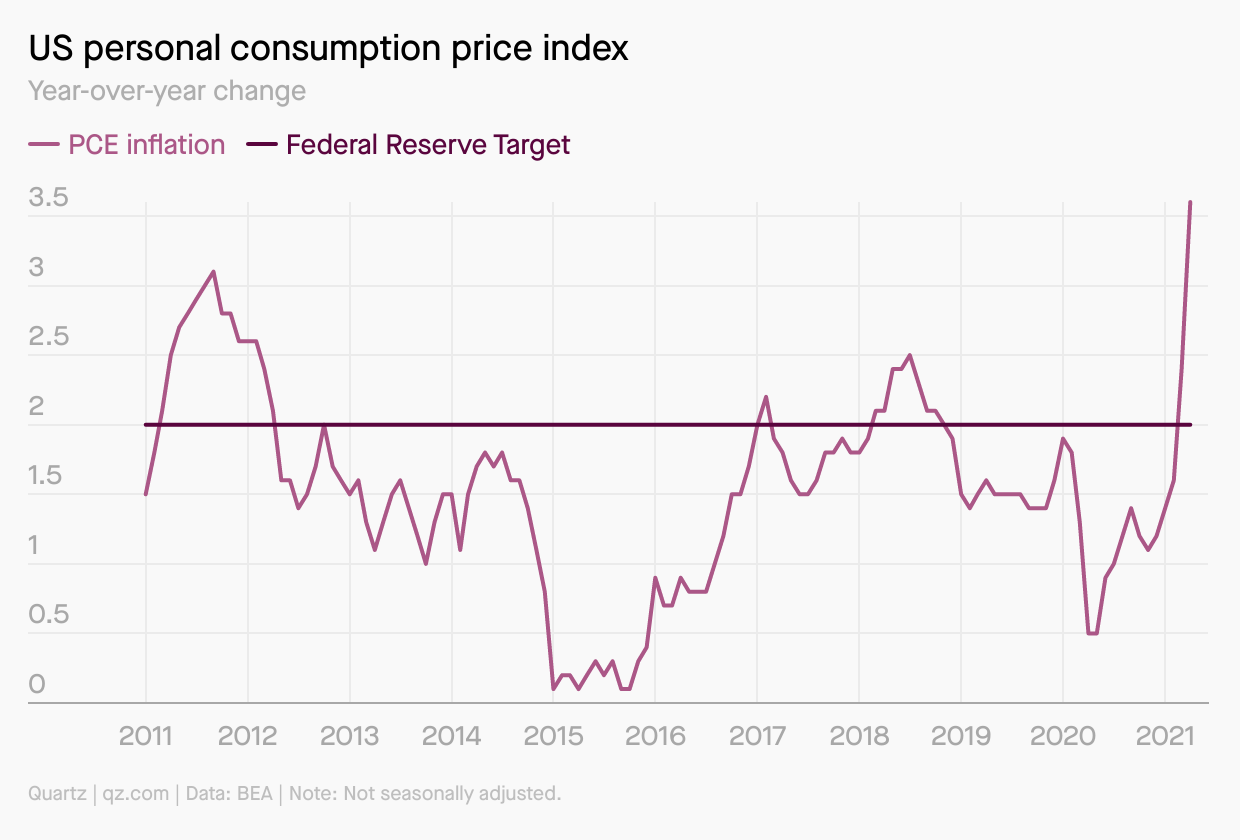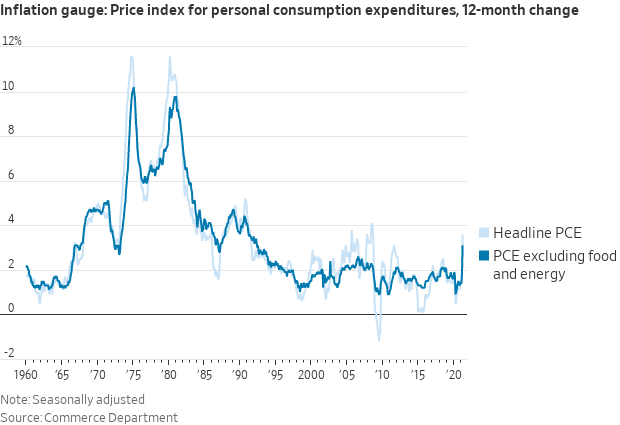 How will we know when inflation is here to stay? WSJ Streetwise columnist James Mackintosh says to watch three broad areas: skills shortages, consumer demand and inflation expectations.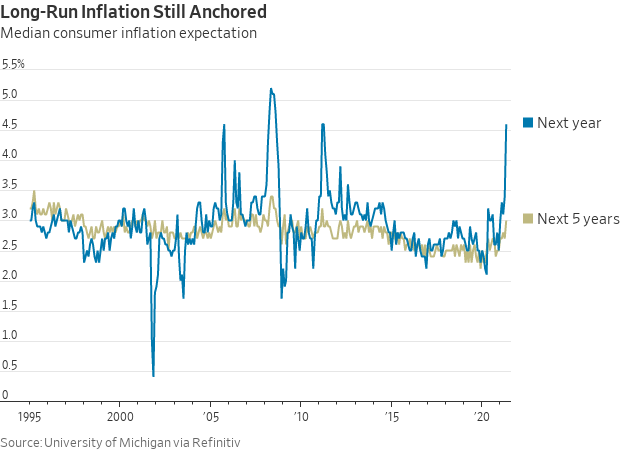 Friday is the focus for economic update. The May Employment report arrives Friday and while expectations are for another expansion in nonfarm payrolls, the level of new jobs added is not expected to push past 1 million for the month. But the unemployment rate is expected to decline as more job seekers take positions. Even if around 1 million jobs were added, it would still leave more than 7 million as being unemployed. Updates on manufacturing and the services sector also arrive and are expected to show continued improvement in both sectors. Other data of note will arrive in the Productivity and Costs, Construction Spending and Factory Orders update.
     Friday will be the focus also for Fed speakers. Fed Chairman Jerome Powell delivers remarks on climate change and central banks, but any question portion of the appearance would likely see some attempts at getting a fresh reading on the current economic and monetary policy situation. Those are topics other Fed officials are expected to address earlier in the week, but as usual, Powell's remarks will carry extra weight. With the Beige Book report due Wednesday, that also means Powell's remarks Friday will be some of the last commentary from U.S. central bankers ahead of the June 15-16 Federal Open Market Committee (FOMC) meeting.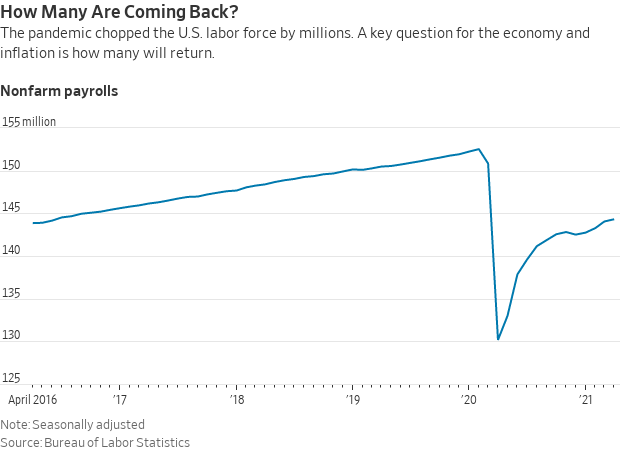 Potential home buyers on the sidelines. A recent consumer survey showed that more people think now is a bad time to buy a home than a good time, the first time that has happened since Fannie Mae started the survey in 2010.
China became the world's largest movie market for the first-time last year, with $3 billion spent on tickets, almost $1 billion more than in the U.S. and Canada. And China has built more than 20,000 screens in the past three years alone, bringing its total to 75,000, almost double the number in the U.S. and Canada. And the U.S. and Canadian figure is declining.
Market perspectives:
     • Outside markets: The U.S. dollar index is slightly weaker despite both the euro and British pound being weaker against the greenback. The yield on the 10-year U.S. Treasury note has firmed to trade just above 1.61% amid a narrowly mixed tone in global government bonds. Gold prices hit a five-month high overnight as traders seek out the metal has a hedge against rising inflationary pressures. Reports said gold exchange traded funds (ETF's) has seen more money flow into them the past few weeks. Gold and silver futures are seeing modest advances ahead of U.S. trading, with gold trading around $1,907 per troy ounce and silver around $28.32 per troy ounce.
     • Rising expectations for demand continue to support crude oil. U.S. crude is trading around $68.20 per barrel and Brent around $70.80 per barrel. Crude oil prices were up sharply in Asian action, with U.S. crude up $1.34 at $67.66 per barrel while Brent crude was up 94 cents at $70.62 per barrel. Meanwhile, members of the Organization of the Petroleum Exporting Countries and their allies are due to meet Tuesday to decide whether to press ahead with a series of monthly production hikes. The cartel will likely add 350,000 barrels a day of output in June and 441,000 a day in July, along with an additional boost by Saudi Arabia, Helima Croft, head of commodity strategy at RBC Capital Markets, wrote in a note.
     • Cryptocurrency draws focus in Washington. Career staffers at the Treasury Department reportedly briefed White House aides on cryptocurrency, and the issue has been raised in conversations with the Office of the Comptroller of the Currency and the Consumer Financial Protection Bureau.
     • Natural gas prices are up 15% this year.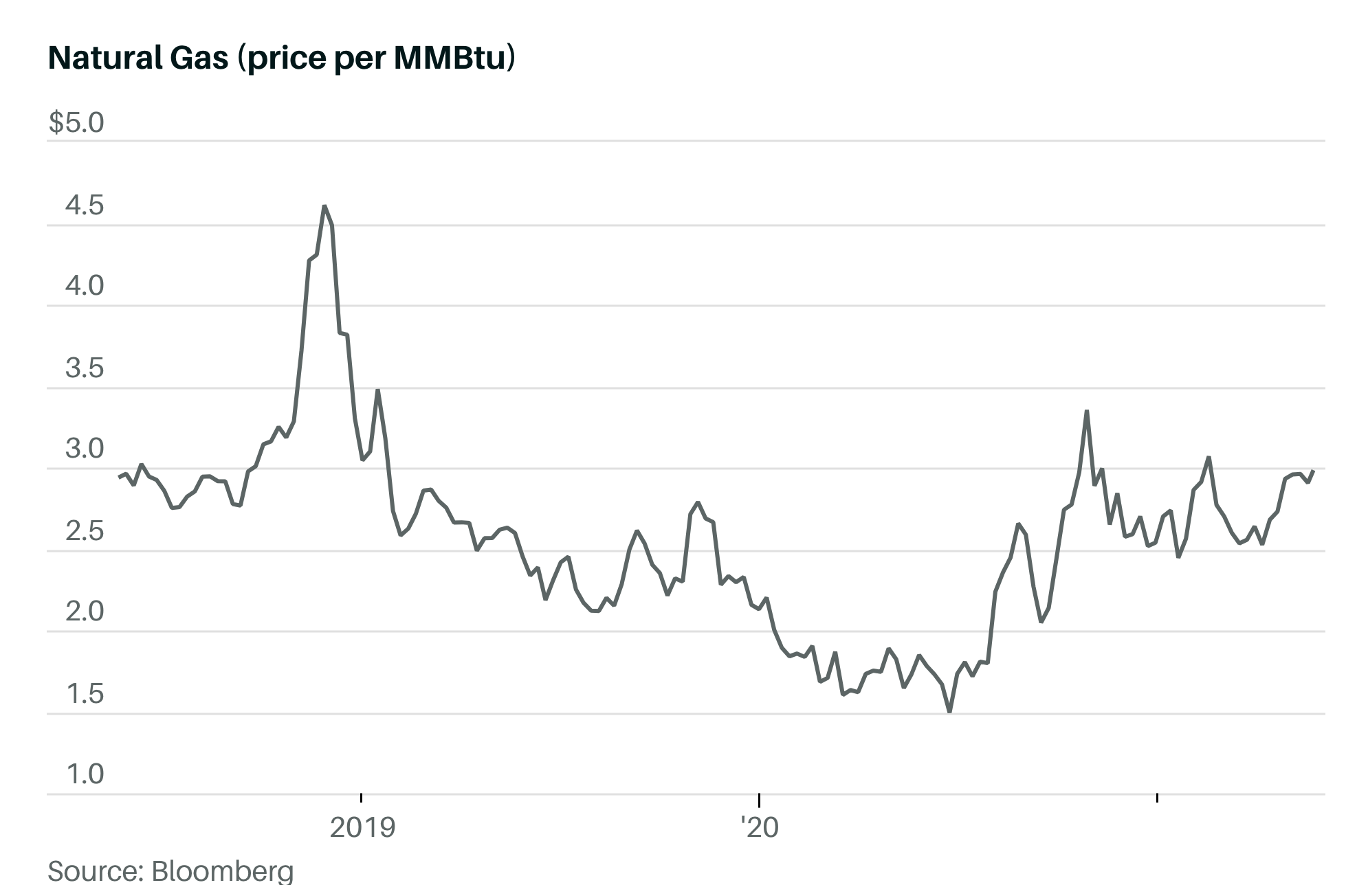 • Always-worrying grain sector has something to fret about… at least a bit: Some freezing temps which came as low as northern Iowa.  Pictures show damage to some soybeans and corn. As usual, bottom-line impacts are hard to assess at this time. Of course, some replanting will result in some locations. Other than that, if the crops develop without a major glitch, some huge crops are on the horizon.
     • Brazil's corn crop: northern corn areas missed needed rainfall, while Parana garnered some. More analysts are dropping their corn crop projections to the low-90s, where some have been for a while and thus assuming they are lower now.
     • Bye-bye bull markets in ag sector? Bloomberg reported hedge-fund managers have reduced their holdings in 20 out of 23 commodities, due in part to recent milder and wetter weather in the U.S. that is raising the prospects for larger harvests of grains. China's government's recent remarks on futures markets speculation, along with new regulations limiting the sale of futures to individual investors, have also taken some of the bullish fervor out of the raw commodity sector.
     • Ag demand: Iran issued an international tender to buy about 60,000 MT of milling wheat. It also issued international tenders to buy 30,000 MT of soyoil and 30,000 MT of sunflower oil. Saudi Arabia bought 562,000 MT of wheat in a tender. Algeria purchased at least 200,000 MT of durum wheat in a tender. Indonesia bought around 240,000 MT of animal feed wheat. Jordan issued an international tender to buy 120,000 MT of animal feed barley. Bangladesh's state grain buyer has received offers in its tender to buy 50,000 MT of wheat from global origins, excluding Israel.
Items in Pro Farmer's First Thing Today include:
     • Frosts and freezes for the Upper Midwest over the holiday weekend
     • Marked soy crush retreat expected to be reported for April
     • Cordonnier holds S. American crop ests. steady; concerns linger re Brazil's safrinha crop
     • IKAR raises Russian wheat crop peg
     • Ukraine's wheat exports still shy of 16 MMT with one month left in marketing year
     • State weather office expects average Indian monsoon
     • Argentina suspends 12 beef exporters, investigating five others
     • Beef production drops notably
     • Hogs soar into month's end
---
POLICY FOCUS
---
— Paycheck Protection Program (PPP) closes to new applications. The federal government's PPP closed to new applications Friday as funding was on track to be exhausted. That marked the end of a $961 billion emergency effort that helped millions of small businesses survive the pandemic but included fraud claims and criticism that it didn't reach the neediest businesses. The program had been scheduled to end on May 31, but the Small Business Administration on Friday said in a notice to lenders that 'due to the high volume of originations today, the portal will be closing for new originations' that evening."
— Info coming soon on Pandemic Cover Crop Program (PCCP). Agricultural producers who have coverage under most crop insurance policies are eligible for a premium benefit from USDA if they planted cover crops during this crop year. The Pandemic Cover Crop Program (PCCP), offered by USDA's Risk Management Agency (RMA), helps farmers maintain their cover crop systems, despite the financial challenges posed by the pandemic. PCCP provides premium support to producers who insured their spring crop with most insurance policies and planted a qualifying cover crop during the 2021 crop year. The premium support is $5 per acre, but no more than the full premium owed. Illinois, Indiana and Iowa have existing programs for producers to receive a premium benefit for planting cover crops. In these states, participating producers will receive an additional benefit. All cover crops reportable to FSA are eligible and include cereals and other grasses, legumes, brassicas and other non-legume broadleaves, and mixtures of two or more cover crop species planted at the same time.
— Biden has 46-page blueprint to reform and expand legal immigration, including farm workers. The New York Times report (link) is obtained a 46-page draft blueprint that details the Biden administration's plans to significantly expand the legal immigration system, including methodically reversing the efforts to dismantle it by former President Donald Trump. The document, in seven sections, offers policy to aid more foreigners to move to the United States, including high-skilled workers, trafficking victims, the families of Americans living abroad, American Indians born in Canada, refugees, asylum-seekers and farm workers. Immigrants who apply online could pay less in fees or even secure a waiver in an attempt to "reduce barriers" to immigration. And regulations would be overhauled to "encourage full participation by immigrants in our civic life."
— Two courts block Biden's SBA from passing out benefits by race; will same happen with challenged selected minority farmer payments? Two rulings last week sided with plaintiffs who sued the Small Business Administration (SBA) for violating equal treatment under the law. A federal judge in Texas ruled that the SBA's Restaurant Revitalization Fund was wrong to distribute $28.6 billion in Covid-19 relief on the basis of an owner's sex and race. The SBA justifies its bias as necessary to remedy past societal discrimination. Sound familiar? That in essence is how USDA Secretary Tom Vilsack and some farm-state lawmakers defend the at least $4 billion initially be paid this month to selected minority producers. Link to more on the ins and outs of this via a WSJ opinion item.
 
---
BIDEN ADMINISTRATION PERSONNEL
---
— President Biden is considering naming two Kennedys to represent him abroad: Caroline Kennedy is in line to be U.S. ambassador to Australia, and Vicki Kennedy is on his radar for Western Europe, Axios reported. Caroline served as President Obama's second ambassador to Japan and is well versed in the issues in the Asia-Pacific region, where the AP first reported she could be heading.
     Other ambassadorial appointments expected as soon as this week include former Chicago mayor Rahm Emanuel, L.A. Mayor Eric Garcetti and Cindy McCain as his envoy to the World Food Program in Rome. Michael Carpenter, managing director of the Penn Biden Center for Diplomacy and Global Engagement and a former career foreign service officer, is being considered for a European position.
 
---
CHINA UPDATE
---
— China said married couples may have up to three children, a major policy shift from the existing limit of two. China's recent once-in-a-decade census showed that the population grew at its slowest rate during the last decade since the 1950s. Data also showed a fertility rate of just 1.3 children per woman for 2020, on par with aging societies like Japan and Italy. The decision was announced after a Communist Party Politburo meeting chaired by President Xi Jinping on Monday. The statement said major steps were needed to address the deepening problem of the ageing population. "Birth policies will be further improved. Policy that allows a couple to have three children will be introduced with supporting measures," it said. "This will improve the population structure of China." For over three decades from the 1980s, Beijing enforced the one-child policy in an attempt to control a fast-growing population. Due to a cultural preference for boys, the policy led to men outnumbering women by 34.9 million in 2020. The fewer number of women was one of the main reasons for the slump in the birth rate. The number of women of childbearing-age peaked in 2011 and has been falling since, according to the Chinese Academy of Social Sciences. As a result, China has been ageing much faster than other low- and middle-income countries, with the proportion of the population aged at least 60 years projected to rise to 28 per cent in 2040, according to the World Health Organization. Whereas the U.S. and Europe have offset slowing birthrates with immigrants, China attracts much fewer foreigners — most likely because of its authoritarian political system.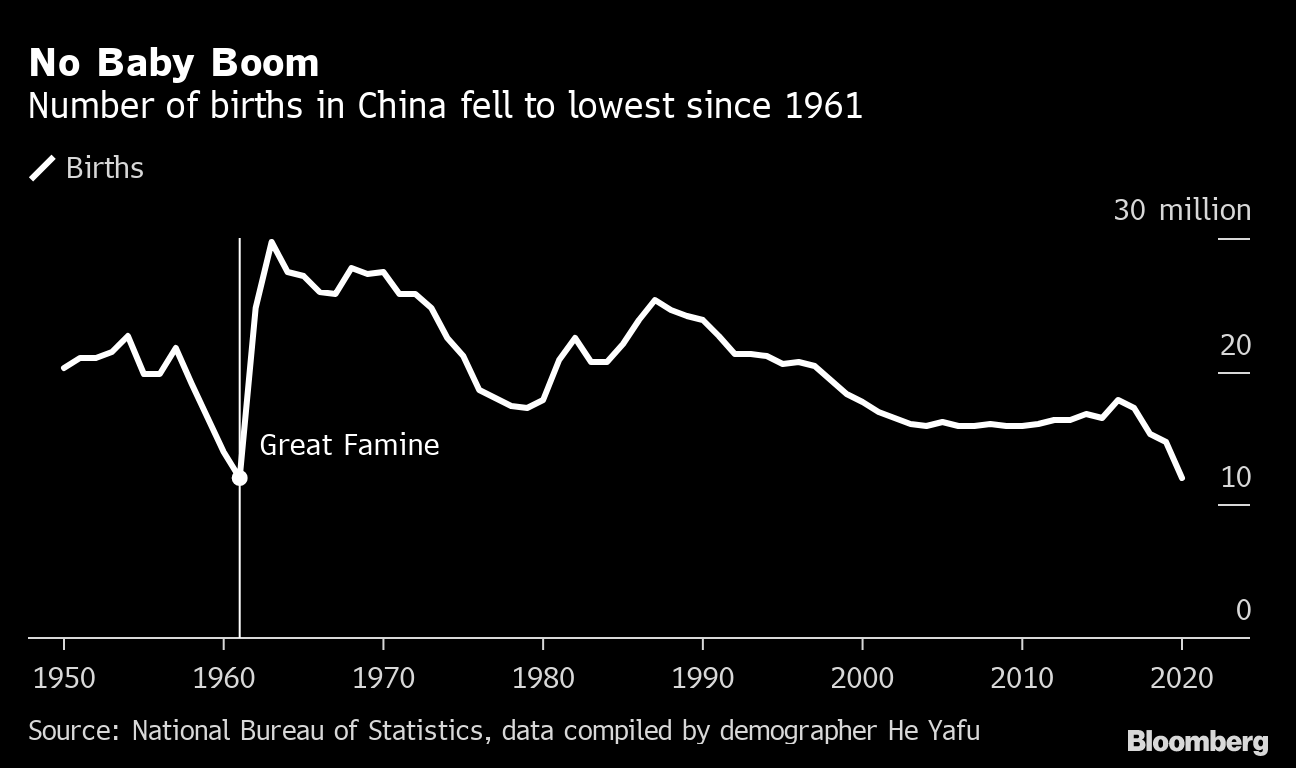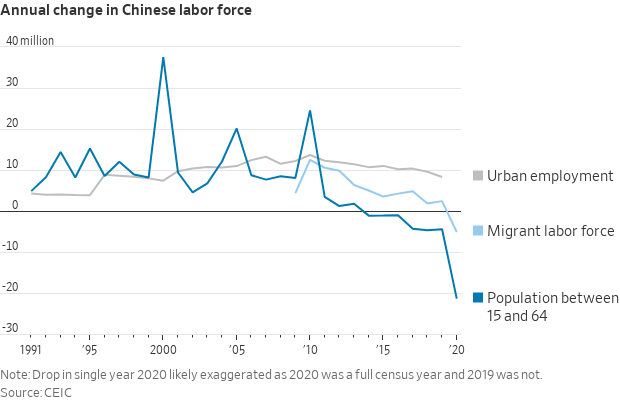 — Official gauge of Chinese factory activity slipped in May on weaker export demand and higher commodity prices, while the country's nonmanufacturing sector was bolstered by stronger construction and holiday spending.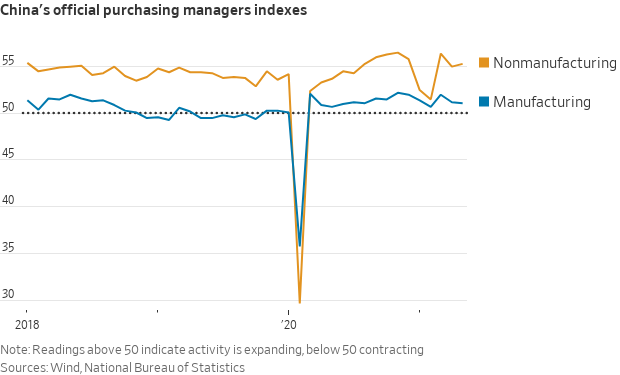 — China gets aggressive to those global fashion brands questioning its practices. A Los Angeles Times commentary item notes: "As part of a decades-long campaign to subjugate the Turkic-speaking and predominately Muslim ethnic Uyghurs in the northwestern region of Xinjiang, China forced about 8 million people over six years into reeducation camps. There, according to Western nations and human rights advocates, they are subjected to torture (including rape) and indoctrination into Communist Party teachings, forced to renounce Islam and learn Mandarin, and required to declare their fealty to the Chinese government." The Trump administration described China's efforts as genocide, a conclusion Joe Biden reached before he took office as president.
     The Chinese government has also compelled Uyghurs to pick cotton. By one estimate, half a million Uyghurs and other Muslim minorities have been forced to work in the region's vast cotton fields, which yield one-fifth of the world's cotton. The Trump administration in January barred imports of cotton and tomatoes — another large Xinjiang crop — from China unless the importers could verify that the goods had not been produced through forced labor. The effectiveness of those sanctions is murky because it is hard to trace the source of cotton.
     Many international businesses have tried to keep cotton from Xinjiang from entering their supply chain, highlighting their concerns and efforts in public declarations that have drawn the ire of China. In recent weeks young Chinese netizens have taken to social media to condemn the fashion outlet H&M over its "insulting" denunciations of forced labor in China, and the government has in effect disappeared H&M from the marketplace, including removing its store locations from ride-hailing apps and blocking access to H&M products through online shopping sites.
     The backlash has spread to other brands that are part of the Better Cotton Initiative, a nonprofit supporting sustainable cotton production that stopped assessing Xinjiang cotton after it was denied access by the Chinese government, the LAT commentary adds, noting: "As a result, many of the brands have unfortunately backed down, removing statements questioning China's Xinjiang policies from their websites and issuing other statements to appease critics in China. We understand that running afoul of the Chinese government can have a significant effect on businesses, so the ones that stand up to China's human rights violations should be applauded for doing the right thing, and others should be encouraged to join them. None should back down as long as the violations persist."
     The commentary's conclusion: "… It's hard to embarrass a regime that feels no shame. China often responds to criticism of its policies and actions by denying the underlying reality; here, it contends that a million Uyghurs a year in reeducation camps were going through vocational training to improve their job prospects. Then it goes on the offensive, in this case by making it harder for global brands to reach its 1.4 billion consumers. The global brands should stand firm, and global consumers should stand with them by shunning cotton and other goods produced with forced labor."
---
TRADE POLICY
---
— Growing number of U.S. businesses urge Biden to lift metal tariffs. Economists and policy makers are debating whether stimulus spending and easy monetary policy are fueling inflation. Many businesses say there is another culprit that should share the blame: import tariffs. The Trump administration implemented tariffs on products including lumber, steel and semiconductors to shield American companies from a glut of cheap imported products from China and other countries. The tariffs have long been opposed by U.S. companies that import the goods and pay the levies. They are making a new push for the Biden administration to lift them, on grounds that tariffs contribute to rising prices and product shortages, the Wall Street Journal reports (link).
     Perspective: Former President Donald Trump repeatedly insisted after imposing tariffs on over $300 billion in Chinese goods that it was China — not U.S. importers — that were paying the tariffs. "Don't let them tell you, the fact is — China devalues their currency, they pour money into their system. Because of that, you're not paying for those tariffs. China's paying for those tariffs," Trump said after imposing tariffs on China. "Until such time as there is a deal, we will be taxing the hell out of China." He also repeatedly referred to himself as "tariff man" for his use of the trade tool. Some ag industry participants and some farm-state lawmakers noted at the time that impacted companies were just raising their prices after paying higher values for steel and aluminum. Well, the same thing is now being said about President Joe Biden's proposal to boost corporate taxes… that companies will just raise prices on their products to temper the impact and the real sector paying will be consumers of those products.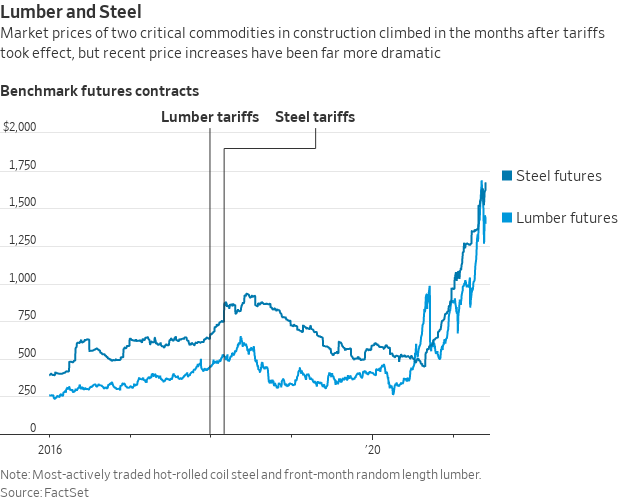 ---
ENERGY & CLIMATE CHANGE
---
— Biden's funding request lays out a 24.1% boost to the EPA's core rule-writing and enforcement programs and a 7.5% increase in staffing to get it done. The plan envisions a $3.4 billion request to implement the Environmental Protection Agency's Clean Air Act, Clean Water Act, and other statutes, up from $2.8 billion in the current budget. That funding would cover a huge range of activities, such as creating ways to attain ambient air quality standards and overseeing states' management of hazardous waste. Agency-wide, Biden's budget would raise EPA staffing to 15,206 full-time employees, up from 14,144.
— Texas lawmakers clear bills responding to state energy crisis. Texas lawmakers gave final approval on Sunday to measures to address failures that led to catastrophic blackouts during a deadly winter storm in February and pay for the fallout. The Texas House of Representatives and the Senate voted through a bill that would require power plants and parts of the natural gas network that supplies them to harden their systems against freezing weather. The chambers also passed legislation that overhauls the governance of the Electric Reliability Council of Texas, the state's main grid operator known as Ercot. Lawmakers also signed off on a measure that would allow the use of state-approved financing for about $2.1 billion in crisis-related grid services and $800 million in debts to Ercot. The bills will head to Republican Governor Greg Abbott.
---
LIVESTOCK, FOOD & BEVERAGE INDUSTRY
---
— Cybersecurity attack on meat supplier JBS' IT systems in U.S. and Australia. JBS USA, the world's largest meat supplier, says it was the target of an "organized cybersecurity attack." In a statement, JBS, which has its U.S. headquarters in Greeley, Colorado, said the attack affected some of its servers supporting its North American and Australian IT systems. "The company took immediate action, suspending all affected systems, notifying authorities and activating the company's global network of IT professionals and third-party experts to resolve the situation," the company said in its statement. "The company's backup servers were not affected, and it is actively working with an Incident Response firm to restore its systems as soon as possible."
     The impact on consumers is unclear at this time. JBS, a leading processor of beef, pork and other prepared foods in the U.S., said it was "not aware of any evidence at this time that any customer, supplier or employee data has been compromised or misused as a result of the situation." Bloomberg reported Monday that the JBS incident affected a Canadian beef plant in Brooks, Alberta, about 118 miles east of Calgary, according to a spokesperson for United Food and Commercial Workers Local 401. JBS says it has 84 U.S. properties and the company owns facilities in 20 countries. "Resolution of the incident will take time, which may delay certain transactions with customers and suppliers," JBS said.
     Comments: One ag industry official emailed: We need to get used to this. The U.S. is far behind in our defense of cyberattacks."
— Food Box program by name comes to an end. USDA said that the Farmers to Families Food Box program was ended as of May 31 and that remaining funds for what they said was designed as a "temporary program" will be used in the final extension period for the program. However, USDA did state that it continues to take feedback on how to use existing food aid channels "to meet food assistance needs and to use funding provided by Congress in Covid assistance to respond in new ways." They noted that they have started to offer a "fresh produce box" on a temporary basis through The Emergency Food Assistance Program (TEFAP) "provided in response to a demand for more fresh produce from food banks and their clients." However, USDA said, "This produce box is not intended to replace the Farmers to Families Food Box but is an example of USDA applying lessons learned from the Farmers to Families Food Box experience to inform future activities."
     USDA said it is also currently setting up the Dairy Donation Program "to facilitate the timely donation of dairy products to nonprofit organizations that distribute food to persons in need and prevent and minimize food waste." Both fresh produce and dairy products were among items that were included in the Food Box program.
      While commodity purchases by USDA will continue and be directed to "existing channels of distribution as we transition away" from the Food Box effort, USDA said they will "continue to expand and improve the federal nutrition safety net to ensure those who need food assistance get it, especially the most vulnerable and hard to reach individuals and communities." While USDA is making clear the Food Box program has come to a close at least by name, it has incorporated some components of the program into the traditional food aid efforts from the government.
     Some caveats: While USDA is making clear the Food Box program has come to a close at least by name, it has incorporated some components of the program into the traditional food aid efforts from the government. "We have learned some positive lessons from the Farmers to Families effort, and we will take those lessons to improve existing and future programs," USDA said. The effort enjoyed strong bipartisan support in Congress with several lawmakers from both parties expressing disappointment at USDA's decision. USDA Secretary Tom Vilsack said in announcing that the Food Box effort would end that they would take the "best of" from the program and apply it to other food aid efforts and that appears to be the case moving forward.
     Facts and figures: USDA data showed that USDA contractors have delivered 173.7 million boxes of fresh produce, milk, dairy and cooked meats via the program.
— Value-added eggs? Eggs from a special type of sustainable farm that can be trumpeted as being better for the planet are being marketed for as much as $8 a dozen, are labeled organic and animal-friendly, "but they're also from birds that live on farms using regenerative agriculture—special techniques to cultivate rich soils that can trap greenhouse gases. Such eggs could be marketed as helping to fight climate change," says a Bloomberg Businessweek article on the topic (link). It says the egg industry's push is the first major test of whether animal products from regenerative farms can become the next premium offering. Proponents say regenerative agriculture increases organic matter in the soil, which is nutritious for plants and keeps carbon dioxide locked up. "Surveys show that younger generations are more concerned about climate change, and some of the success of plant-based meat can be chalked up to shoppers wanting to signal their desire to protect the environment." Cage-free sales volume jumped 12% in the year ended on April 10, while organic eggs rose more than 7%, according to NielsenIQ data. Meanwhile, sales of conventional eggs dropped about 3%.
— How the trucker shortage is fueling the meat crisis. The driver shortage has many meat wholesales suffering on both ends — enduring long delays in getting their orders fulfilled and then struggling to get their products to supermarkets and restaurants. This and other supply chain factors are all contributing to what Shawn Reid, vice president of sales for WestSide Foods, called "the longest sustained spike in meat prices in my 35 years in this business." Meat wholesaler Baldor Specialty Food based in the Bronx, last month plastered an ad on the Bruckner Expressway — a major thoroughfare for truckers — boasting $3,000 signing bonuses for new drivers. Daniel Romanoff, president of Nebraskaland, is now offering a $4,000 bonus to lure truck drivers. Link to details via the New York Post.
---
CORONAVIRUS UPDATE
---
— Summary: Global cases of Covid-19 are at 170,748,714 with 3,550,963 deaths, according to data compiled by the Center for Systems Science and Engineering at Johns Hopkins University. The U.S. case count is at 33,264,429 with 594,568 deaths. The Johns Hopkins University Coronavirus Resource Center said that there have been 294,928,850 doses administered, 135,087,319 have been fully vaccinated, or 41.2% of the entire U.S. population.
— U.S. reported the lowest level of infection since the early days of the pandemic and welcomed back sports fans to stadiums and a huge crowd at the Indianapolis 500 — the 105th running event had up to 135,000 fans on Sunday, a crowd that represented 40% capacity. It was the largest crowd at a sports event since the start of the coronavirus pandemic. Airline travel also rose to a pandemic record.
— Vietnam found a worrisome new Covid-19 hybrid. The southeast Asian nation uncovered a "very dangerous" variant that combines the characteristics of two existing variants first found in India and the U.K.
---
POLITICS & ELECTIONS
---
— Democrats in Texas House block vote on election-reform bill. Texas Democrats staged a walkout in the state House late Sunday night to block passage of a voting bill, forcing Republicans to abruptly adjourn without taking a vote on the measure. Republicans faced a midnight deadline to approve the measure. Gov. Greg Abbott (R) tweeted that he would add the bill to a special session he plans to call later this year to address legislative redistricting. "Legislators will be expected to have worked out the details when they arrive at the Capitol for the special session," he wrote. According to the final text approved Sunday, the Texas bill would:
Ban after-hours voting.

Prohibit ballot drop boxes and drive-through voting centers.

Mandate all weekday early voting take place sometime between 6 a.m. and 9 p.m., though draft language would further limit Sunday early voting to a maximum between the hours of 1 p.m. and 9 p.m.

Make it illegal for elections officials to send applications to vote by mail to people who did not request one.

Bar counties from helping facilitate the distribution of unsolicited ballot requests.

Require voters requesting absentee ballot to provide their driver's license number or Social Security number on both their request for a ballot and their return envelope containing their ballot.

Impose $1,000-a-day fines on local election officials who do not follow prescribed procedures to update their voter rolls, and criminal penalties on election workers who obstruct poll-watchers.
     The bill would also make it easier to overturn an election, allowing courts to throw out results if enough ballots were cast illegally that it could have made a difference.
     Perspective: Since Trump's defeat in November, at least 14 states have enacted voting laws, according to the New York-based Brennan Center for Justice. It has also counted nearly 400 bills filed this year nationwide on the topic.
— President Biden's schedule this week: Biden will head to Tulsa, Oklahoma, today to mark the 100th anniversary of the killing of hundreds of Black residents, with remarks, a tour of the Greenwood Cultural Center and meetings with surviving members of the community. On Wednesday he will deliver remarks about the pandemic and vaccines Wednesday and about the jobs report Friday.
 
---
OTHER ITEMS OF NOTE     
---
— Israel's opposition is uniting to eject Benjamin Netanyahu. Far-right party leader Naftali Bennett threw his support behind a "unity government" in Israel to unseat Prime Minister Benjamin Netanyahu, in what would be the end of a political era.
— President Biden said the U.S. will stand up for human rights and pledged to raise the matter with Russian President Vladimir Putin at their June 16 summit. Meanwhile, Russia over the weekend agreed to release $500 million in credit to Minsk and look to increase the number of flights between the two countries as the Kremlin doubled down on its support for Alexander Lukashenko after his forced landing of a passenger flight that has sparked Western condemnation. After the forced landing, the Biden administration announced it would reimpose sanctions on nine state-owned Belarusian companies.
---