China Tells U.S. What It Must Do to Repair Relations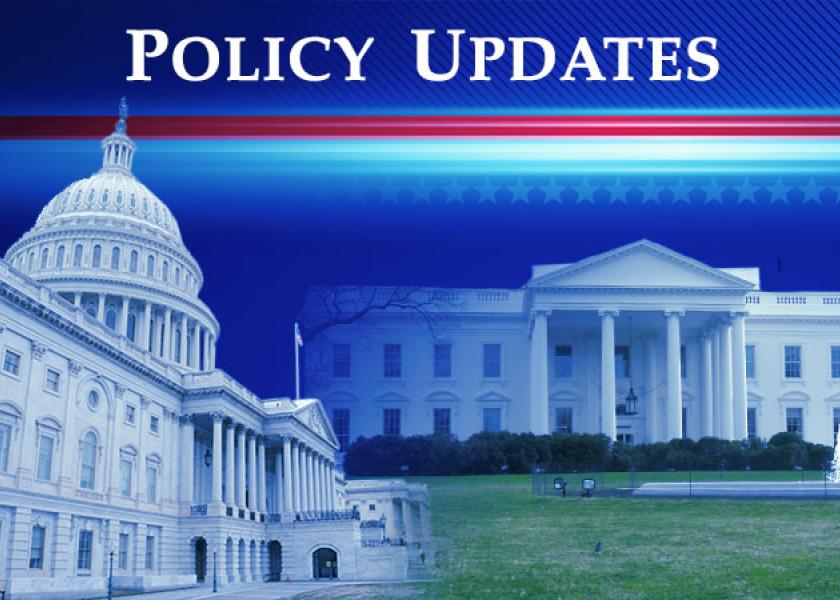 A few issues linger on physical infrastructure measure
 
---
In Today's Digital Newspaper
---
Market Focus:
• Price of bitcoin soared on speculation mazon.com may venture into digital currencies
• More than a third of the S&P 500 to provide quarterly updates in coming week
• Chinese state media confirmed after-school tutoring sector faces clampdown
• Key gauge of future inflation easing
• U.S. economy could be back to pre-Covid size
• Canadian dollar best performing G10 currency this year
• Senate Banking Committee hearing on cryptocurrencies on Tuesday
• Brazil Ag minister visits Minas Gerais areas affected by frost
• Chicago emerging as new bottleneck in global supply chain
Policy Focus:
• A few issues linger on physical infrastructure measure
China Update:
• China tells U.S. what it must do to repair relations
Trade Policy:
• U.S., Mexico dispute on auto trade rules
Livestock, Food & Beverage Industry Update:
• Vilsack predicts moderation in food inflation
• Coming: Regs to provide more protection to livestock producers
• USTR office will take no enforcement action against Vietnam under Section 301
• South Carolina peaches bring happiness to Capitol Hill  
• Ever see and taste one of the new donut peaches?

Coronavirus Update:
• Fauci: Restarting mask mandates is 'under active consideration'  
• Race for Covid-19 pill 
Politics & Elections:
• Biden garnered his lowest coronavirus handling approval rating yet
• Rep. Adam Kinzinger (R-Ill.) joined Jan. 6 select committee
• Presidential elections and partisanship affect fertility
Congress:
• House to consider minibus

Other Items of Note:
• Calif. agency weighs order barring thousands in Central Valley from tapping streams, rivers
 
---
MARKET FOCUS
---
Equities today: U.S. stock futures slid, suggesting that the major stock indexes will retreat from last week's all-time highs after markets in China and Hong Kong plummeted. More than a third of the S&P 500 — including Apple, Amazon, Tesla and McDonald's — are expected to provide quarterly updates in the coming week. While companies are benefiting from the reopening of economies, the Delta variant and increased business costs remain as hurdles. Over the weekend, Chinese state media confirmed the after-school tutoring sector faced a clampdown, while the national antitrust authority levied a symbolic fine on internet giant Tencent Holdings and ordered it to give up some exclusive music-licensing rights. Hong Kong's Hang Seng Tech index lost 6.6%. Tencent fell 7.7%, while Alibaba's Hong Kong stock lost more than 6%.
     U.S. equities Friday: All three major U.S. stock indexes finished at all-time highs after each posted weekly gains of more than 1%. The Dow added 238.20 points, 0.7%, to close at 35,061.55, marking a 1.1% weekly gain. The climb past 35,000 marked the index's fastest 5,000-point gain to a new milestone, according to Dow Jones Market Data, taking only 165 trading days, including Friday, to climb from 30,000. The S&P 500 finished up 44.31 points, 1%, to close at 4,411.79, notching a 2% gain for the week and its 40th record close for the year. The Nasdaq Composite gained 152.39 points, 1%, to finish the week at 14,836.99. The technology-heavy index rallied 2.8% for the week.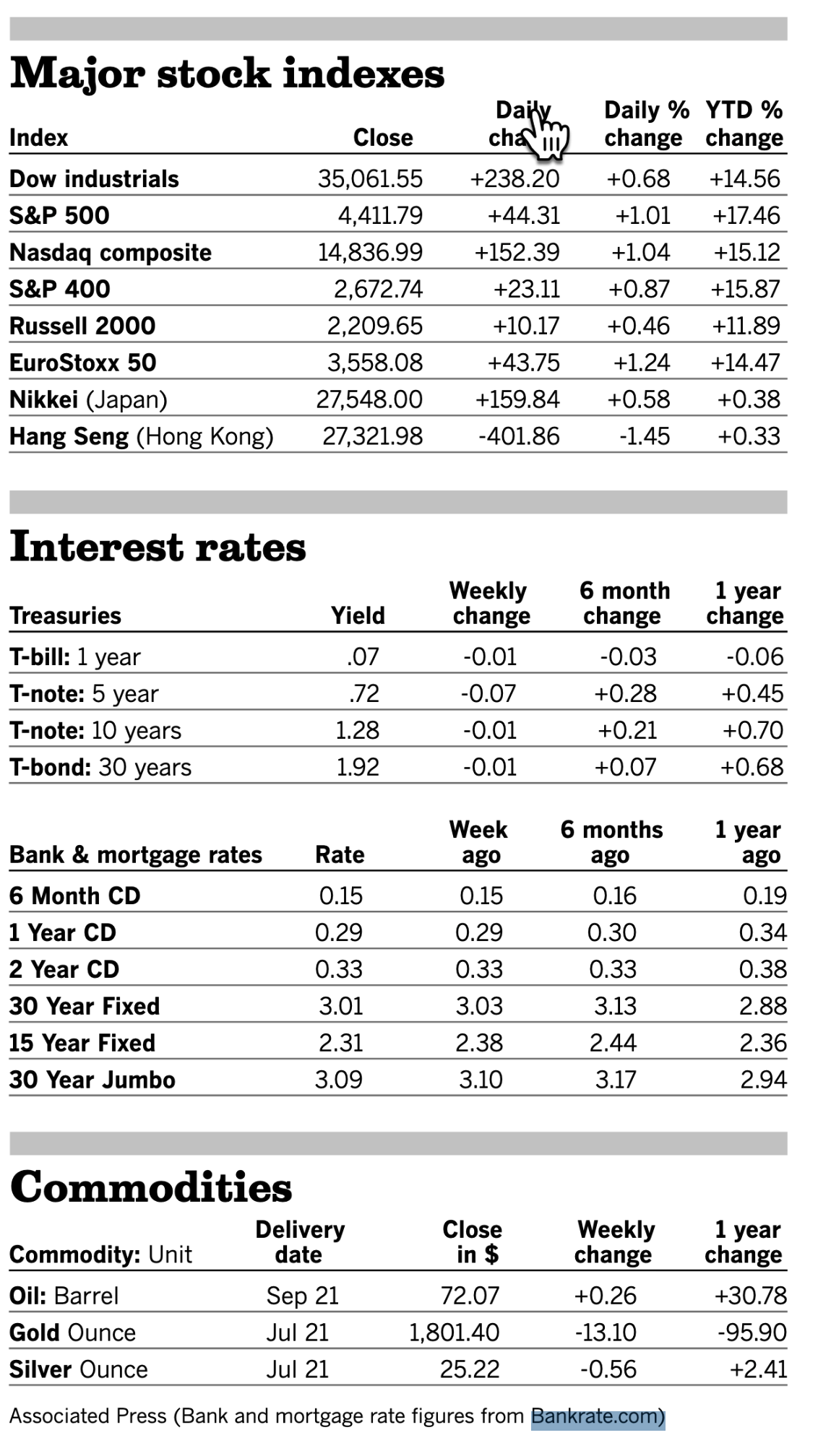 On tap today:
     • U.S. new-home sales are expected to rise to an annual pace of 795,000 in June from 769,000 a month earlier. (10 a.m. ET)
     • Dallas Fed's manufacturing survey is expected to tick up to 31.6 in July from 31.1 a month earlier. (10:30 a.m. ET)
     • USDA Grain Export Inspections, 11 a.m. ET.
     • USDA Crop Progress report, 4 p.m. ET.
     * South Korea's second quarter gross domestic product is expected to increase 0.9% from the previous quarter. (7 p.m. ET)
Key gauge of future inflation is easing. Inflation expectations, an important signal of future inflation, have begun to ease in the past month, a development that should reassure the Federal Reserve in its prediction that the recent inflation surge will prove largely temporary.
U.S. economy could be back to its pre-Covid size. Economists surveyed by the Wall Street Journal estimate that figures to be released on Thursday will show that GDP rose at an 8.5% seasonally adjusted annual rate in the second quarter. This would leave it above the $19.2 trillion level reached in late 2019, the last full quarter before Covid-19 began hammering the economy.
Market perspectives:
     • Outside markets: The US dollar index is weaker as both the euro and British pound are firmer versus the greenback. The yield on the 10-year US Treasury note is lower, trading around 1.24% with a mostly lower tone in global government bond yields, suggesting inflation worries are somewhat subsiding. Gold and silver futures are rising ahead of US trading. Gold is trading above $1,806 per troy ounce and silver above $25.42 per troy ounce.
     • Crude oil prices remain under pressure ahead of U.S. trading, with U.S. crude trading around $71.60 and Brent around $73.75 per barrel, near levels they saw in Asian trade. Futures were lower in Asian action with U.S. crude down 47 cents at $71.60 per barrel and Brent down 38 cents at $73.72 per barrel.
     • Canadian dollar best performing G10 currency this year. The Canadian dollar has become the best performing G10 currency in the year to date. It is up 1.28% against the U.S. dollar, trading at 1.26 to the U.S. currency, according to a Bloomberg assessment. Other top performers among G10 currencies include the British pound, up 0.57% against the U.S. dollar for the year to date.
        Underperformers include:
        — Japanese yen, down 6.60% against the U.S. dollar for the year to date;
        — Swedish krona, down 5.32%;
        — Australian dollar, down 4.26%
     • Senate Banking Committee will hold a hearing on cryptocurrencies on Tuesday. The panel's chairman, Sen. Sherrod Brown (D-Ohio), has been critical of the cryptocurrency market in the past, noting the market's recent volatility and risks associated with that.
     • Price of bitcoin jumped to a six-week high today, with some investors attributing the rally to short positions being liquidated and speculation that Amazon may be venturing into digital currencies.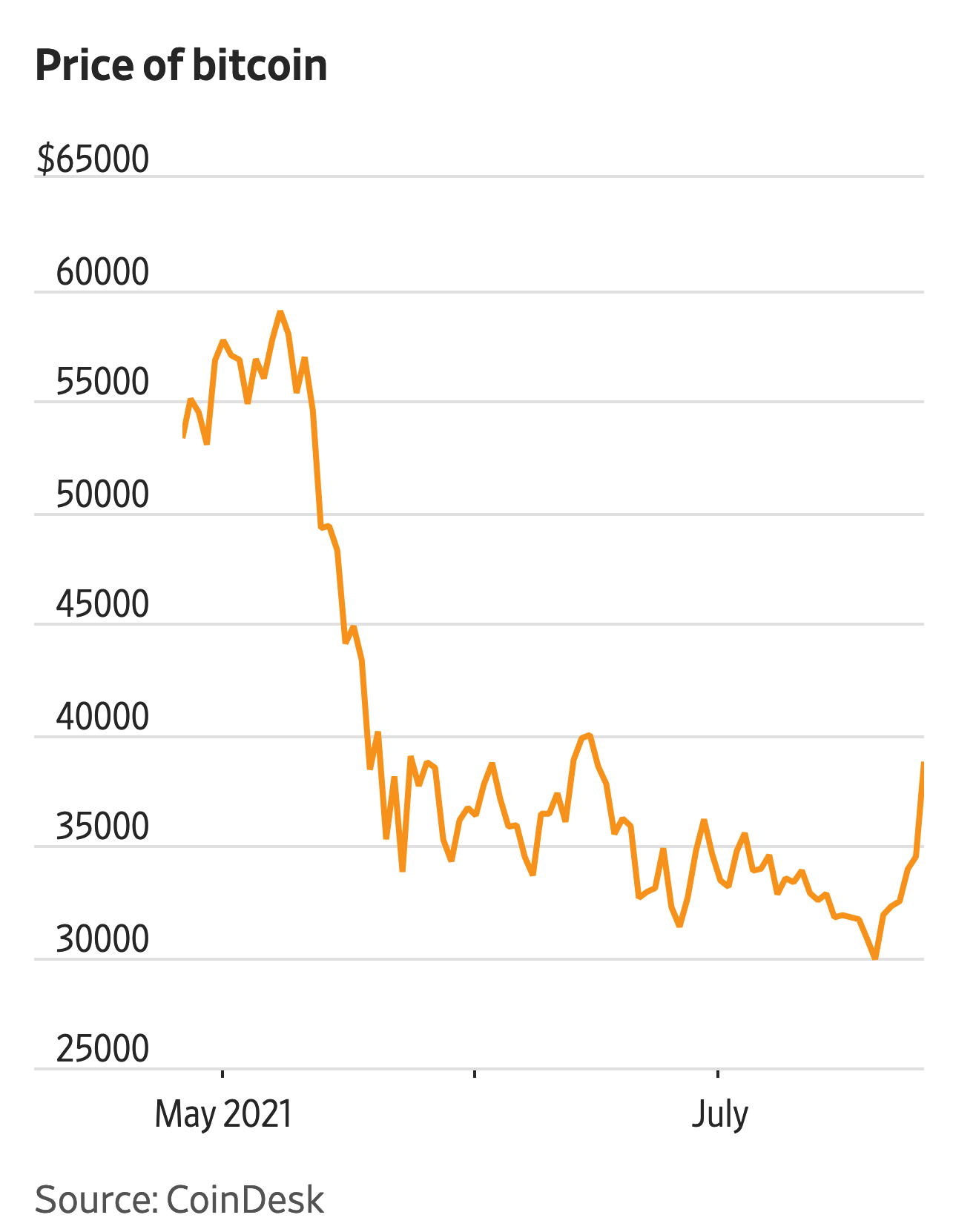 • Brazil Ag minister visits Minas Gerais areas affected by frost. Ag Minister Tereza Cristina met coffee farmers in Alfenas municipality, in Minas Gerais's south, agriculture ministry press officer said in response to a Bloomberg enquiry. The Minister's agenda also included a visit to coffee farm affected by frost. On July 20, Coqueiral, a city in Minas Gerais, declared state of calamity after severe frost reached municipality's coffee fields, according to a document obtained by Bloomberg and confirmed by Coqueiral city hall.  "The state of calamity is decreed due to the disaster classified and coded as frost in the municipality."
     • Chicago is emerging as a new bottleneck in the global supply chain as rail, trucking and logistics operators struggle with a glut of imports from Asia, the Wall Street Journal reports (link). Union Pacific and BNSF Railway have limited container shipments into their overstuffed freight-switching terminals in the Chicago area and some cargo owners and logistics companies have sought to divert shipments to other Midwestern transfer points, raising costs and adding new complications to distribution networks. The logjam is being driven by the rush of U.S. retailers and manufacturers to restock inventories as the economy reopens from Covid-19 lockdowns.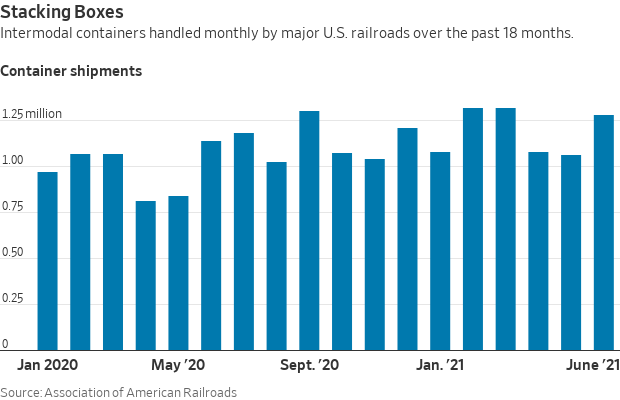 • CFTC Commitments of Traders report (Source: Barron's)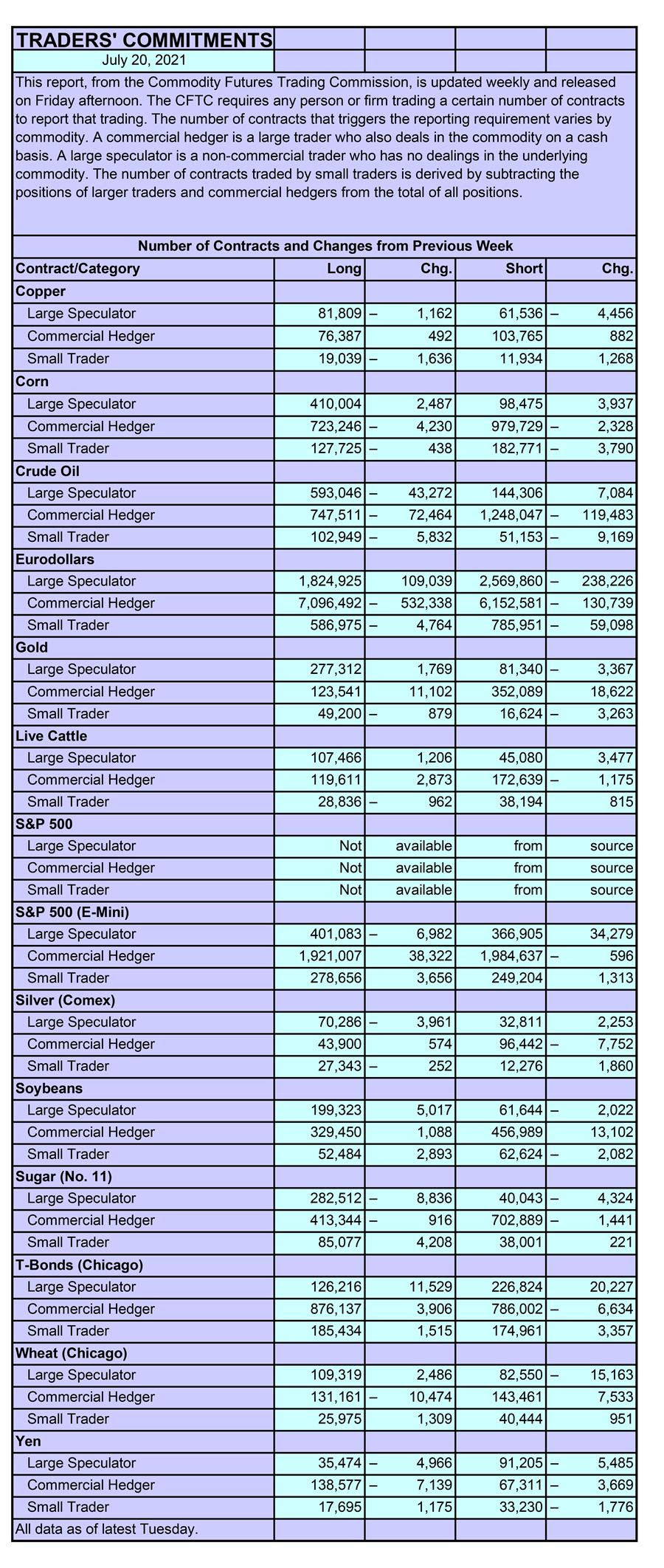 • 171,000: The number of acres of forestry land in Oregon burned so far this year by wildfires, 17 times the 10-year average of 9,900 acres burned at this time of year, according to the chief of fire protection at the state's Department of Forestry. State leaders in Idaho and Oregon called on the National Guard this month as fire activity escalated, and agencies are concerned firefighters could become exhausted well ahead of the hardest months of the season.
     • NWS weather: There is a Slight Risk of excessive rainfall over parts of the southern Mid-Atlantic into the Southern Appalachians and over parts of the Great Basin and Southern California through Tuesday morning... ... There is a Slight Risk of severe thunderstorms over parts of the Upper Midwest through Tuesday morning... ...Excessive Heat Warning over parts of Idaho and eastern Oregon and the Northern High Plains; Heat Advisory over parts of the Lower Mississippi Valley/Southern Plains.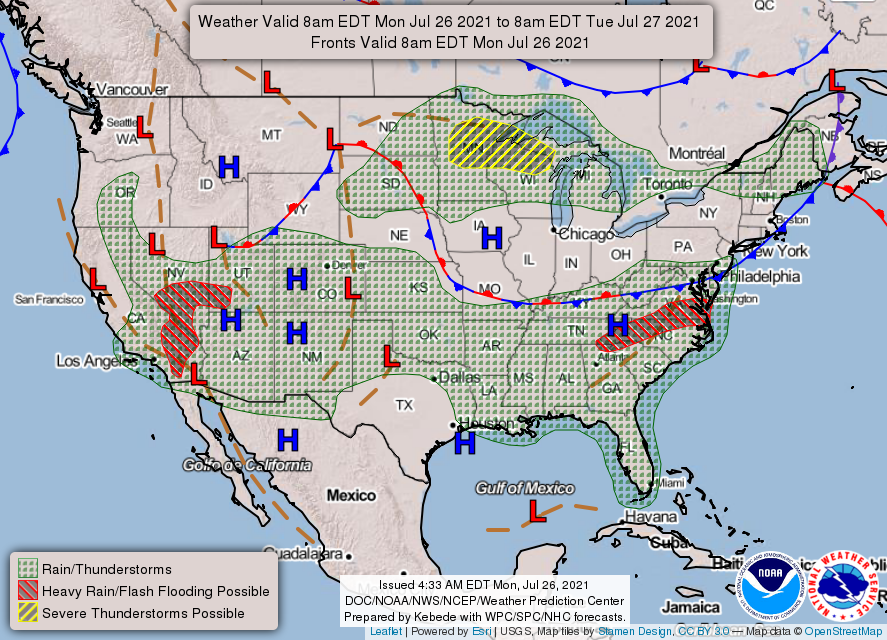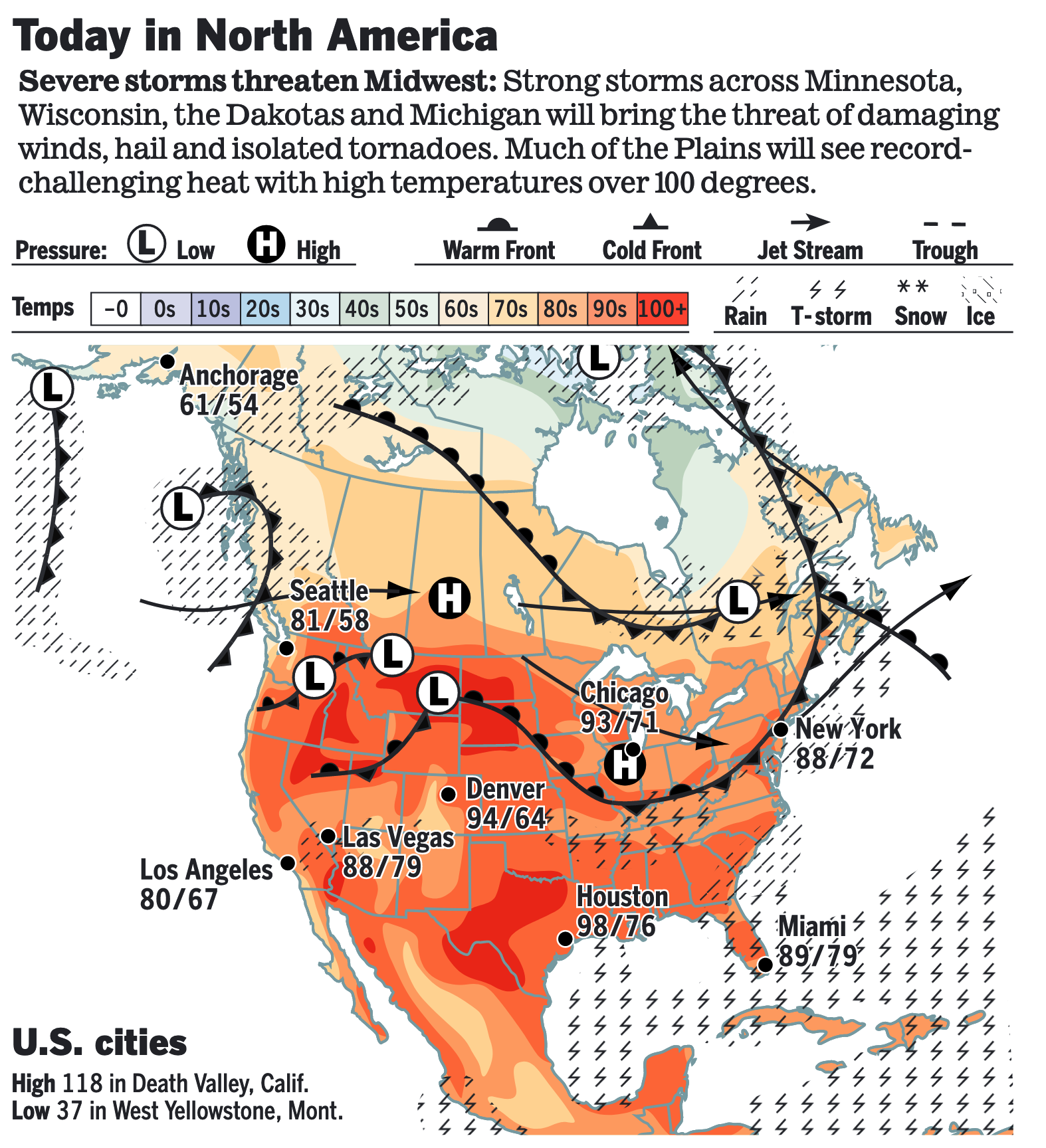 ---
POLICY FOCUS
---
— A few issues linger on physical infrastructure measure. How much money should go to public transit is one of the last remaining issues getting the physical infrastructure package to a vote, a lead Republican negotiator said Sunday. As discussions continued through the weekend, Sen. Rob Portman (R-Ohio) said both sides were "about 90% of the way there" on an agreement. "We have one issue outstanding, and we're not getting much response from the Democrats on it," he said. "It's about mass transit. Our transit number is very generous."
     Timeline. Senate Majority Leader Charles Schumer (D-N.Y.) wants to pass a bipartisan package and an accompanying $3.5-trillion budget plan before the Senate leaves for its August recess. He held a procedural vote last week to begin debate on the broad framework, but all 50 Senate Republicans voted against it, saying they needed to see the full details of the plan.
     Democrats want to see more of the money in the $1.2 trillion infrastructure agreement ($579 billion in new funding) go toward boosting public transportation, which includes subways, light-rail lines and buses, in line with President Biden's original infrastructure proposal. Typically, spending from the federal Highway Trust Fund has followed the formula of 80% for highways and 20% for transit. Republicans want to change that, but Democratic Sens. Sherrod Brown of Ohio and Thomas Carper of Delaware say they will oppose the deal if it does. The White House has declined to say whether Biden would push for the additional funding for transit.
     The final package would need the support of 60 senators in the politically split 50-50 Senate to advance past a filibuster — meaning at least 10 Republicans, along with every Democratic member.
 
---
CHINA UPDATE
---
— China tells U.S. what it must do to repair relations. Chinese foreign vice-minister Xie Feng told his U.S. counterpart that the two countries are in a 'stalemate'. The suggestions include including lifting sanctions and dropping its extradition request for Huawei financial chief Meng Wanzhou. Chinese foreign vice-minister Xie Feng told U.S. deputy secretary of state Wendy Sherman this morning that U.S./China relations had reached a "stalemate" and faced "serious consequences", according to a Chinese foreign ministry statement. "The foundational reason is that some people in the US are treating China as an 'imagined enemy'," it quoted Xie as saying.
     After the meeting, Xie said China gave two lists to the U.S. – one with one remedial action for Washington to take towards China, and the other a series of Beijing's key concerns. Items on the remedial list include lifting the visa restrictions on Communist Party members, their families, and Chinese students; lifting the sanctions imposed on Chinese leaders, government officials and agencies; removing restrictions on Confucius Institutes and Chinese companies; cancelling rulings determining Chinese media as foreign agents; and dropping its request to extradite Meng from Canada.
     Items on the list of concerns include addressing unfair treatment of Chinese citizens in the United States, harassment of the Chinese embassy and its consulates, the rise of anti-Asian and anti-Chinese sentiment, and violence against Chinese citizens.
     Xie said the Chinese side also "expressed its strong dissatisfaction towards the wrong remarks and actions of the U.S." in relation to investigations into the origins of Covid-19, Taiwan, Xinjiang, Hong Kong and the South China Sea.
     "We urge the United States not to underestimate the strong determination, firm will and strong ability of the 1.4 billion Chinese people to safeguard national sovereignty, security and development interests," state news agency Xinhua quoted him as saying.
 
---
TRADE POLICY
---
— U.S., Mexico dispute on auto trade rules. The U.S. and Mexico failed to resolve a dispute over trade rules for cars during a meeting last week, threatening the goal of boosting regional manufacturing under their new trade pact. U.S. Trade Representative Katherine Tai told Mexican Economy Minister Tatiana Clouthier that the U.S. "remains committed to the full implementation of the USMCA, including the strong auto rules of origin," her office said in a statement last Thursday, without elaborating. The pair "agreed to stay in touch in the months ahead," it said. "The rules of origin have not been interpreted the way it was agreed at the moment we signed the agreement," Clouthier told reporters in Washington last Friday. "We need more dialogue as to understand the problems that can be caused if the interpretation continues to be the one that the previous administration has taken. That's where we are at this moment."
 
---
LIVESTOCK, FOOD & BEVERAGE INDUSTRY
---
— Vilsack predicts moderation in food inflation. USDA Secretary Tom Vilsack predicted the jump in U.S. food prices in June will quickly moderate despite rising concern about inflationary risks in the economy. "There are certain selective items in the grocery store folks may see for a period of time increased costs," Vilsack said Friday in an interview on Bloomberg Television's Balance of Power with David Westin. "We think this will even out as we begin to recover, as we begin to get the supply and demand in better balance."
     U.S. food prices jumped 0.8% in June from May, double the pace of the prior two months. Meat and poultry prices surged 2.5% last month, according to the U.S. Department of Labor's consumer price index. Still, food costs are up just 2.4% from a year earlier, while overall inflation was 5.4% for the period.
— Vilsack signaled USDA would soon announce proposed regulations to provide more protection to livestock producers in their dealings with the highly consolidated meatpacking industry. President Joe Biden's executive order on competition instructed the USDA to consider stronger regulations. "I think we will see significant action on that in the very near term," Vilsack told Bloomberg Television.
— The USTR office will take no enforcement action against Vietnam under Section 301 after its state bank reached an agreement with the Treasury Department to end currency practices, said U.S. Trade Representative (USTR) Katherine Tai.  Had there been no agreement, tariffs were expected on exports from the country. The development pleases the National Pork Producers Council because had action been taken, Vietnam would likely have retaliated on U.S. pork exports as pork is the primary meat consumed in Vietnam.
— South Carolina peaches bring happiness to Capitol Hill. Last week, Titan Farms, owned and operated by Chalmers and Lori Anne Carr of Ridge Spring, S.C., the South Carolina Peach Council, the South Carolina Farm Bureau, and the South Carolina Department of Agriculture continued their annual tradition of sending a truckload of America's finest, freshest peaches to Capitol Hill.  The peaches were distributed across Capitol Hill — and even made their way to Senate Republican Leader Mitch McConnell (R-KY). Link to video of Senator Tim Scott (R-SA,) which illustrates the mood when S.C. peaches come to Washington.
— Speaking of peaches, did you ever see and hopefully taste one of the new donut peaches? I did and they are very juicy and sweet. I found mine at my local Harris-Teeter. Pics below: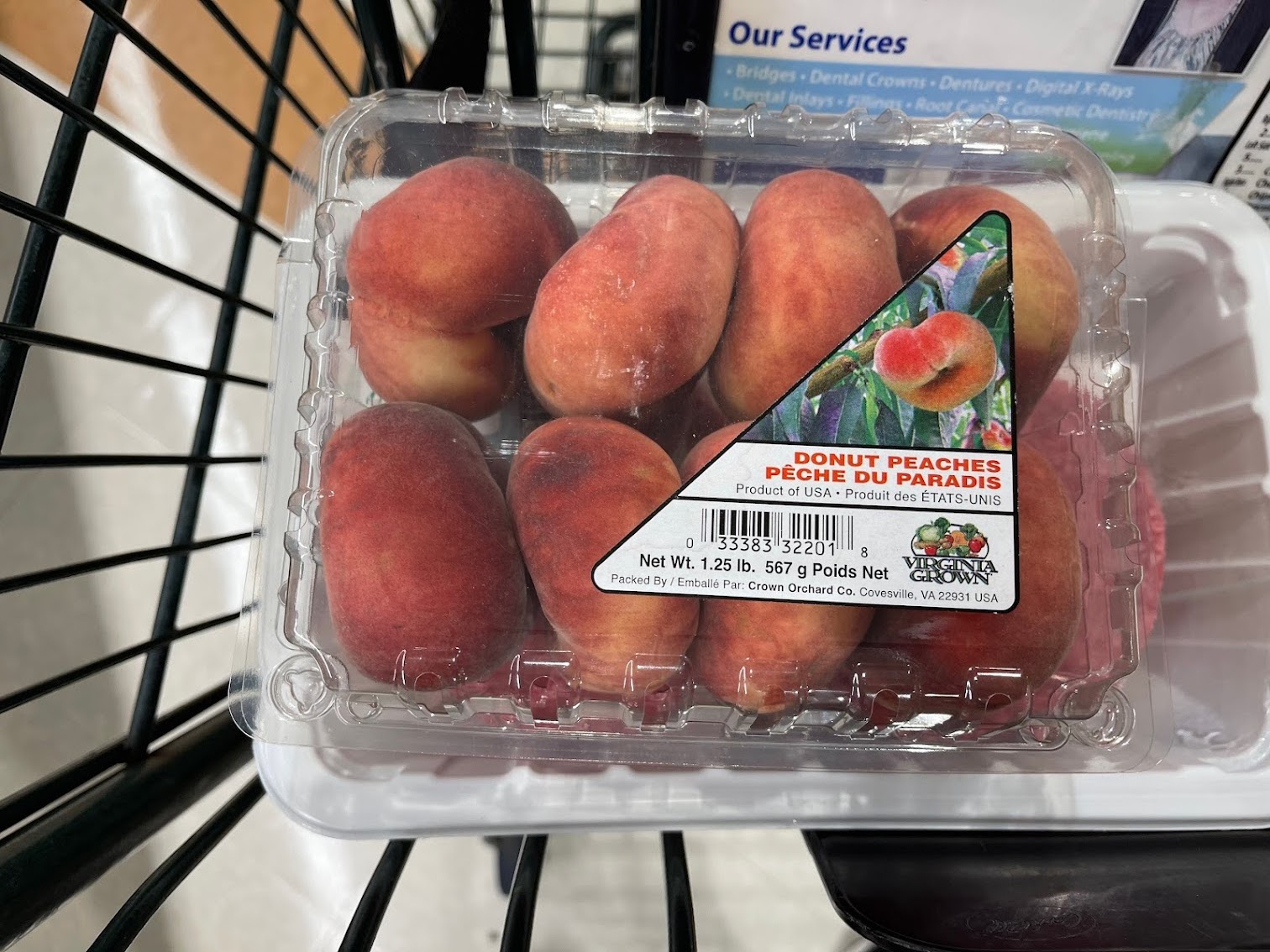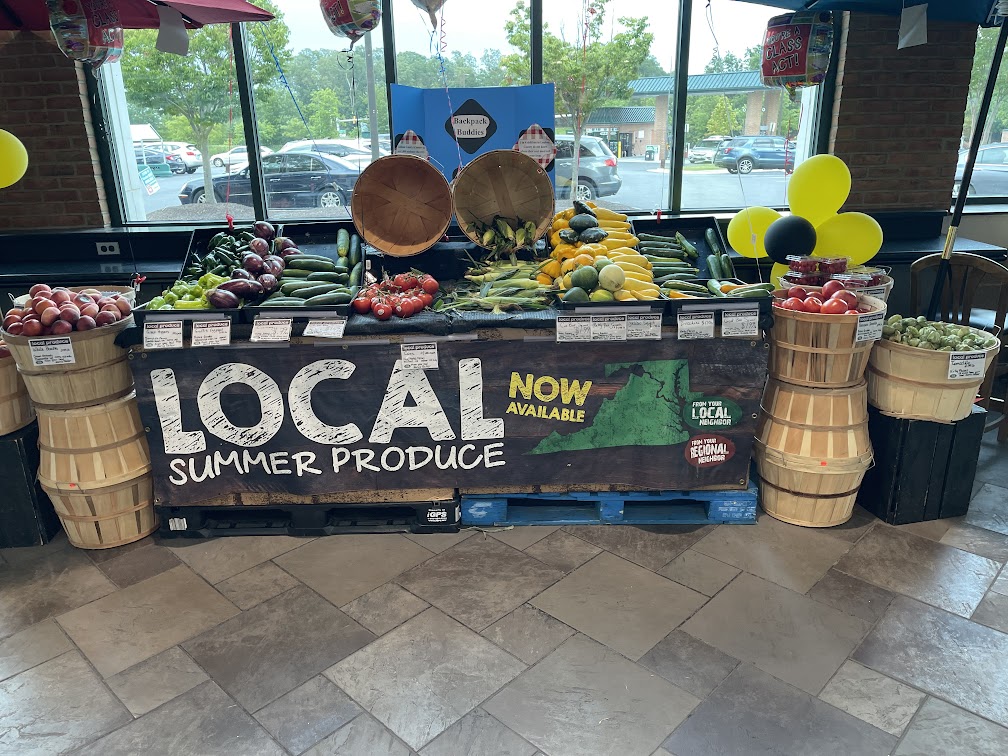 ---
CORONAVIRUS UPDATE
---
— Summary: Global cases of Covid-19 are at 194,241,004 with 4,161,529deaths, according to data compiled by the Center for Systems Science and Engineering at Johns Hopkins University. The U.S. case count is at 34,443,826 with 610,891 deaths. The Johns Hopkins University Coronavirus Resource Center said that there have been 341,818,968 doses administered, 163,025,726 have been fully vaccinated, or 49.7% of the U.S. population
— Fauci: Restarting mask mandates is 'under active consideration'. Dr. Anthony Fauci on Sunday said that bringing back nationwide mask mandates is "under active consideration" amid a spike in delta variant cases in the United States. During a segment on CNN's State of the Union, host Jake Tapper pressed the health authority on whether masks should be brought back for vaccinated people. "You know, Jake, this is under active consideration," Fauci said. "If you're asking, am I part of the discussion? Yes, I am." While the CDC has confirmed that those who are vaccinated are sufficiently protected against the variant as well as the U.K. variant of the virus, Fauci told Tapper that booster shots to supplement the vaccine may be necessary to sustain immunity.
— Race for Covid-19 pill. Japan's Shionogi has started human trials for a once-a-day drug designed to neutralize the coronavirus in less than a week as Pfizer and Merck carry out later-stage tests, the Wall Street Journal reports (link).
---
POLITICS & ELECTIONS
---
— President Biden garnered his lowest coronavirus handling approval rating yet. His administration received a 62% universal approval of its management of the pandemic, according to a poll by the Washington Post (link). Biden's approval dropped 9 points since March, coinciding with the surge of the delta variant and health officials considering relocking down the country and reinstating public mask mandates.
— Rep. Adam Kinzinger (R-Ill.) joined the Jan. 6 select committee after accepting an appointment from House Speaker Nancy Pelosi (D-Calif.). Kinzinger and Rep. Liz Cheney (R-Utah) are the only two Republicans on the panel and the only members of their party who voted in favor of creating the committee.
— Presidential elections and partisanship affect fertility. "We exploit the surprise 2016 election of Trump to identify the effects of a shift in political power on one of the most consequential household decisions: whether to have a child. Republican-leaning counties experience a sharp and persistent increase in fertility relative to Democratic counties: a 1.1 to 2.6 percentage point difference in annual births, depending on the intensity of partisanship," UC San Diego's Gordon Dahl and William Mullins, and the University of Alberta's Runjing Lu write in a working paper (link).
 
---
CONGRESS  
---

— House to consider minibus. The House Rules Committee is set to meet today to agree on the terms of debate for a seven-bill spending package (HR 4502) that includes the USDA, Transportation-HUD, Energy and Water, and Interior-Environment spending bills, among others. The House plans to consider the measure later this week.
 
---
OTHER ITEMS OF NOTE     
---
— California agency weighs order barring thousands in Central Valley from tapping streams, rivers. State water regulators are considering an emergency order that would bar thousands of Central Valley farmers from using stream and river water to irrigate their crops. On Friday, the State Water Resources Control Board released a draft "emergency curtailment" order for the Sacramento-San Joaquin Delta watershed. The measure, first reported by the Sacramento Bee (link), would bar some water rights holders from diverting surface water for agricultural and other purposes. "It says that this drought is really severe," said Erik Ekdahl, deputy director of the state water board's Division of Water Rights, according to the Los Angeles Times. The water board will consider the order's approval on Aug. 3. If approved, it would go into effect about two weeks later at the earliest, Ekdahl added. "This is probably the first time the board has contemplated curtailment orders for the entire bay delta watershed," Ekdahl said. Some notices of water unavailability were sent out to water rights holders in the delta watershed during the 2014-15 time period, but this type of sweeping, formal order was not utilized, he said.
     Implementation details: If approved, the order would be implemented first with junior water rights holders, then more senior water rights holders, and then the most senior. According to Ekdahl, the board believes that more than 10,000 water rights holders would be affected, with their water largely being used for agricultural irrigation purposes. Some municipal, industrial and commercial entities could also be affected.
     The proposed regulation would carve out an exemption for health and human safety purposes.
---