Biden to Discuss Global Supply Chain Issues, Easing Bottlenecks at L.A. Ports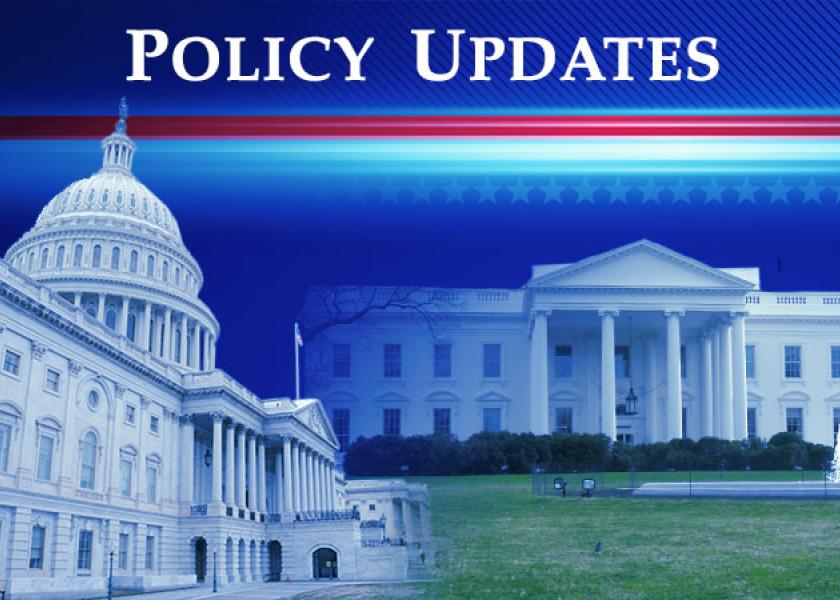 Some Dems warming to including debt limit language in coming budget reconciliation
---
In Today's Digital Newspaper
---
Market Focus:
• USDA daily export sales:
   — 161,544 MT corn to unknown destinations during 2021-2022 marketing year
   — 330,000 MT soybeans to China during 2021-2022 MY
   — 198,000 MT soybeans to unknown destinations during 2021-2022
• Atlanta Fed chief: U.S. jobs slowdown should not derail taper timeline
• IMF: Global economic recovery loses steam
• Americans quit their jobs at a record clip in August
• $10.1 billion is forecast U.S. spending on Halloween this year
• Biden to discuss global supply chain issues, announce plans to ease port congestion
• Big boost coming for those receiving Social Security benefits in 2022
• OPEC trims 2021 oil demand growth but keeps 2022 steady
• Chip shortage hits Apple
• Ag demand update
• Soybeans tried to stabilize overnight
• Chinese bean buying slows in September
• Certified acreage data release delayed
• India approves subsidy for phosphate-based fertilizer, cuts import duties on vegoils
• Chinese meat imports hit 19-month low
• Smaller drop in Choice beef gives some hope we may be nearing value levels
• Lean hogs slide, with pork also under pressure
Policy Focus:
• House as expected approved legislation to raise debt ceiling
• Pelosi: Dems must prepare for cuts to budget reconciliation measure
• New proposed WOTUS definition under review at OMB
Biden Administration Personnel:
• Biden announces USDA state FSA, Rural Development directors
China Update:
• Chinese meat imports hit 19-month
• Home sales in China are falling sharply  
• China's exports grew at faster-than-expected pace last month
Trade Policy:
• Indonesia signals halt of crude palm oil exports will come in favor of refined products
Energy & Climate Change:
• IEA estimates clean-energy spending must triple to curb climate change
• Lawmakers urge EV tax credits to remain in social infrastructure package
• FEMA considers changes to building standards in flood-prone areas

Livestock, Food & Beverage Industry Update:
• FDA issues updated sodium intake guidelines today

Coronavirus Update:
• Moderna booster shot found effective
• U.S. will reopen its land borders to nonessential travel next month
• Biden's Covid-19 vaccine mandate moving closer to approval
Politics & Elections:
• House Budget Chairman Yarmuth announces retirement
• Virginia's gubernatorial race has been tightening for weeks
Other Items of Note:
• G20 held an emergency summit in Rome and pledged to help Afghanistan
• DHS to end worksite immigration raids, promote employment, labor standards
• Older people shouldn't take aspirin to prevent a first heart attack or stroke
---
MARKET FOCUS
---
Equities today: Global stock markets were mixed in overnight trading. The U.S. stock indexes are pointed to slightly higher openings. Asian equities were mixed as a focus on coming inflation data weighed; Hong Kong markets were closed. Japan's Nikkei fell 90.33 points, 0.32%, at 28,140.28. China's Shanghai Composite was up 14.83 points, 0.42%, at 3,561.76. European equity markets were mixed in early action. The Stoxx 600 was up 0.5% with regional markets seeing losses of 0.5% to gains of 0.8%.
     U.S. equities yesterday: The Dow declined 117.77 points, 0.34%, at 34,378.34. The Nasdaq was down 20.28 points, 0.14%, at 14,465.92. The S&P 500 lost 10.54 points, 0.24%, at 4,350.65.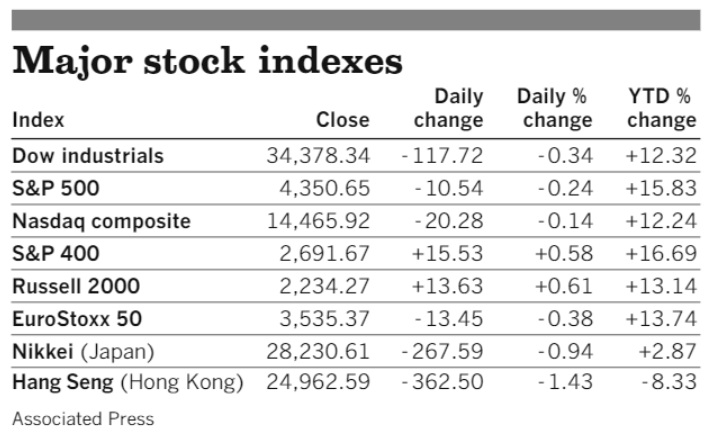 On tap today:
     • U.S. consumer price index for September is expected to increase 0.3% from one month earlier and 5.3% from one year earlier. Excluding food and energy, the CPI is forecast to rise 0.3% and 4%. (8:30 a.m. ET) UPDATE: Overall CPI reading shows inflation rose at a slightly stronger pace than expected in September, with an increase of 0.4% from August versus expectations for a rise of 0.3%. On an annualized basis, headline inflation rose 5.4%, also just above expectations it would be up 5.3%. Core inflation, minus volatile food and energy prices, was up 0.2% for the month and 4.0% on an annualized basis, both in line with expectations. This likely does little to change the inflation narrative from the Fed relative to the situation being temporary. But it also potentially indicates the comments from Fed Chairman Jerome Powell that it could last longer than expected will be more on the mark than not.
     • President Biden will meet with senior officials and stakeholders to discuss global supply chain issues, and will deliver remarks on the issue at 2:20 p.m. ET. Among the participants are Gene Seroka and Mario Cordero, the executive directors of the Los Angeles and Long Beach ports, respectively. See related item below for details.
     • Federal Reserve releases minutes from its Sept. 21-22 meeting at 2 p.m. ET.
     • Fed speakers: Governor Lael Brainard to Oklahoma tribal leaders at 4:30 p.m. ET, and governor Michelle Bowman on the economy and monetary policy at 8 p.m. ET.
Atlanta Fed chief says U.S. jobs slowdown should not derail taper timeline. A sharp slowdown in jobs growth last month should not stop the U.S. Federal Reserve from beginning to scale back its pandemic-era stimulus program in November, a senior Fed official said on Tuesday. Atlanta Fed president Raphael Bostic told the Financial Times that the labor market had made sufficient gains to allow the central bank to reduce, or "taper," its $120 billion a month asset purchase program, which was put in place last year to shield the U.S. economy and financial markets from the coronavirus-induced crisis. "I'd be comfortable starting in November," he said in an interview on Tuesday. "I think that the progress has been made, and the sooner we get moving on that the better." The Fed has said it would purchase Treasuries and agency mortgage-backed securities at the current pace until it saw "substantial further progress" towards maximum employment and inflation that averages 2%.
IMF: Global economic recovery loses steam. The resurgence of the coronavirus and supply chain chokeholds threaten to hold back the momentum of the global economic recovery, a report from the International Monetary Fund (IMF) warns. Though overall growth is forecast at 5.9% this year (down slightly from the prior 6% forecast), the expansion reflects a vast divergence in the fortunes of rich and poor countries. It held the world forecast for 2022 at 4.9%. Uneven access to vaccines and health care is at the heart of the economic disparities. In low-income countries, a staggering 96% of people are still unvaccinated, while poverty, hunger and unmanageable debt are all on the upswing. Employment has fallen, especially among women, reversing many of the gains they made in recent years.
     For advanced economies like the U.S. and Europe, the outlook has also darkened amid supply shortages, weakening consumption and a lack of workers. Fears of rising inflation — even if likely to be temporary — are growing, as prices climb for food, medicine and oil, as well as automobiles. The IMF slashed its 2021 growth forecast for the U.S. by one full percentage point to 6%, the biggest reduction for any G7 economy in its latest World Economic Outlook. The IMF raised the euro area outlook to 5%. China will grow at a rate of 8% this year and 5.6% next, both a decline of 0.1 point, it said. China is holding back fiscal spending just as its slowing economy needs it most.
     "Recent developments have made it abundantly clear that we are all in this together and the pandemic is not over anywhere until it is over everywhere," Gita Gopinath, the IMF's chief economist, wrote in the report.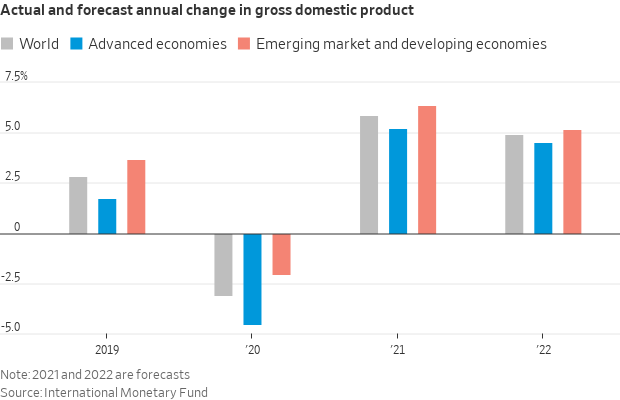 Americans quit their jobs at a record clip in August, a new government report said Tuesday, with restaurant and hotel workers leading the mass exodus. A whopping 4.3 million people quit two months ago, the most on record dating back to December 2000 — and 300,000 more than in July, according to the Labor Department report. The August quits are the equivalent of 3% of the U.S. workforce, the highest quit rate since the Labor Department started keeping records in 2000. The data from Job Openings and Labor Turnover Survey, known as JOLTS, don't indicate where workers end up, but people tend to leave voluntarily when better-paying or otherwise more attractive opportunities arise.
     Hiring in August also plunged sharply — down to 6.3 million from 6.8 million in July — despite the number of available jobs remaining near record high levels. In the past year, open jobs have increased 62%, though available jobs did fall to 10.4 million in August, from a record high of 11.1 million in July. Quits in August at restaurants, bars and hotels jumped 21% compared to the previous month for a total of 900,000. And August saw a 6% jump in retail workers leaving their jobs.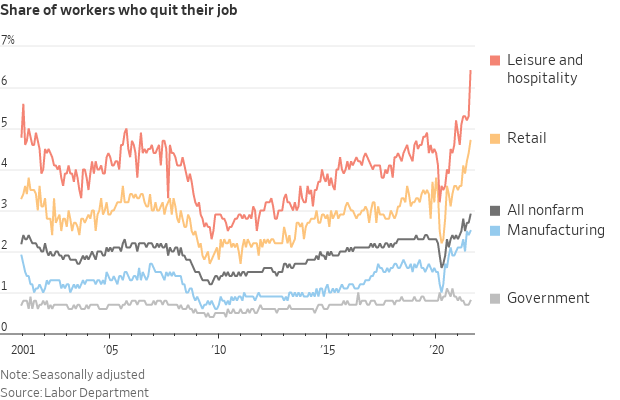 $10.1 billion is forecast U.S. spending on Halloween this year, up from a previous record $9.1 billion in 2017. Demand is outpacing supply ahead of the holiday, as shoppers searching for costumes and decorations are finding empty store shelves thanks to snarls in the supply chain.
Big boost coming for seniors and other Americans receiving Social Security benefits in 2022, as they are likely to see the largest increase in their payments in decades, reflecting surging inflation during the pandemic. The Social Security Administration today is scheduled to release its annual cost-of-living adjustment for the benefits. Analysts expect the adjustment to be a roughly 6% boost, which would translate to an addition of nearly $93 to retirees' current average monthly benefit of $1,543. A 6% cost-of-living adjustment would be the largest since 1982.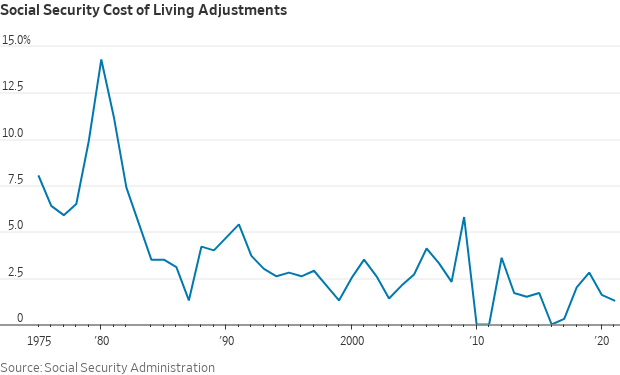 Market perspectives:
     • Outside markets: The U.S. dollar index was weaker ahead of U.S. inflation data as the euro and British pound were slightly higher against the greenback. The yield on the 10-year U.S. Treasury note is weaker, trading around 1.56%, with a weaker tone in global government bond yields. Gold and silver futures are seeing solid gains ahead of U.S. inflation figures, with gold around $1,775 per troy ounce and silver around $22.95 per troy ounce.

     • Crude oil futures are lower ahead of US trading with U.S. crude under $80 per barrel and Brent under $82.70 per barrel. Crude prices eased slightly in Asian trading, with U.S. crude down 16 cents at $80.40 per barrel while Brent was down 16 cents at $83.26 per barrel.
     • OPEC trims 2021 oil demand growth but keeps 2022 steady. OPEC today trimmed its forecast for 2021 oil demand growth to 5.8 million barrels per day (bpd), down from a prior 5.96 million bid based on data for the first three quarters of the year. For 2022, OPEC sees oil demand growing by 4.2 million bpd, unchanged from its prior outlook, with global oil demand expected to average 100.8 million bpd during 2022. The steady outlook comes as OPEC said demand is "supported by healthy economic momentum in the main consuming countries and better management of the Covid-19 pandemic." For 2021, OPEC said the liquids supply growth outside the cartel is seen at 700,000 bpd, down 300,000 bpd from their prior outlook, with the impacts from Hurricane Ida cited as a factor.
     • Chip shortage hits Apple. Apple's share price fell by more than 1% in after-hours trading, following reports that it slashed the number of new iPhones it is producing in the run-up to Christmas. Bloomberg reported that the tech giant cut its manufacturing target for the last three months of 2021, from 90 million devices to perhaps 80 million. Its factories are stymied by the global chip shortage.
     • White House today is expected to announce a pledge from one of the country's busiest ports to operate around the clock, a move aimed at easing cargo bottlenecks that have led to goods shortages and higher consumer costs. By going to 24/7, the Port of Los Angeles will join the neighboring Port of Long Beach, Calif., which started doing the same thing last month. Under the plan, the Port of L.A. will nearly double the number of hours that cargo is moving off container ships and onto highways by having crews work through the night. Members of the International Longshore and Warehouse Union will fill the extra shifts, according to officials. Together the two sprawling facilities are responsible for nearly half of all imports into the United States. In addition, major shippers and retailers — including Walmart, FedEx, UPS, Samsung, Home Depot and Target — will ramp up their operations to clear cargo out of the ports, freeing up more space on the docks. The goal is to move an additional 3,500 containers during the night each week. As of Tuesday morning, there were 58 container ships anchored near the ports of Los Angeles and Long Beach, said Noel Hacegaba, deputy executive director at the Port of Long Beach. Although that's down from a peak of 73 two weeks ago, in normal times there would be few, if any, waiting to dock. Hacegaba said he doesn't expect relief from the supply crunch until next summer. Other experts say it could be early 2023 before the bottlenecks are cleared.
        The Biden administration said it was working with states to accelerate licensing of truck drivers, but the shortage has been building for years as older drivers have left the field and fewer younger people have come to replace them. "As a country, we've convinced every young person that they need to go to college to be successful, and we just don't think that's the case," said Mark Allen, president of the International Foodservice Distributors Assn. He said one way to address the shortage is to lower the minimum age for interstate commercial driver's licenses from 21 to 18, but that would require legislation.
        IHS Markit, an economic forecasting firm, sees the annual pace of U.S. economic growth slowing to just 1.4% in the third quarter, down from a 6.7% growth rate in the second quarter, in part because of supply chain problems. Fourth-quarter growth is looking weaker than expected as well. "I don't know if there's anything that can be done at the White House. I think the underlying cause is Covid-19, and not just in the U.S.," said Ben Herzon, an economist at IHS.
     • USDA daily export sales:
        — 161,544 MT corn to unknown destinations during 2021-2022 marketing year
        — 330,000 MT soybeans to China during 2021-2022 MY
        — 198,000 MT soybeans to unknown destinations during 2021-2022
     • Ag demand: Pakistan has received offers in its tender to buy 90,000 MT of wheat. Egypt canceled its international tender to buy an unspecified amount of wheat.
     • NWS weather: First winter storm of the season spreading heavy snow into the northern High Plains today along with high winds... ...Severe weather and heavy rain over the central Plains today will taper off some as they spread into the upper Midwest tonight... ...Moisture drawn northward from Hurricane Pamela will enhance heavy rain threat across the southern Plains by tonight.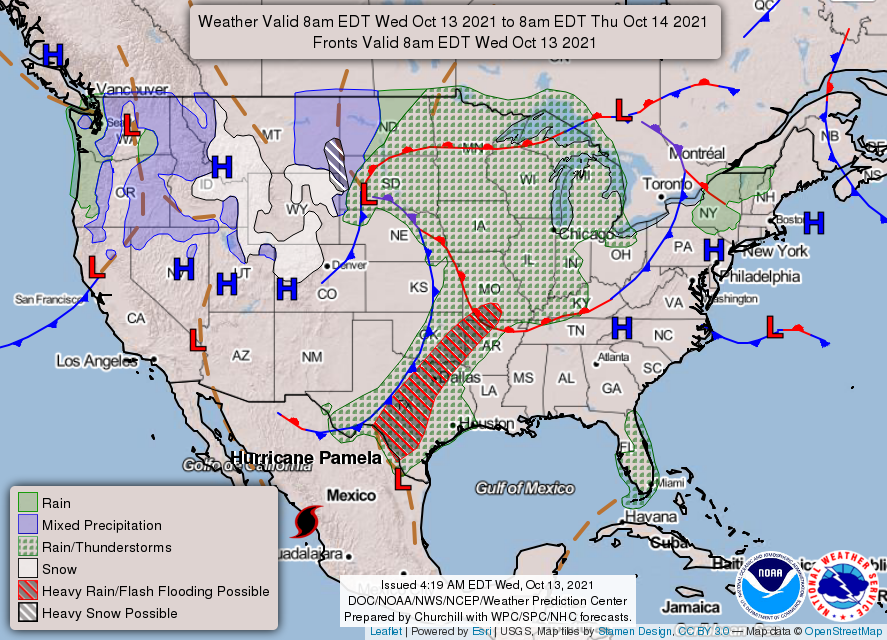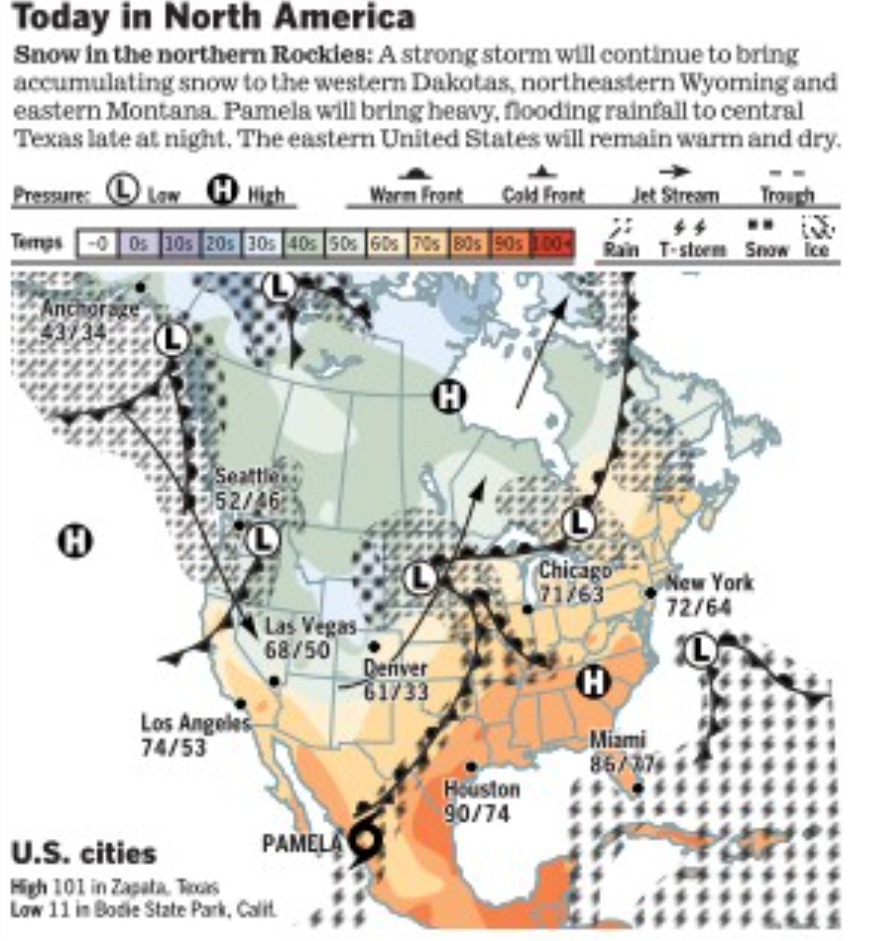 Items in Pro Farmer's First Thing Today include:
     • Soybeans tried to stabilize overnight
     • Chinese bean buying slows in September
     • Certified acreage data release delayed
     • India approves subsidy for phosphate-based fertilizer, cuts import duties on vegoils
     • Chinese meat imports hit 19-month low
     • Smaller drop in Choice beef gives some hope we may be nearing value levels
     • Lean hogs slide, with pork also under pressure
---
POLICY FOCUS
---
— House as expected approved, 219 to 206, legislation to raise the debt ceiling until early December, when another congressional showdown looms. However, some private analysts predict the $480 billion increase in the debt limit will give the Treasury enough fiscal resources to cover its obligations until some point between mid-December and early January. President Biden said he would sign the bill. The House is now in recess and will not hold more votes until 6:30 p.m. ET Tuesday, Oct. 19. The Senate is scheduled to return for votes at 5:30 p.m. ET Monday, Oct. 18.
    Comments: Some congressional sources are noting a change among some Democrats regarding now approving of language dealing with the debt limit to be part of the coming budget reconciliation measure.
— Pelosi says Dems must prepare for cuts to budget reconciliation measure. House Speaker Nancy Pelosi (D-Calif.) on Tuesday began preparing members for cuts to the $3.5 trillion Build Back Better (BBB) Act, also known as the budget reconciliation bill. "I'm very disappointed we're not going with the original $3.5 trillion," Pelosi said. "But whatever we do we will make decisions that will continue to be transformative."
     More agriculture groups and lawmakers have joined the list of those urging no cuts to their sectors. At present, the bill contains a 10-year boost of $66 billion in funding for agricultural research, rural development, biofuels and forestry management programs and $28 billion for conservation. It also includes a $35 billion increase in child nutrition programs, primarily to ease access to school meals.
     Meanwhile, a big-ticket spending issue is clear. Sen. Bernie Sanders (I-Vt.) and Rep. Pramila Jayapal (D-Wash.), chair of the Congressional Progressive Caucus, both said Tuesday that the package must include expanded Medicare coverage for dental, hearing and vision programs. Sanders called it "non-negotiable."
     Biggest obstacle may be coming from Sen. Kyrsten Sinema (D-Ariz.) relative to her opposition to prescription drug pricing reform. The most robust version of this plan to allow Medicare to negotiate drug prices would bring in some $800 billion of revenue at the expense of the pharmaceutical industry. It's one of the most popular policies on the Democrats' menu of options and many party strategists believe Democrats owe their House majority to this issue. Sen. John Manchin (D-W.Va.), another centrist, is much more willing to support a bolder version of drug pricing reform.
     Another Sinema/Manchin split is evident over climate policy: Manchin opposes several Democratic ideas to price carbon pollution, while Sinema favors them.
     Manchin is also at odds regarding how to aid his state's coal producers. Democrats have proposed expensive programs to subsidize those workers' income as they find new jobs, Manchin reportedly nixed the proposal, calling the idea "welfare."
— New proposed WOTUS definition under review at OMB. EPA has sent forward its proposed rule outlining a revised definition of Waters of the United States (WOTUS), with the proposal showing as being on review at the Office of Management and Budget (OMB). In June, EPA and the U.S. Army Corps of Engineers said they would remove the Navigable Waters Protection Rule put in place by the Trump administration and put in place the pre-2015 definition. They also said they would undertake a rulemaking that "defines WOTUS and is informed by a robust engagement process as well as the experience of implementing the pre-2015 rule, the Obama-era Clean Water Rule, and the Trump-era Navigable Waters Protection Rule." EPA and the Corps held a series of listening sessions in August and early September on the matter and said they would also hold ten regionally focused and inclusive roundtables during the upcoming fall and winter, but no details of those roundtables have been made available.
---
BIDEN ADMINISTRATION PERSONNEL
---
— Biden announces USDA state FSA, Rural Development directors. President Biden on Tuesday announced 12 state directors of Farm Service Agency and Rural Development offices, along with regional appointments for the Environmental Protection Agency and the Health and Human Services Department. USDA Sec. Tom Vilsack recently alerted the FSA selections would be coming, with more relatively soon.
---
CHINA UPDATE
---
— Chinese meat imports hit 19-month low. China imported 694,000 MT of meat in September, a 17% drop from year-ago and an 8% decline from August, according to customs data. That was the lowest import tally since February 2020. So far this year, the country has imported 7.38 MMT of meat, a 0.4% slip from year-ago. Chinese pork prices have fallen dramatically this year as domestic production recovers after African swine fever and also because of some demand shifts away from pork. The customs office does not provide a breakdown by meat type.
— Home sales in China are falling sharply as curbs on lending and worries about developers' financial health deter house buyers, casting a pall over an industry that is central to the Chinese economy, the Wall Street Journal reports (link). In recent days, numerous big developers have reported lower sales figures for September, with many showing year-over-year declines of more than 20% or 30%. If sustained, the sharp downturn could have serious economic consequences. Real estate has played an outsize role in China's economy in recent years, and Chinese families have much of their wealth tied up in homes and in investment properties. Slower sales could spill over into investment and construction, potentially hurting growth, employment and local government finances.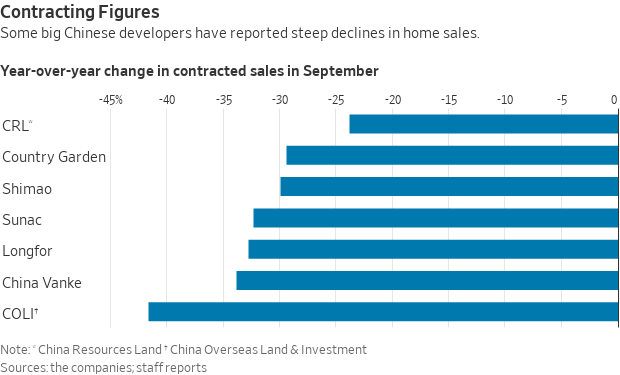 — China's exports grew at a faster-than-expected pace last month, shrugging off logistics bottlenecks, power shortages and other negative effects that risk denting demand. China reported its exports in September were up 28.1%, year-on-year, while imports were up 17.6%.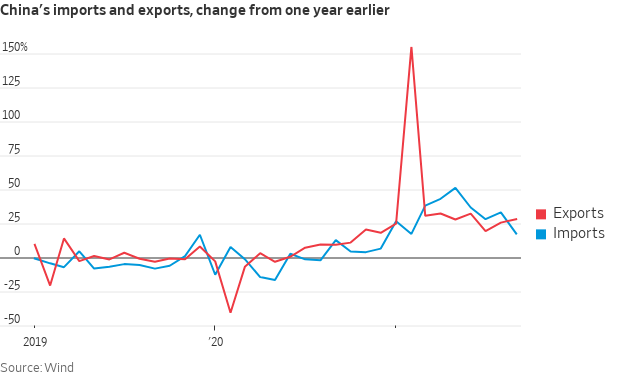 ---
TRADE POLICY
---
— Indonesia signals halt of crude palm oil exports will come in favor of refined products. Indonesian President Joko Widodo said in remarks to government officials that "at some point" the country will halt exports of crude palm oil (CPO) in favor of refined products. "At some point, exports of CPO must stop. Exports must be in the form of cosmetics, margarine, biodiesel or other derivatives," he stated. The country is the world's largest palm oil exporter with CPO accounting for 21% of their 2020 palm oil exports and 9% of exports during the January-August period this year. The country has been seeking to build its domestic downstream industry in several raw materials areas by restricting such exports.
---
ENERGY & CLIMATE CHANGE
---
— IEA estimates clean-energy spending must triple to curb climate change. Extreme volatility in energy markets will present a continued risk unless investment in clean power is tripled in the next decade, the head of the International Energy Agency (IEA) warned, as he issued a call to arms for world leaders ahead of the upcoming U.N. climate summit. Fatih Birol, IEA executive director, told the Financial Times that while projected investment in oil and gas was now aligned with the changes needed to reach net zero emissions of greenhouse gases by 2050, public spending on renewable power was only at a third of the future levels required. "There is a gross mismatch, and the longer this mismatch persists, the greater the risk of further sharp price swings and increased volatility in the future," Birol said. Annual global energy investment is set to rise to $1.9 trillion this year, according to the IEA, including about $370 billion on new renewable power generation.
—  Lawmakers urge EV tax credits to remain in social infrastructure package. Scores of House Democrats signed a letter to House Speaker Nancy Pelosi (D-Calif.) urging that the electric vehicle (EV) tax credit approved by the House Ways and Means Committee "remains as-is" when the chamber takes up the social infrastructure/Build Back Better (BBB) package. The Ways and Means package includes all EVs being eligible for a $7,500 consumer tax credit through 2026, and the lawmakers said they "strongly support leveling the playing field between non-union and unionized workforces by including the added $4,500 incentive to support union-made EVs." The lawmakers said that meeting the emissions reduction goal of 50% to 52% by 2030 will require "adopting policies that make EVs more affordable and accessible to consumers."
— FEMA considers changes to building standards in flood-prone areas. The White House on Tuesday announced a series of new proposals for climate initiatives, including potential new building standards for structures in flood-vulnerable areas. In the fact sheet, the Biden administration announced a request for information for an update to the National Flood Insurance Program's (NFIP) standards for floodplains. The last major update to the standards took place in 1976.
---
LIVESTOCK, FOOD & BEVERAGE INDUSTRY
---
— FDA issues updated sodium intake guidelines today. Just days after FDA Acting Commissioner Janet Woodcock said sodium guidelines were coming soon, FDA released its voluntary short term (2.5 year) goals for sodium content in commercially processed, packaged, and prepared foods. Originally proposed in 2016, the new guidance lists the quantitative target mean concentrations and upper bound concentrations for sodium levels in various food categories. Unlike the 2016 version, it does not include the more ambitious long-term goals, but FDA said in the guidance it plans to monitor the prevalence of sodium in the food supply over time.
---
CORONAVIRUS UPDATE
---
— Summary: Global cases of Covid-19 are at 238,795,989 with 4,867.458 deaths, according to data compiled by the Center for Systems Science and Engineering at Johns Hopkins University. The U.S. case count is at 44,570.588 with 716,479 deaths. The Johns Hopkins University Coronavirus Resource Center said that there have been 403,576,826 doses administered, 187,714,829 have been fully vaccinated, or 57.2% of the U.S. population.
— Moderna booster shot found effective. FDA regulators released a review that found a half-dose booster shot of a Moderna vaccine at least six months after the second dose increased antibody levels significantly.
— U.S. will reopen its land borders to nonessential travel next month, ending a 19-month freeze due to the Covid-19 pandemic. The new rules, to be announced today, will allow fully vaccinated foreign nationals to enter the U.S. regardless of the reason for travel starting in early November, when a similar easing of restrictions is set to kick in for air travel into the country. This means Canadian and Mexican citizens who are fully vaccinated will be permitted to enter the U.S. at its land-border crossings for nonessential purposes beginning in November.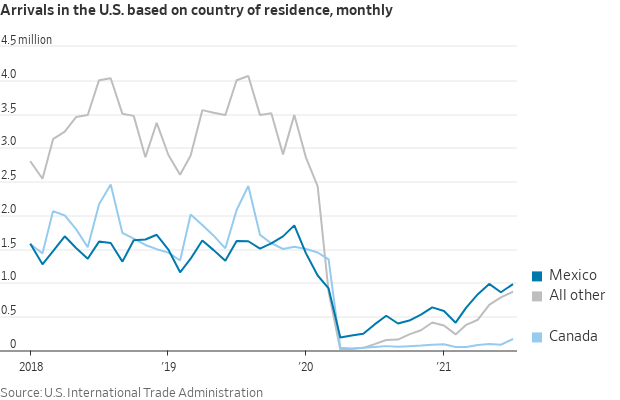 — President Biden's Covid-19 vaccine mandate is moving closer to approval. The Labor Department submitted on Tuesday the initial text of the proposed standard to the White House for approval, signaling its release could soon follow. The Department's announcement comes a day after Texas Gov. Greg Abbott, a Republican, issued an executive order banning businesses and other private entities in his state from requiring Covid-19 vaccinations for employees. Opposing mandates from the White House and the governor of the second-most populous state is causing confusion for businesses.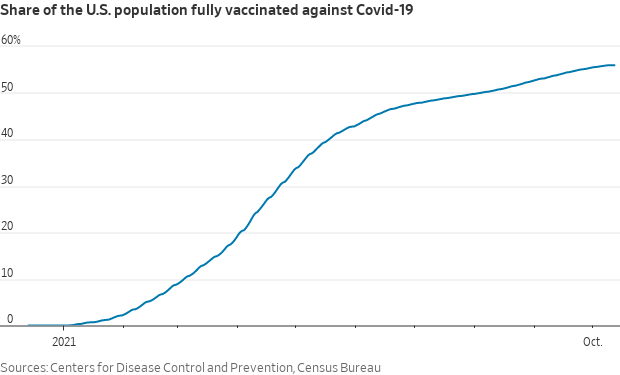 ---
POLITICS & ELECTIONS
---
— House Budget Chairman Yarmuth announces retirement. Yarmuth (D-Ky.), 73, represents Louisville. David Wasserman, House editor of the Cook Political Report with Amy Walter, said in an analysis, "Yarmuth is at the center of Democrats' grueling House negotiations over the infrastructure bill and becomes the tenth Democrat — and the first committee chair — to announce a retirement. Taken collectively, it's evidence Democrats are pessimistic about holding the majority beyond 2022." However, Yarmuth denied he's leaving because he's worried about Democrats losing the House. "I don't want anybody to draw any political narratives out of this. This is 100% a personal decision," Yarmuth told reporters. "I'll be 75 at the end of this term, and I want to control the rest of my time… I have a 2-year-old grandson, and I don't want to miss his growing up." It's unlikely Democrats will lose this Louisville-based seat, which is D+8.
     Will Yarmuth's son run for the seat? Aaron Yarmuth, the congressman's son, recently sold LEO Weekly, the alternative newspaper he owned. The Courier-Journal reported that Aaron is not ruling out a run for his father's seat.
— Virginia's gubernatorial race has been tightening for weeks and in a new CBS poll (link), Democrat Terry McAuliffe leads Republican Glenn Youngkin by just 3 points, 50 to 47, within the margin of error. The poll also looked at how the fights over vaccines and the economy are playing a huge role in the race. The fight over issues around schools is front and center in the race.
---
OTHER ITEMS OF NOTE     
---
— G20 held an emergency summit in Rome and pledged to help Afghanistan tackle its worsening humanitarian crisis. The EU promised $1.2 billion in aid. Germany's Chancellor Angela Merkel said that Afghanistan should not be allowed to "descend into chaos". The international body demurred, however, at recognizing the Taliban officially. Most of the promised aid will be channeled through the U.N.
— DHS to end worksite immigration raids, take actions to promote efforts on employment, labor standards. The Department of Homeland Security (DHS) will end "mass worksite enforcement operations," according to an announcement by DHS Secretary Alejandro Mayorkas. "Under the previous administration, these resource-intensive operations resulted in the simultaneous arrest of hundreds of workers and were used as a tool by exploitative employers to suppress and retaliate against workers' assertion of labor laws." He also directed U.S. Immigration and Customs Enforcement (ICE), U.S. Customs and Border Protection (CBP), and U.S.Citizenship and Immigration Services (USCIS) to take actions to "promote a fair labor market by supporting more effective enforcement of wage protections, workplace safety, labor rights, and other employment laws and standards."
     Mayorkas issued a memo Oct. 12 directing ICE, CBP, and USCIS to develop and update policies relative to enforcement of employment and labor standards. They are to target "workplace enforcement against unscrupulous employers and, through the exercise of prosecutorial discretion, facilitate the participation of vulnerable workers in labor standards investigations."
     As for farmworkers, Mayorkas wants DHS agencies formulate actions to address concerns among undocumented farmworkers relative to their immigration status, including offering "deferred action, continued presence, parole, and other available relief" for victims of exploitative labor practices.
— Older people shouldn't take aspirin to prevent a first heart attack or stroke, according to medical experts. The U.S. Preventive Services Task Force found the risks of internal bleeding cancel out benefits for people 60 and older, according to a draft recommendation from the government-backed panel.
---