$3.5 Trillion Price Tag for 'Human Infrastructure' Reconciliation Package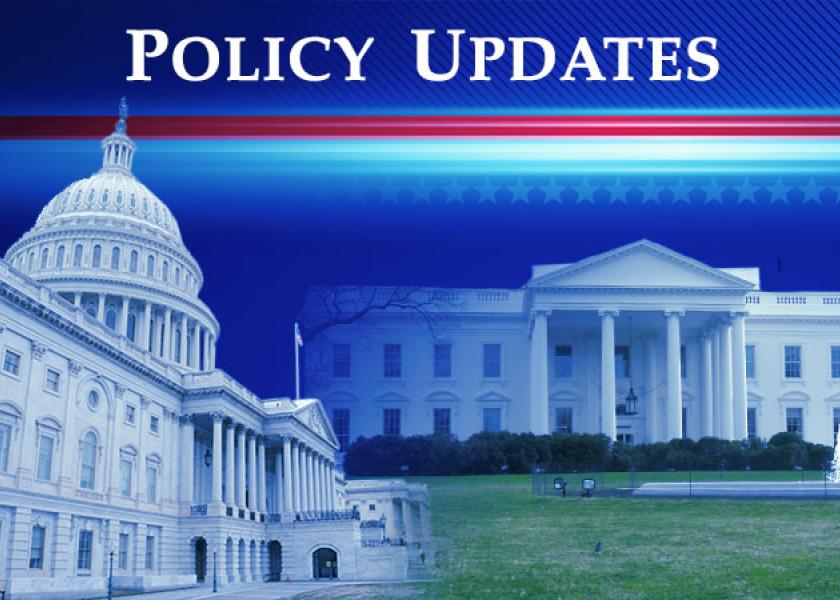 Powell testifies | EU unveils climate change plan | Debt limit | Inflation accelerates
 
---
In Today's Digital Newspaper
---
Market Focus:
• Focus today is on Fed Chair Powell's appearance before House panel
• Powell: Inflation has increased 'notably' but will moderate
• U.S. inflation accelerated in June at the fastest pace in 13 years
• Business execs think inflation is higher, will last longer
• ​​​​Summers met Tuesday with Biden advisers amid inflation fears 
• Yellen to write Congress on debt limit
• Yellen, Powell to discuss risks of housing market  
• China's 2Q GDP released this evening ET
• Ag demand update
• Soybean and wheat futures still climbing
• Storms expected to roll across Midwest from today forward
• ANEC hikes monthly corn, soybean export forecasts for Brazil
• German association trims wheat crop estimate, citing recent heatwave
• Argentina's beef exports dropped 6.6% from YA during May when suspension took effect
• Early cash cattle market strength
• Momentum favors market bulls in the lean hog market
Policy Focus:
• Biden to meet with Senate Democrats about go-it-alone $3.5 trillion reconciliation plan
• Executive order on competition officially published
• Importers, shippers hoping EO on competitiveness resolve longstanding problems
• USDA finally provides details on animal depopulation/disposal assistance 
Biden Administration Personnel:
• Biden to nominate W.Va.'s Rahul Gupta to serve as the country's top drug policy official
• Senate Finance clears two Biden trade nominees
• Culver to Farmer Mac 
China Update:
• Chinese companies acquired 6.48 million hectares of land overseas 2011-2020  
• China accuses U.S. of waging a "sinister" campaign to halt its rise
• U.S. steps up pressure on businesses over Xinjiang situation
• China's summer wheat crop climbs from year-ago, though quality a concern
Trade Policy:
• Senators push to ease Cuba trade ban
• Readout on Tai, Truss meeting yields little on U.S./UK trade deal prospects
Energy & Climate Change:
• China launching world's largest emissions-trading program
• EU proposing program to transform region's economy to fight climate change
• TV ad: Fix the RFS
• Brazil raises mandatory biodiesel blend
Coronavirus Update:
• Washington Monument reopens today after being closed for six months 
Politics & Elections:
• Biden vows to protect 'sacred' right to vote from GOP limits
• Texas hold 'em
Congress:
• VP Harris discussing filibuster changes with senators
• House appropriators clear ag visa amendments "
• Marijuana legalization

Other Items of Note:
• Four lawsuits against Dow and its successor company, Corteva, filed in Calif.
 
---
MARKET FOCUS
---
Equities today: Global stock markets were mostly weaker overnight. The U.S. stock indexes are pointed toward firmer openings largely on initial comments from Fed Chair Jerome Powell. Traders will focus on testimony today from Powell before the House Financial Services Committee and the questions he gets from lawmakers, particularly on inflation and continued Fed support of the U.S. economy (see related item below). Citigroup, Bank of America, BlackRock, Wells Fargo and Delta Air Lines are among the companies reporting earnings today. In Asia, Japan's Nikkei 225 lost 0.4% by the close of trading and China's Shanghai Composite Index dropped 1.1%. New Zealand's dollar rose 1% to $0.70 after the Reserve Bank of New Zealand said it would halt purchase of government bonds this month as the economy rebounds from the shock of coronavirus. The Stoxx Europe 600 on Tuesday hit a fresh record close after it nudged up only 0.03%. The index has gained in seven of the last nine trading days, but this morning it was down 0.3%.
     U.S. equities yesterday: The Dow fell 107.39 points, 0.31%, at 34,888.79. The Nasdaq declined 55.59 points, 0.38%, at 14,677.65. The S&P 500 was down 15.42 points, 0.35%,  at 4,369.21.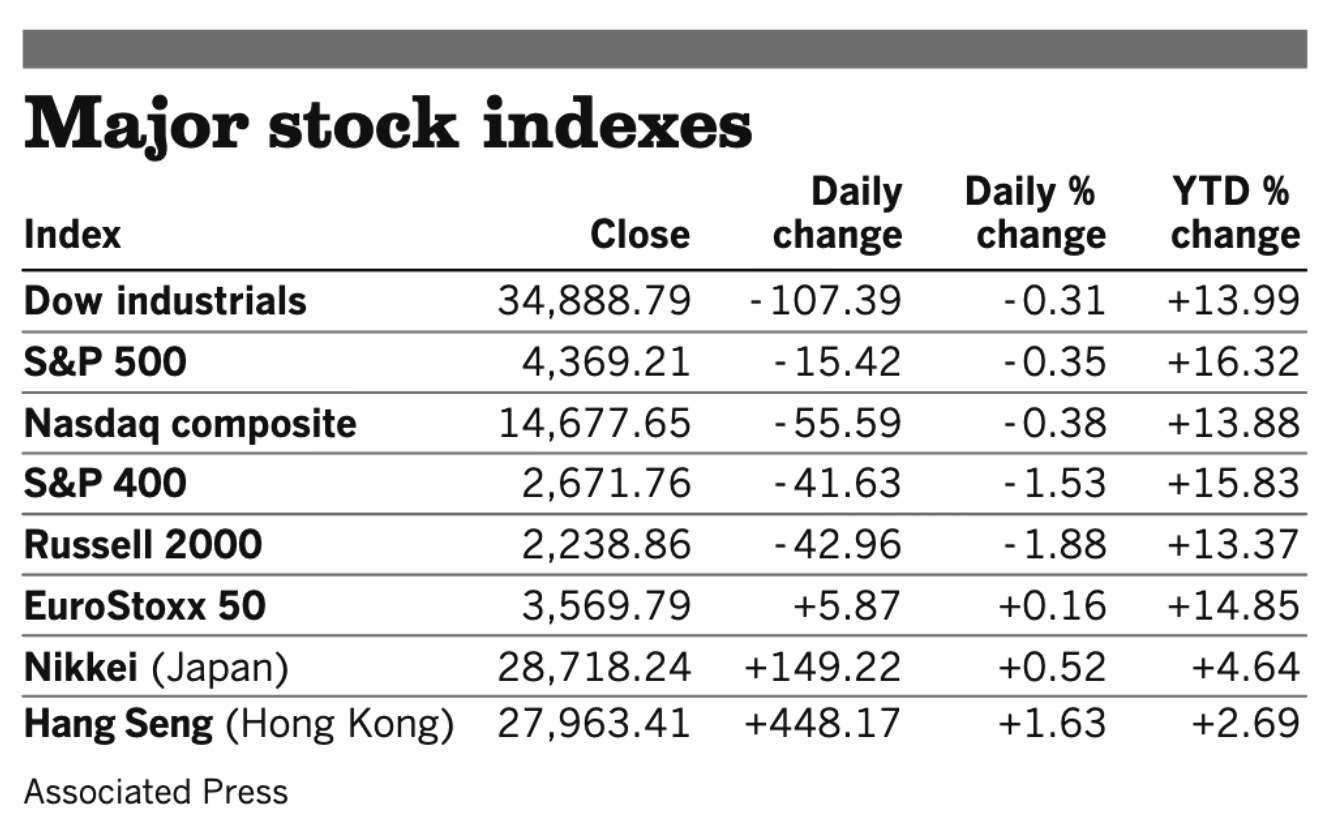 On tap today:
     • U.S. producer-price index for June is expected to rise 0.6% from a month earlier. (8:30 a.m. ET)
     • Bank of Canada releases an interest-rate announcement and monetary policy report at 10 a.m. ET.
     • Federal Reserve Chairman Jerome Powell testifies on monetary policy before the House Financial Services Committee at 12 p.m. ET. See related item.
     • Minneapolis Fed President Neel Kashkari speaks on federal programs for Asian American and Pacific Islander communities at 1:30 p.m. ET.
     • Federal Reserve releases its beige book report at 2 p.m. ET.
     • China's gross domestic product for the second quarter is expected to increase 7.9% from a year earlier. The country's National Bureau of Statistics is also set to release June retail sales, investment and industrial output data. (10 p.m. ET)
U.S. inflation accelerated in June at the fastest pace in 13 years as the recovery from the pandemic gained steam and consumer demand drove up prices for autos, airline fares and other items. The Labor Department said last month's consumer-price index increased 5.4% from a year earlier, the highest 12-month rate since August 2008. The so-called core price index, which excludes the often-volatile categories of food and energy, rose 4.5% from a year before — the highest rate since November 1991. Prices for used cars and trucks leapt 10.5% from the previous month, driving one-third of the rise in the overall index. The indexes for airline fares and apparel also rose sharply in June. Whether the inflation surge is temporary is a key question for the U.S. economy and financial markets — and the Federal Reserve's easy-money policies aimed at helping the economy through the pandemic.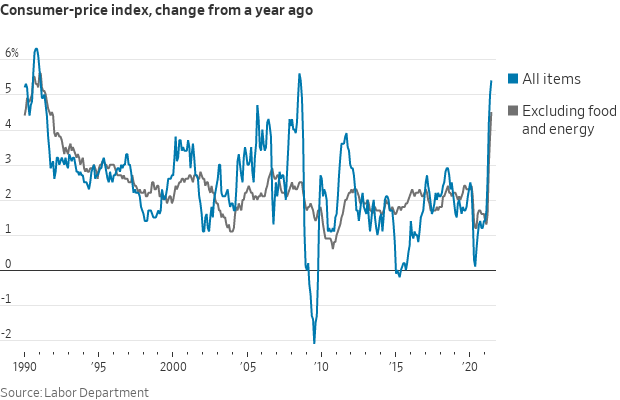 The rise in car and truck prices accounted for one-third of the overall rise in inflation.
     The rise in used car and truck prices accounted for more than one-third of the increase in all goods.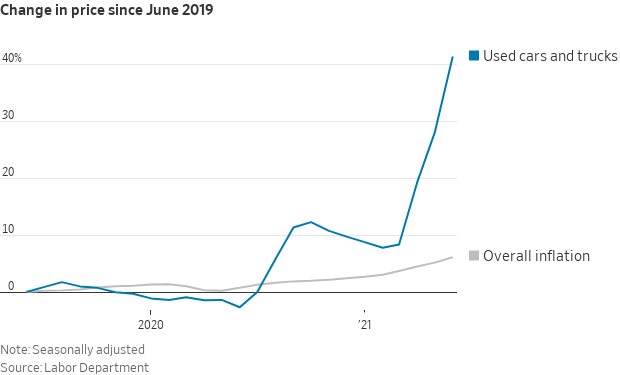 Restaurant prices rose 0.7% for the month and posted a 4.2% rise over the past year, while grocery store prices were up 0.8% from May, but only posted an annual increase of 0.9%, according to the BLS. The rise in restaurant prices on an annualized basis was the biggest rise since May 2009.At the grocery store, beef prices were a key as they rose 4.5% in June, the biggest monthly rise since June 2020.
Lawrence Summers met Tuesday with Biden advisers amid inflation fears. Former Treasury Secretary Lawrence Summers, a sometime critic of President Joe Biden's economic policy, met yesterday at the White House with two of the president's top economic aides. Summers, who served at Treasury in the Clinton administration and worked in the Obama White House, met with National Economic Council Director Brian Deese and Council of Economic Advisers Chair Cecilia Rouse, a White House official said. The group talked about the infrastructure legislation that's under negotiation as well as Biden's broader Build Back Better economic agenda, the official said.
Fed Chair Powell may say inflation is transitory, but some business execs do not. Corporate executives are preparing for a longer spell of inflation. Jamie Dimon of JPMorgan Chase told analysts on the bank's earnings call yesterday that inflation was "a little worse than the Fed thinks." On PepsiCo's call, Hugh Johnston, the company's CFO, said the food and beverage giant was likely to raise prices soon. "Is there somewhat more inflationary pressures out there? There is," he said. "Are we going to be pricing to deal with it? We certainly are."
Powell says inflation has increased 'notably' but will moderate. Federal Reserve Chair Jerome Powell acknowledged the rise in inflation in his prepared testimony to the House Financial Services Committee but reiterated the Fed view that it will "moderate" over time. "Inflation has increased notably and will likely remain elevated in coming months before moderating," Powell said. But the rise in prices is being "temporarily boosted by base effects, as the sharp pandemic-related price declines from last spring drop out of the 12-month calculation." He also pointed to "strong demand in sectors where production bottlenecks or other supply constraints have limited production and has led to especially rapid price increases for some goods and services, which should partially reverse as the effects of the bottlenecks unwind."
     While noting that employment has increased from the pandemic lows, Powell said, "there is still a long way to go."  He observed that the unemployment rate at 5.9% in June "understates the shortfall in employment."
     As for tapering the Fed's bond purchases, Powell said the Fed's marker of "substantial further progress" is "still a ways off" even as the Fed expects that progress will continue. The Fed started their discussions on tapering in June, Powell said, "We will continue these discussions in coming meetings. As we have said, we will provide advance notice before announcing any decision to make changes to our purchases."
U.S. budget deficit narrowed to $2.2 trillion during the first nine months of the fiscal year from the same period a year earlier, with the gap between spending and revenue shrinking as the recovery boosted tax collections. The nonpartisan Congressional Budget Office (CBO) projects that the federal budget deficit for this fiscal year will reach about $3 trillion. Relative to the size of the economy, this year's deficit is projected to total 13.4% of gross domestic product, the CBO says, making it the second largest since 1945 and exceeded only by last year's 14.9% gap.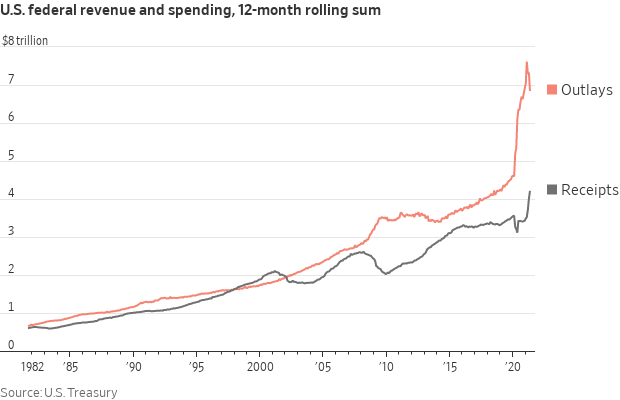 Yellen to write Congress on debt limit. Treasury Secretary Janet Yellen said in an interview from Brussels yesterday with Bloomberg News that she intends to write to Congress as the end of July approaches to advise lawmakers on how long Treasury could hold out without breaching the debt limit. The current suspension of the debt limit is set to expire on July 31, and it's unclear how long the Treasury can cover government expenses, which ultimately could push the U.S. into default on maturing debt payments.
Yellen, Powell to discuss risks of housing market. Treasury Secretary Janet Yellen and Fed Chair Jerome Powell will discuss the hot U.S. housing market and the risks it could pose to the financial system at a meeting with fellow regulators on Friday. The aim of the closed-door session: To make sure the U.S. is not vulnerable to a crisis akin to the one it suffered more than a dozen years ago, when the bursting of a property-price bubble drove top banks to the brink of insolvency and the economy into a deep recession.
Market perspectives:
     • Outside markets: The U.S. dollar index is lower with the euro stronger against the greenback. The yield on the 10-year U.S. Treasury note is slightly weaker, trading under 1.39% while there is a mixed trend in global government bond yields. Gold and silver futures are firmer ahead of U.S. trading, with gold above $1,815 per troy ounce and silver above $26.25 per troy ounce.
     • Crude oil has moved lower ahead of U.S. gov't inventory data due out later this morning. U.S. crude is trading around $74.80 per barrel and Brent around $76.20 per barrel. Futures were lower in Asian action, with U.S. crude down 18 cents at $75.07 per barrel and Brent down 12 cents at $76.37 per barrel.
     • Ag demand: South Korea tendered to buy 7,600 MT of GMO-free soybeans.  Egypt tendered to buy an unspecified amount of wheat from global suppliers. The Philippines purchased around 40,000 MT of animal feed wheat to be sourced from the Black Sea region late last week. Turkey purchased around 395,000 MT of milling wheat in an international tender. Japan will import 220 MT of feed-quality barley for livestock use via a simultaneous buy and sell auction in which it was seeking 80,000 MT of feed wheat and 100,000 MT of feed barley.
     • NWS weather outlook: Heavy rain and potential flooding for parts of the Central U.S. and the Desert Southwest... ...Heat wave across the western U.S. abates in intensity through the end of the week.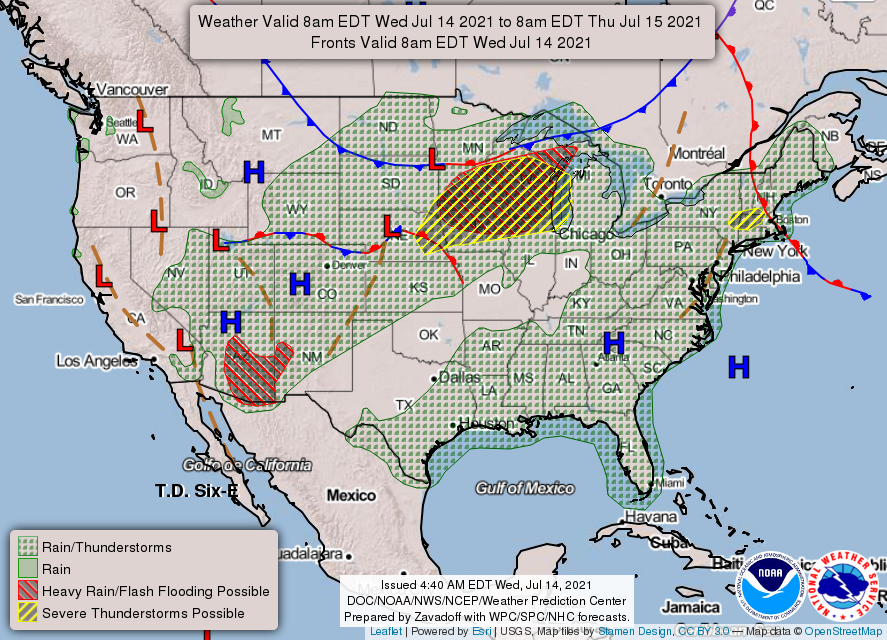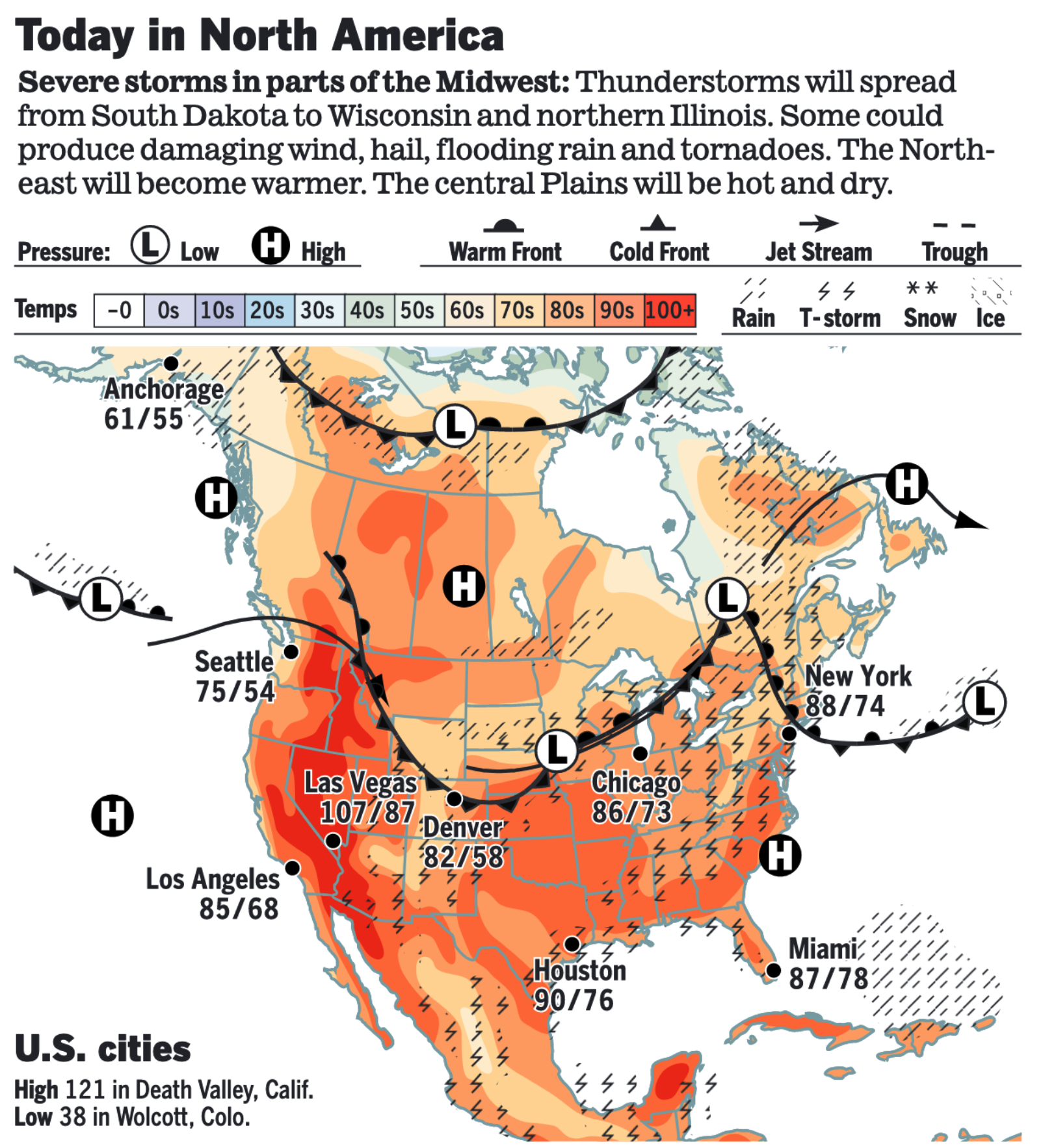 Items in Pro Farmer's First Thing Today include:
     • Soybean and wheat futures still climbing
     • Storms expected to roll across Midwest from today forward
     • ANEC hikes monthly corn, soybean export forecasts for Brazil
     • German association trims wheat crop estimate, citing recent heatwave
     • Argentina's beef exports down 6.6% from year ago during May as suspension took effect
     • Early cash cattle market strength
     • Momentum favors market bulls in the lean hog market
 
---
POLICY FOCUS
---
— Biden to meet with Senate Democrats about their $3.5 trillion reconciliation budget plan. President Joe Biden is set to meet with Senate Democrats at the Capitol today to discuss an agreement reached late Tuesday on a $3.5 trillion budget plan that would expand Medicare, fund climate-change initiatives and fulfill other parts of Biden's economic agenda. Vice President Kamala Harris, Commerce Secretary Gina M. Raimondo and Labor Secretary Marty Walsh will also attend.
     Senate Majority Leader Chuck Schumer (D-N.Y.) announced the agreement for a budget reconciliation package that would fund "human infrastructure," a term Biden has used. Democrats hope to pass the legislation via reconciliation, which they could pass with a simple majority in the evenly divided Senate and avoid a filibuster. Democrats on the committee had been divided about the size and scope of the package, with Budget Chairman Bernie Sanders (I-Vt.) initially pushing a $6 trillion measure. "This is the most significant piece of legislation passed since the Great Depression, and I'm delighted to be part of having helped to put it together," Sanders told reporters. "A lot of work remains."
     Schumer told reporters, "We have come to an agreement. ... You add that to the $600 billion in a bipartisan plan and you get to $4.1 trillion, which is very, very close to what President Biden has asked us for." Schumer said the agreement, which still must be endorsed by the 50-member Senate Democratic caucus, "would include a significant expansion of the Medicare healthcare program for the elderly — a top goal of Budget Committee Chairman Bernie Sanders." (The bipartisan infrastructure framework is expected to total $1.2 trillion, though about half that amount is simply the expected continuation of existing federal programs.)
     Proposals include expanded caregiving for the disabled and elderly, universal prekindergarten, subsidized childcare, national paid family leave, extended child tax credits and an assortment of environmental initiatives, including plans to pour money into addressing climate change, after liberal Democrats warned that they would not support the bipartisan framework without the promise of further climate action. Schumer said Democrats also added a plan to expand Medicare, including coverage for dental, vision and hearing. But Schumer didn't detail whether a proposal to lower the eligibility age for Medicare will be included or if a separate proposal to lower prescription drug prices is in the plan. The reported $100 billion expansion of the child tax credit program will provide nearly 40 million American families with direct cash payments of $300 per child under the age of 6 and $250 per child 6 and older — a monthly benefit that's expected to reduce child poverty by more than 40%. It is also likely to extend a temporary provision in the president's pandemic relief law that greatly expands subsidies for Americans purchasing health insurance through the Affordable Care Act, one of the largest health measures since the law was passed more than a decade ago.
     Outlook: The president did not immediately endorse it publicly, but White House economic adviser Brian Deese and chief legislative liaison Louisa Terrell attended last night's meeting. The key is whether Biden and Democratic leaders can unite all Senate Democrats in support of the package. Moderate Democrats including Sen. Joe Manchin (D-W.Va.) are key swing votes. In the past, Manchin has signaled he would not support anything beyond $2 trillion. Focus now will be on the actual legislative language and how that may aid key states of swing voters. Manchin wants the reconciliation plan and the bipartisan infrastructure bill "to be fully paid for," telling reporters, "I think everything should be paid for. We've put enough free money out."
     Another issue is how the "antipoverty" measure would be funded. Biden has proposed increasing taxes on corporations and doubling the capital gains tax to fund the "human infrastructure" and climate components. The president has said he won't raise taxes on any families earning less than $400,000 a year. Sen. Mark Warner (D-Va.,) told reporters Tuesday night that the package would be fully financed with offsetting revenue, but he provided no details. Biden proposed increasing the corporate tax rate to 28% from 21%, tightening the net on U.S. companies' foreign earnings and raising the top capital-gains rate to 43.4% from 23.8% to cover the cost of his roughly $4 trillion agenda over 15 years. But many Democrats have opposed or expressed skepticism about several elements of those tax plans, likely lowering the total amount of revenue the party can agree to raise. Meanwhile, Republicans said that the physical infrastructure agreement's plan to raise funds from enhanced enforcement at the Internal Revenue Service may still prove problematic, depending on the scope of the new authority given to the tax agency. At least 10 Republicans would need to join every Democrat for the physical infrastructure agreement to pass.
     House Speaker Nancy Pelosi (D-Calif.) has said the House won't take up the infrastructure bill until the Senate also passes the broader Democratic package.
     Meanwhile, negotiations on a $579 billion bipartisan bill focused on physical infrastructure, the second part of Biden's two-track economic package, made some headway after meetings earlier last night. Sen. Rob Portman (R-Ohio), the lead Republican negotiator, said "about half" of the outstanding issues were resolved last night, but a "couple dozen" remain. The goal, he said, is to resolve the remaining issues by tomorrow and work on drafting the legislation over the weekend. Biden will meet at the White House at 3 p.m. ET with a bipartisan group of governors and mayors to discuss the bipartisan infrastructure plan.
     Bottom line: No confident prediction on the physical and human infrastructure (reconciliation) measures can be made until actual text is released. For example, will the reconciliation package include a path to citizenship for immigrants.
— Executive order on competition officially published. President Joe Biden's executive order on competition signed July 9 at the White House has been formally published in the Federal Register. Link to the executive order. Around 20% of the order is linked to actions relative to U.S. agriculture and the Federal Trade Commission (FTC) has an outsized role in most of the actions outlined in the order.
— Importers, shippers hoping President Biden's executive order on business competitiveness helps resolve longstanding problems they have had with ocean and rail regulation. Groups representing retail importers, industrial shippers and agriculture exporters say the White House directive targets entrenched issues over freight transport fees and services, the Wall Street Journal reports (link), including charges they say have surged during the past year's big supply chain disruptions. Those include the detention and demurrage late fees that some shippers say are costing them millions even as ships wait offshore at ports and shipping containers remain in short supply. "I think it's a start," said Jonathan Gold of the National Retail Federation, on the impact of the White House executive order on competitiveness in the ocean and rail sectors.
     Freight carriers call the Biden administration's move an overreaction to recent disruptions driven by the pandemic rather than by fundamental problems in transportation markets. The order doesn't provide new authority to maritime and rail regulators, but shipping groups say the strong interest from the White House may shift the balance in ongoing service disputes.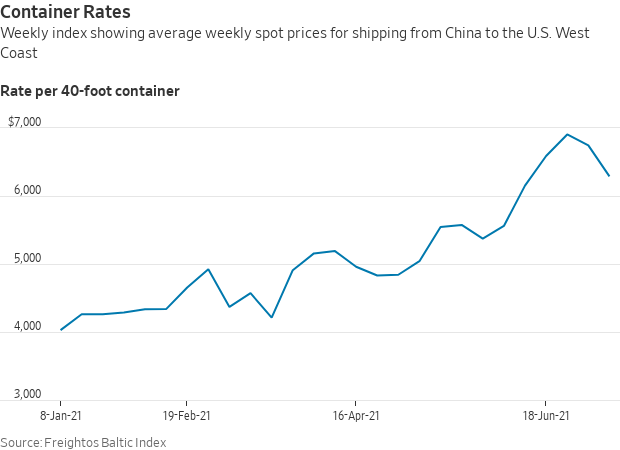 — USDA finally provides some details on animal depopulation/disposal assistance. Livestock and poultry producers who suffered losses during the Covid-19 pandemic due to insufficient access to processing can now apply for assistance for those losses and the cost of depopulation and disposal of animals, USDA announced Tuesday. This is part of the Pandemic Livestock Indemnity Program (PLIP) unveiled by Ag Secretary Tom Vilsack in Wisconsin Dells. Producers can apply for aid July 20 through Sept. 17.
     PLIP payment calculations. Payments will be based on 80% of the fair market value of the livestock and poultry and for the cost of depopulation and disposal of the animal from March 1, 2020, through Dec. 26, 2020. Payments will be based on a single payment rate per head. USDA details, "PLIP payments will be calculated by multiplying the number of head of eligible livestock or poultry by the payment rate per head, and then subtracting the amount of any payments the eligible livestock or poultry owner has received for disposal of the livestock or poultry under the Natural Resources Conservation Service Environmental Quality Incentives Program or a state program. The payments will also be reduced by any Coronavirus Food Assistance Program (CFAP 1 and 2) payments paid on the same inventory of swine that were depopulated.
     USDA says it has set aside "up to $50 million in pandemic assistance funds to provide additional assistance for small hog producers that use the spot market or negotiate prices. Details on the additional targeted assistance are expected to be available this summer."
     Eligible livestock must have been depopulated from March 1, 2020, through December 26, 2020, due to insufficient processing access because of the pandemic. Livestock must have been physically located in the U.S. or a territory of the U.S. at the time of depopulation. Eligible livestock owners include persons or legal entities who, as of the day the eligible livestock was depopulated, had legal ownership of the livestock. Packers, live poultry dealers and contract growers are not eligible for PLIP.
     PLIP payments compensate participants for 80% of both the loss of the eligible livestock or poultry and for the cost of depopulation and disposal based on a single payment rate per head. PLIP payments will be calculated by multiplying the number of head of eligible livestock or poultry by the payment rate per head, and then subtracting the amount of any payments the eligible livestock or poultry owner has received for disposal of the livestock or poultry under the Natural Resources Conservation Service (NRCS) Environmental Quality Incentives Program (EQIP) or a state program. The payments will also be reduced by any Coronavirus Food Assistance Program (CFAP 1 and 2) payments paid on the same inventory of swine that were depopulated.
     There is no per person or legal entity payment limitation on PLIP payments. To be eligible for payments, a person or legal entity must have an average adjusted gross income (AGI) of less than $900,000 for tax years 2016, 2017 and 2018.
     Eligible livestock and poultry producers can apply for PLIP starting July 20, 2021, by completing the FSA-620, Pandemic Livestock Indemnity Program application, and submitting it to any FSA county office. Additional documentation may be required. Visit farmers.gov/plip (link) for a copy of the Notice of Funding Availability and more information on how to apply.
 
---
BIDEN ADMINISTRATION PERSONNEL
---
— Biden to nominate W.Va.'s Rahul Gupta, a March of Dimes executive, to serve as the country's top drug policy official. The pick, which the Washington Post first reported, and the White House confirmed on Tuesday, comes amid a worsening drug overdose crisis and continued debate over how the federal government should best respond. If confirmed, Gupta will serve as director of the Office of National Drug Control Policy, a clearinghouse agency that oversees most drug-related policy and gives input on the budgets of other drug policy agencies, like the Drug Enforcement Administration and the Substance Abuse and Mental Health Services Administration.
— Senate Finance clears two Biden trade nominees. The Senate Finance Committee voted Tuesday to approve two nominees for posts at the Office of the U.S. Trade Representative (USTR), forwarding those nominations to the full Senate. The panel failed to have a quorum present initially, so the votes were held later on the sidelines of the Senate. The panel approved 27-1 the nomination of Sarah Bianchi to be deputy U.S. trade representative for Asia, Africa, investment, services, textiles, and industrial competitiveness. The panel also cleared 25-3 Jayme Ray White to be a deputy U.S. trade representative for the Western Hemisphere, Europe, the Middle East, labor, and environment.
— Culver to Farmer Mac. President Biden nominated former Iowa Gov. Chet Culver to serve on the board of the Federal Agricultural Mortgage Corp. He served on the same board during the Obama era.
 
---
CHINA UPDATE
---
— Chinese companies acquired 6.48 million hectares of land overseas between 2011 and 2020, Nikkei Asia reported July 13 (link), citing a new report released by Land Matrix. Chinese purchases dwarfed the 1.56 million hectares bought by the United Kingdom (who was the next largest buyer of overseas land during that time), followed by the 860,000 and the 420,000 hectares bought by U.S. and Japanese companies, respectively. Myanmar and Russia accounted for most agricultural land purchases; the Democratic Republic of Congo comprised most forest land acquisitions; Peru and the Democratic Republic of Congo comprised most mining land acquisitions.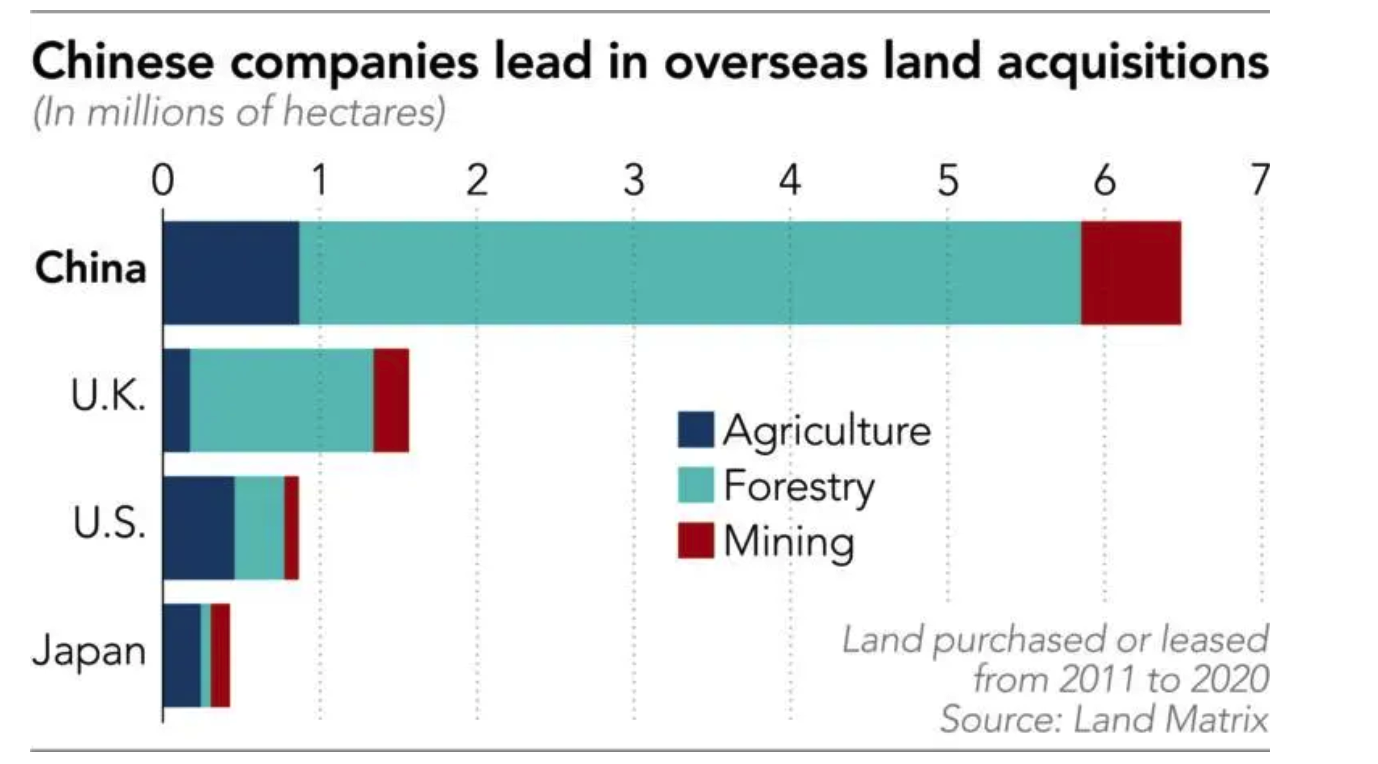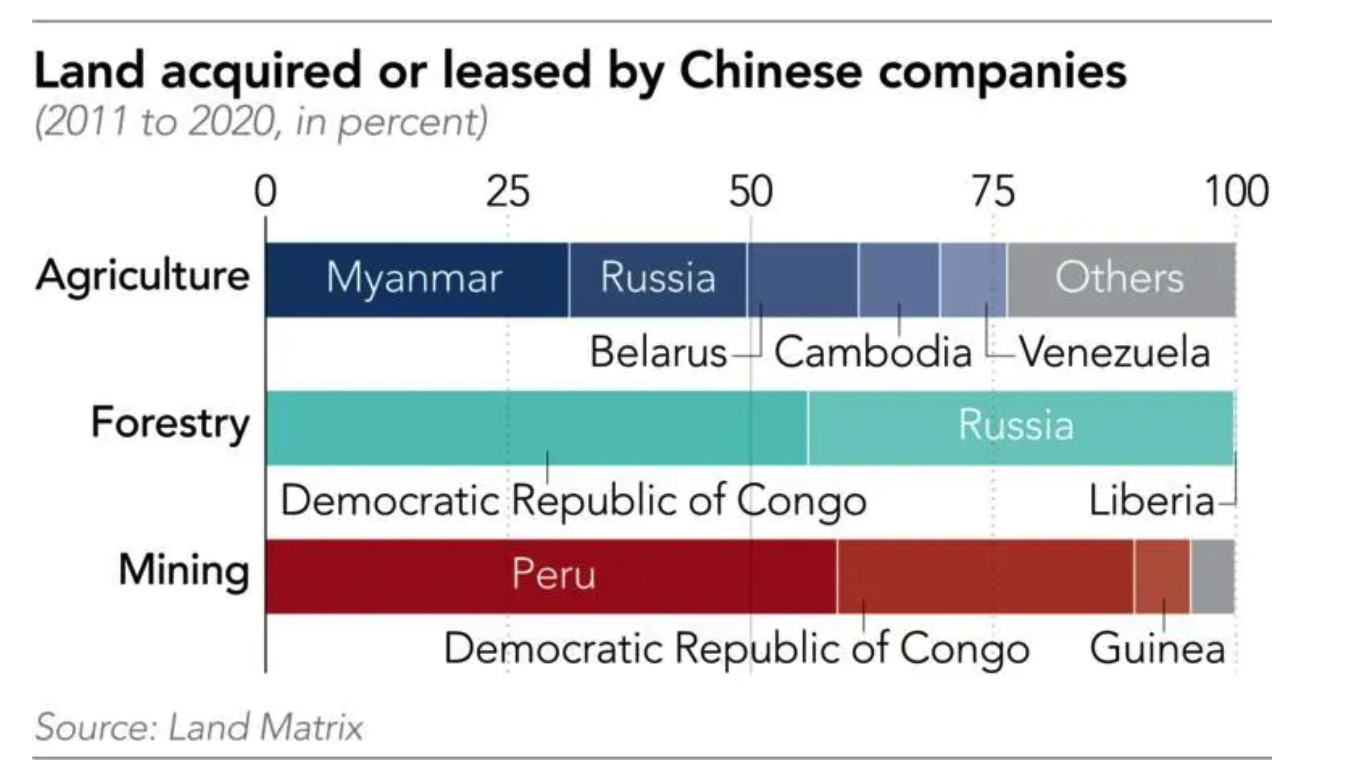 — China accused the U.S. of waging a "sinister" campaign to halt its rise, as the Biden administration moved to counter Beijing's growing global trade influence and domestic political crackdowns. Six months into his presidency, Biden is revealing a hard-edged China policy that suggests relations between the world's two biggest economies are only going to get worse — see next item.
— U.S. steps up pressure on businesses over Xinjiang situation. The U.S. State Department, Treasury Department, Commerce Department, Home Security Department, Labor Department and Office of the U.S. Trade Representative issued an updated "Xinjiang Supply Chain Business Advisory" (link to the advisory) to "highlight the heightened risks for businesses with supply chain and investment links to Xinjiang, given the entities complicit in forced labor and other human rights abuses there and throughout China." The new advisory updates one issued in July 2020. The new advisory now includes information from the Department of Labor and USTR which it said are now co-signatories to the advisory. The update stated that China "is perpetrating genocide and crimes against humanity in Xinjiang" and it provides "specific information regarding risks related to investment in PRC [People's Republic of China] companies linked to surveillance and forced labor in Xinjiang." The new guidance does not have the force of law, but "strengthens recommendations for businesses regarding the risks and potential exposure" for supply chains and investment in Xinjiang.
     The new update also outlines the list of U.S. gov't enforcement actions taken and provides information on silicon and polysilicon supply chains linked to Xinjiang along with providing "a list of other countries' relevant regulatory provisions and information on forced labor in supply chains."
     China reaction. While there has been no formal reaction from China to the updated U.S. advisory, the Xinhua News Agency published a white paper on "Respecting and Protecting the Rights of All Ethnic Groups in Xinjiang" that it said was released by the State Council Information Office. Link to the white paper. The focus on the situation in Xinjiang has intensified around the globe with the U.S. and other countries putting increased pressure on China over the situation. The potential to impact a broader array of business actions is on the rise relative to the Xinjiang situation and it so far has not yet brought a broad response from China even though the country continues to deny the allegations made relative to its actions in the region.
— China's summer wheat crop climbs from year-ago, though quality a concern in some areas. China's summer wheat crop climbed 2% from 2020 levels to 134 MMT on a rise in both planted acreage and yields, the country's National Statistics Bureau said in a statement. The country's summer wheat crop accounts for most of China's wheat production. However, heavy rains leading up to and during harvest for Shandong, Henan, Hebei and Hubei, major producing provinces, did cause some quality damage. The year-over-year rise in China's summer grain crop pushed its total summer grain output to 145.82 MMT, up 2.1% from the year prior. Summer grain acreage increased for the first time in six years, reflecting China's shift to a focus on food security and bolster production.
 
---
TRADE POLICY
---
— Senators push to ease Cuba trade ban. A new bipartisan push in Congress to open Cuba for U.S. agriculture stands at least a chance of moving ahead with a trade relationship that has bedeviled American presidents over decades. Despite industry support, it won't happen without a fight from Cuban Americans in the GOP who have protested any move seen as benefiting the island's communist government.
— Readout on Tai, Truss meeting yields little on U.S./UK trade deal prospects. A brief readout of the meeting between U.S. Trade Representative Katherine Tai and U.K. Secretary of State for International Trade Elizabeth Truss noted the two "celebrated" the Large Civil Aircraft framework reached between the U.S. and U.K. that "strengthens the cooperative relationship between the two countries in the aerospace sector." They also noted the deal "creates a platform for future collaboration on shared challenges, including those posed by the anti-competitive practices of China and other non-market economies." As with their session in June, the recap noted the two agreed to work together "to promote fair competition, enhance the international trade system, and address forced labor issues." The latter is viewed as clearly a reference to the actions of China.
     As for a U.S./U.K. trade deal, the readout simply said the two "committed to continue strengthening the trade and economic partnership between the United States and United Kingdom." Truss told Bloomberg TV she did not expect quick action on a U.S./U.K. trade deal, noting she has "never set a deadline for any trade negotiation, because the important thing is to get the right deal that works for both countries."
 
---
ENERGY & CLIMATE CHANGE
---
— China is launching the world's largest emissions-trading program. The carbon market is meant to help the country lower greenhouse-gas emissions and achieve its goal of reaching peak emissions before 2030 and carbon neutrality, or net zero emissions, by 2060. Based on regional pilot projects in the previous two years, the average price on the national market is expected to be the equivalent of $6.18 to $7.73, Zhao Yingmin, China's deputy environment minister, said today. Link to details via the WSJ.
— The European Union is proposing a sweeping program to transform the region's economy to fight climate change, slashing its reliance on fossil fuels and potentially jolting global trade with import levies that would hit high-emitting countries. The taxes are expected to apply to goods like aluminum, steel, electricity, cement and some fertilizers, according to a leaked draft (link).
     The EU's blueprint, branded "Fit for 55," calls for its 27 members states to cut their output of greenhouse gases 55% by 2030, when compared with 1990 levels, by setting tougher targets for almost every industry, especially those blamed for contributing the most to global warming, like automakers, airlines, steel producers and energy firms.
     Some details in the plan: Automakers will face pressure to phase out internal combustion engines sooner; airlines will be compelled to use synthetic fuels; steel makers will need to pay more for emissions credits; and electricity producers will be pushed to speed up the switch to wind, solar and hydropower. Most contentiously, a border carbon adjustment tax would impose tariffs on the emissions linked with products imported from outside the EU.
     EU governments will be able to draw on a fund worth 750 billion euros, or $890 billion, to make the transition to cleaner energy, the New York Times reports. Ursula von der Leyen, the president of the European Commission, has made the "European Green Deal" one of her top priorities and can draw on support from Europeans increasingly alarmed by wildfires, record hot summers, severe storms and other tangible evidence of the toll of climate change. The diplomatic cost of today's move is seen as a small price to pay, the NYT said.
— TV ad: Fix the RFS. The American Fuel & Petrochemical Manufacturers is out with a six-figure, multi-channel ad campaign that calls on President Joe Biden to fix the Renewable Fuel Standard to bring down ethanol mandate costs and help U.S. refineries. The TV buy will air in Pennsylvania, Delaware, Maryland and Washington, D.C. Link to ad.
— Brazil raises mandatory biodiesel blend. Brazil's government raised the mandatory blend of biodiesel into diesel from 10% to 12%, which is still shy of this year's 13% target. In a statement, Brazil's Mines and Energy Ministry said its national energy policy council raised the blend to 12% "in order to avoid an excessive increase in the final price of diesel to the final consumer." On April 9, the government lowered the biodiesel blend mandate from 13% to 10% to lower fuel prices. The bulk (around 70%) of Brazil's biodiesel is produced from soyoil and prices of soybeans have soared amid strong demand.
     A similar story for corn and a slow start for the country's sugarcane crop means there has also been a push to lower the amount of ethanol blended into fuel from the current 27%. Roughly 90% of Brazil's ethanol is made from sugar cane and the remainder from corn.
 
---
CORONAVIRUS UPDATE
---
— Summary: Global cases of Covid-19 are at 187,837,101 with 4,049,853 deaths, according to data compiled by the Center for Systems Science and Engineering at Johns Hopkins University. The U.S. case count is at 33,914,922 with 607,771 deaths. The Johns Hopkins University Coronavirus Resource Center said that there have been 334,932,236 doses administered, 159,675,163 have been fully vaccinated, or 48.6% of the U.S. population.
— Washington Monument reopens today after being closed for six months due to Covid-19 safety measures. Tickets must be purchased through recreation.gov; none will be sold on site. The monument first closed for the coronavirus pandemic in March 2020. It reopened in October and closed again in January.
 
---
POLITICS & ELECTIONS
---

— Biden vows to protect 'sacred' right to vote from GOP limits. President Biden decried a flurry of new Republican-backed state laws restricting voting rights, calling them "unconscionable" attempts to "deny the will of the people" — primarily, people of color — and "the most significant test of our democracy since the Civil War" during a speech in Philadelphia. But while Biden vowed to do everything possible to fight back, he was blunt about the dim prospects in a deeply polarized Congress for Democrats' proposed legislation to strengthen federal voting rights laws.
— Texas hold 'em: Texas state House members voted Tuesday to send law enforcement to find and return absent Democrats, a day after dozens of Democratic House members fled the state to kill election legislation.
 
---
CONGRESS  
---

— Vice President Harris signals she is discussing filibuster changes with senators. If the rules stand in your way, change them. And with a major voting bill stalled, VP Kamala Harris told NPR (link) that she won't negotiate changes to Senate rules publicly, "but I'm certainly having conversations with folks." Harris said that she believes that "of all of the issues that the U.S. Congress can take up, the right to vote is the right that unlocks all the other rights. And for that reason, it should be one of its highest priorities." Pressed on whether she is advocating that senators support a carveout to the filibuster for voting rights proposed by Rep. James Clyburn (D-S.C.), Harris said, "I don't mean this in any offense, but I'm not going to negotiate this way. But I'm certainly having conversations with folks." Clyburn, a close ally of President Biden, has suggested allowing bills related to the Constitution, including voting legislation, to pass with a simple majority. That could be achieved with the votes of all 50 Democrats and Harris breaking a tie in her role as president of the Senate. Clyburn told Politico he addressed the idea with Harris. "Obviously it's going to require all the Democrats in the Senate to agree with that approach," Harris said, referring to the exception proposed by Clyburn.
— House appropriators clear ag visa amendments. The House Appropriations Committee approved $52.81 billion in funding for Homeland Security for the fiscal year 2022 and included several measures related to the ag and food system labor workforce. Among the amendments adopted included:
Allowing more flexibility in issuing employment-based and other visas;

Expanding the H2B visa program — which supplies workers for restaurant, forestry and seafood sectors;

Expanding agricultural work opportunities to nonimmigrants.
— Marijuana legalization. Senate Majority Leader Chuck Schumer (D-N.Y.) today will introduce a draft of legislation that would legalize marijuana on the federal level. The bill will be called the Cannabis Administration and Opportunity Act and is meant to spur discussion for a formal introduction of the bill and comprehensive reform. Reports suggest it would direct some tax revenue from marijuana sales to minority communities, give the FDA oversight of cannabis regulation and retain some federal drug testing provisions. Marijuana is still classified as a Schedule I drug under federal law, meaning it's on par with heroin, LSD, shrooms and ecstasy. It's also against federal law to grow, sell, or use pot for any use, including medical purposes. Despite being prohibited by federal law (different administrations have taken various approaches to enforcement), 36 states and D.C. currently have laws legalizing marijuana for either medical or recreational use. Meanwhile, marijuana sales are expected to top $24 billion in 2021, marking a 40% Y/Y increase, forecasts Roy Bingham, co-founder and chairman of BDSA, a cannabis market research firm.
 
---
OTHER ITEMS OF NOTE     
---

— Four lawsuits against Dow and its successor company, Corteva, were filed in California on Monday seeking potential class-action status after the pesticide chlorpyrifos was linked to brain damage in children, reports the Associated Press (link).
---