First Thing Today Audio | July 27, 2021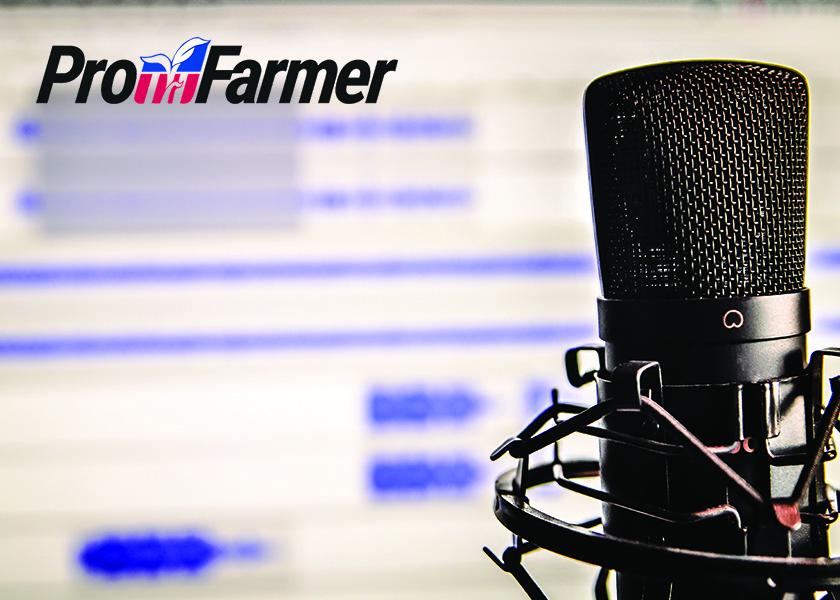 Corn futures are 7 to 9 cents higher, and soybeans are up 17 to 20 cents after USDA unexpectedly lowered its crop condition ratings yesterday. Its spring wheat crop estimate also dropped more than the market anticipated, helping to lift nearby HRS contracts 9 to 13 cents. HRW wheat futures are up 6 to 7 cents and SRW wheat futures are up 2 to 3 cents. The greenback is slightly higher, as are crude oil futures.
Following are highlights from USDA's crop progress and condition update for the week ended July 25.
Corn: 79% silking, 18% in dough, 64% "good" to "excellent" (G/E)

Soybeans: 76% blooming, 42% setting pods, 58% G/E

Spring wheat: 97% headed, 3% G/E

Winter wheat: 84% harvested

Cotton: 78% squaring, 37% setting bolls, 61% G/E
Heat advisories and excessive heat warnings are in effect for the North Plains and western Corn Belt, with heat expected to stretch all the way down to the northwestern Gulf Coast. Temperatures are expected to climb well into the 90s or 100s as soybeans go through or near key development stages.
Crop Consultant Dr. Michael Cordonnier maintained his U.S. corn yield projection of 175.5 bu. per acre this week, and his bias is neutral going forward. Cordonnier also stuck with his U.S. soybean yield projection of 50 bu. per acre and his bias is neutral going forward.
Brazil's late-planted safrinha corn crop has already been clipped by frosts and a third round is expected for southern Brazil this week. It's expected to be the worst so far this year and further damage crop quality. Consequently, Cordonnier lowered his Brazilian corn crop estimate another 2 MMT.
Scouts on the Wheat Quality Council HRS tour will begin sampling spring wheat crops in North Dakota and neighboring areas today through Thursday. Given this year's devastating drought and shockingly low crop ratings, attention on the Tour is elevated.
The latest WHIP+/ag disaster bill authorizes up to $8.5 billion for eligible 2020 and 2021 disasters. It would cover losses via drought, high winds, excessive heat and polar vortexes, and would also cover power outage, losses to wine grapes impacted by smoke and allow direct payments to sugar and dairy cooperatives for losses, including milk dumping, that affect an entire co-op.
Lawmakers had previously set Monday as a target for closing out their talks on a roughly $1 trillion agreement. Republicans rejected a counteroffer advanced by the Biden administration and Democrats, saying it attempted to reopen settled issues. Democrats accused Republicans of stalling.
Choice boxed beef values jumped $1.30 yesterday and Select strengthened 98 cents, with 106 loads changing hands. Prices have been climbing since last Wednesday, but until Monday gains had been subdued.
Hog futures strengthened to start the week thanks to gains in the product market, seasonally tight supplies, futures' discount to the cash market and improving market technicals.
---