Once, Twice, Sold! 80 Acres in Iowa Sold for $22,600 Per Acre, Sets New State Record
AgDay 09/01/21 - Iowa Record Land Sale
The bull-run on Iowa farmland sales continues to play out in August. Less than two weeks after a piece of farm ground in Iowa sold for $19,000 per acre, a new record sale was posted in Iowa Friday, cashing in at $22,600 per acre. That tops the previous record by $300 per acre.
The sale was on 80 acres of ground in Grundy County, Iowa, which is located west of Waterloo. The ground did include a wind turbine, which helped drive up the price as of the record sale.
"The farm did have a wind turbine on it," says Jim Rothermich, of Iowa Appraisal and Research. "The buyer was an investor-buyer, and the runner-up was also an investor. So, the wind turbine income stream did help the purchase price reach that high, but most of that 80 acres, or the lion's share, was all farmland."
Iowa Appraisal and Research says there were 80 to 85 attendees of the sale, including online bidders. 
Eye-Popping Sales Continue 
Rothermich tracks farmland sales and values in Iowa. He says while the new state-wide record sale was eye-popping, it was only one of the county-wide record sales he has tracked across Iowa.
"Last week was just amazing," he says. "I think there was five counties that set new price records last week. As a matter of fact, in Carroll County, which is in west-central Iowa, they set a record on Aug. 20 of $17,600 an acre and broke it just six days later with a sale of $18,300 an acre. That is how strong this market is, and it's still moving up."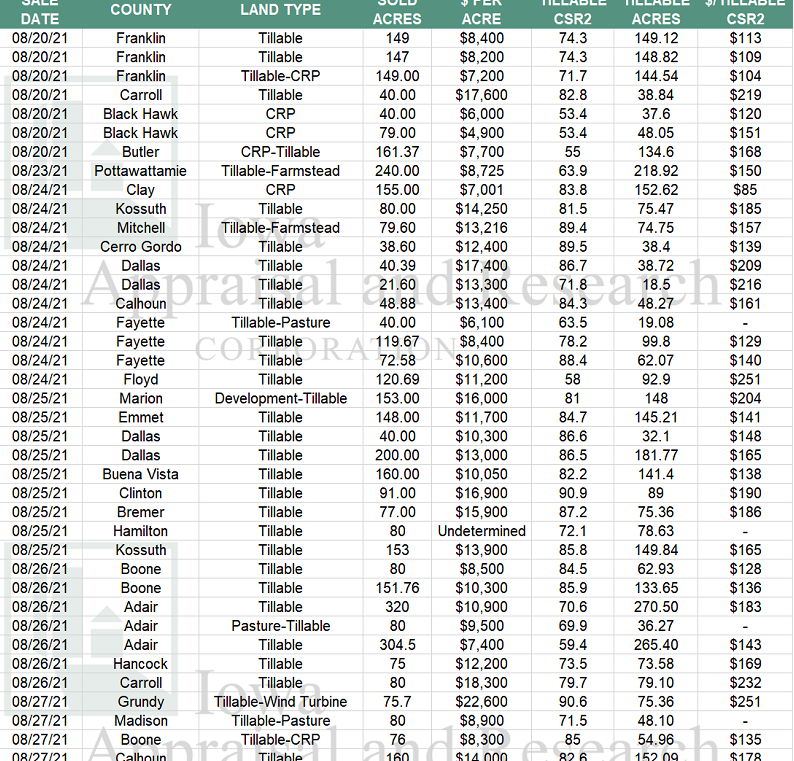 Farmer and Investor Buyers 
Rothermich says the county-wide record sales, including the one for $18,300, was more than likely a farmer-buyer. He says there are still more buyers than sellers in the market, which is helping fuel the record land sales. Inflation and a strong crop production outlook in the state are also key factors aiding the high-price bids and sales, even from investors.
"Buyers are being very aggressive in the market right now," he says. "When you have a farm that's got a wind turbine on it, investors look at that income stream a lot more lucratively than a farmer would. I would say that income stream off the wind turbine helped that farm out tremendously."
Is the Top In? 
Rothermich says Iowa farmland prices have no top in sight. He says the last time Iowa saw high prices was in 2012-2014, but he thinks Iowa will exceed those price levels this fall. The record sale on Friday is a sign of that.
"With runup this week in prices, I would say it's signaling for farmers we're going to have a good crop here in Iowa," he says. "These higher prices this late in the growing season is indicating the farmers are expecting a good crop. It's telling me we're going to have some good yields here in Iowa and we're going to continue to see the market move up."
Illinois Farmland Prices On the Move
Farmland values are also climbing in Illinois. The latest Chicago Federal Reserve Ag Credit Survey shows a 14% jump in farmland prices year over year during the second quarter, which marks the largest recorded increase since 2013. 
The Illinois Society of Professional Farm Managers and Rural Appraisers conducted their own survey and found during the first half of the year, farmland prices in the state rose by 20%.  They say that's happened in only four out of the last 51 years.
Cash rents next year are expected to increase by 11% over this year.
To read more on the record-breaking sale, click on the Iowa Land Company auction details below.