Ohio Farmers Eye Possibility of Record Corn Crop to Kick Off Pro Farmer Crop Tour
AgDay 08/16/21 - Ohio Conditions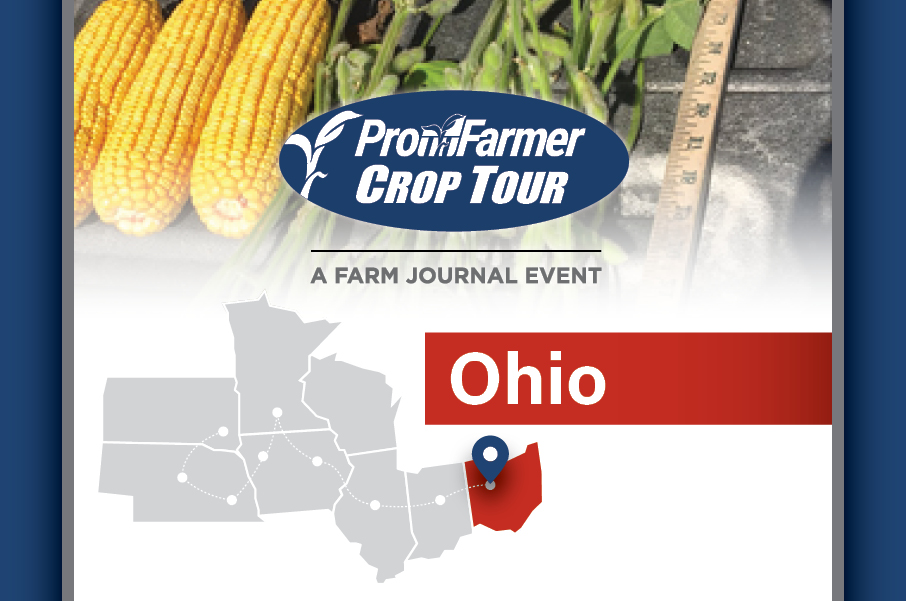 Drought conditions continue to plague portions of the Western Corn Belt, but in the East, it's a much different story with Ohio farmers potentially sitting on an above average crop. 
USDA's current crop condition ratings, which will be updated later today, show Ohio's corn crop rated 80% good to excellent. That's well ahead of the national average of 64%. For soybeans, 73% is rated good to excellent in the state, also well above the average, and it's a story being told on the ground in Ohio.
"I've had people year-long ask me how this corn crop's doing. I say I get up every morning and pinch myself. If you had to write a script at how you wanted it to turn out, this would be it," Mike Vallery, a farmer in Sedalia, Ohio told Joe Camoriano of Ohio State University. 
Near perfecting planting conditions helped the crop get off to a vigorous start. And that optimism continues to sprout for Ohio farmers like Vallery, even as weed control seems to be effective this year.
"As far as this week on our corn, if you have it rated on a scale of 1 to 5, I feel like we're in a 5 on the corn," says Vallery. "And I feel like we're on a 4.5 with the beans. If we could just finish out the month of August with some good rain, I think, I'd call it a 5 on the beans, too."
In its latest production report, USDA projects the Buckeye State to produce 193 bu. per acre average yield, well above last year's pace and also above the national average. Soybeans are currently forecast at 58 bu. per acre yield in Ohio, 4 bu. per acre above last year. 
"It got snowed on. It got rained on - excessively," says Vallery talking about his soybean crop. "And it still came up and out of 850 acres, we had 8 acres of replant. Not bad."
Ideal Weather 
Through June, portions of the state saw drier conditions and warm temperatures, but July greeted farmers with almost two times the normal amount of rainfall. 
"And then so far in August, we've had a bit of cooler than average conditions through the first week, but really dry," says Aaron Wilson, climate specialist, Ohio State Extension. "So, we've flipped the switch back to dry conditions now when we really need some rainfall."
Minimal Pest Pressure

Insect pressure has been fairly quiet this year, with not a lot of concerns for pests, The one issue starting to reveal itself is disease pressure in soybeans.

"Frogeye leaf spot is one that we hear of, and that is west central Ohio, southern Ohio primarily," says Laura Lindsey, Ohio State Horticulture and Crop Science. "There are diseases. It's not a huge problem right now, but always something to keep an eye out for."

An optimistic outlook for Ohio farmers who are now holding on to hope they can cash in on a record crop this year. 
See Pro Farmer Crop Tour Daily Results Live Each Night This Week
Even if you're not on Pro Farmer Crop Tour this week, you can still see the results as they are released each night. Register and attend nightly meetings in person or watch the nightly broadcast live at 7 p.m. Central to receive daily results, scouting observations and historical comparison data from our tour leaders.

Register Now for Crop Tour