Crop Tour Scouts Find Eastern Iowa, Southern Minnesota in Dire Need of Rain to Salvage Yields
AgDay 08/20/21 - Pro Farmer Day 4 Eastern Iowa/Minnesota
An area in Iowa devastated by the derecho last year was where scouts on the 2020 Pro Farmer Crop Tour waded through damaged fields. During the tour, scouts were trying to measure what seemed to be the impossible with tangled corn stalks and down corn. The issue was determining what could be salvaged and what couldn't.
This year, scouts on the 2021 Pro Farmer Crop Tour saw drought damage instead of derecho devastation in eastern and north-central portions of the state.
"If Brian wants to talk about Iowa being a swing state, that's the sweet spot in Iowa," Chip Flory said during the third night of Crop Tour, as the teams previewed where their routes would take them to wrap up the tour.
Where scouts were scattered across eastern Iowa on Thursday, they saw moisture was clearly missing and impacting crops.
"I knew it was dry, I just didn't anticipate it to be quite as dry as what it is," says Brian Grete, Pro Farmer Crop Tour director. "I don't think it's drought, per se, I think it's dryness, and it will have an impact late in the year if they don't get some rains."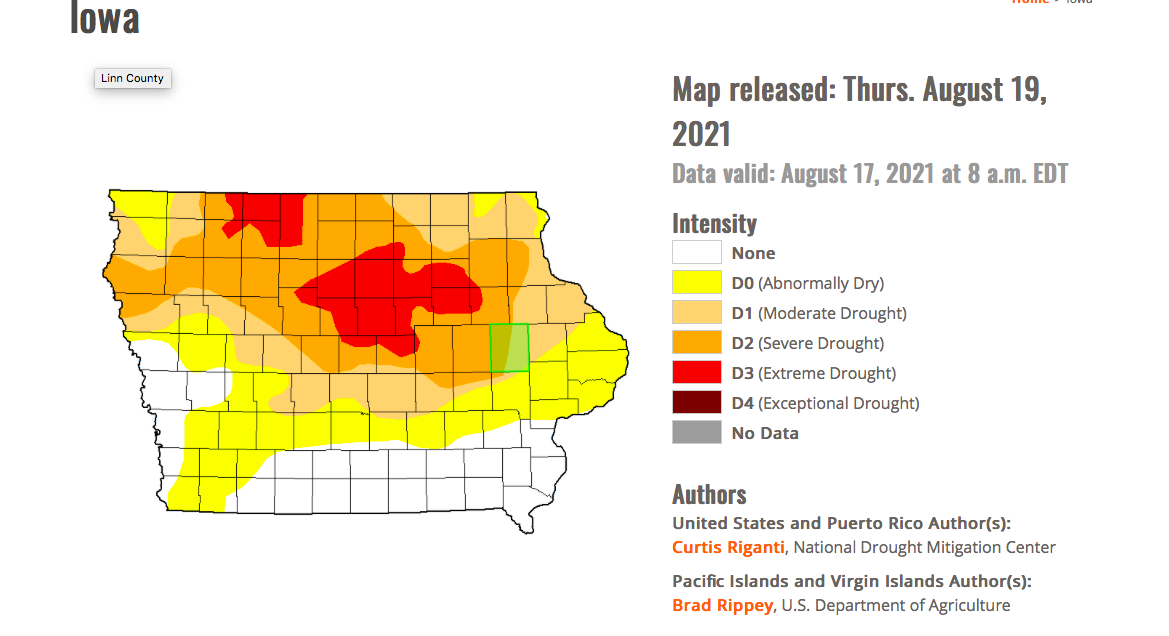 The latest U.S. Drought Monitor released on Thursday shows 79% of Iowa is covered in drought, and the extreme category, or what's shaded in red, grew more than three percentage points since last week. 
Grete says rains need to come in the next two weeks to help the crop in portions of eastern Iowa. 
"If you look at the drought monitor map, this area shows up as being dry, but it doesn't show up as being quite as dry as what it is," he adds.
And from field to field, he says the crops were still hanging on despite drought stress, a different view from what scouts found during the tour on Wednesday in western Iowa. Some scouts even say portions of the west-central Iowa may be the "garden spot" this year.  
"So, they had a phenomenal start to the growing season in many of these areas," says Grete.
The phenomenal start was propelled by the dry weather, as planting wasn't interrupted by heavy rains, and stand counts became solid. Scouts found ear counts in Iowa up 5.6% from last year. As dryness continues, the solid start to the crop now has a questionable finish.
"We're going to need a rain on a lot of this crop here late in the growing season to really maximize what potential is still out there," says Grete.
Scouts found potential in portions of eastern Iowa soybean fields, with pod counts producing more potential, and still desperate for a drink, which showed up in Pro Farmer Crop Tour state-wide data for Iowa. Scouts determined moisture in soybean fields sits 31% lower than the three-year average.
"From what I've seen, the soybean pod counts have been pretty rock solid so far," says Grete. "On some of the soybeans, I would say we're still measuring yield potential because they still need to plump up and if they get rains to plump up those pods, the yield is going to rise."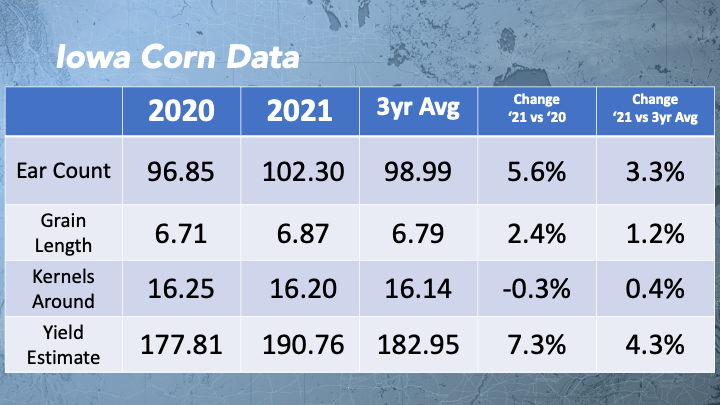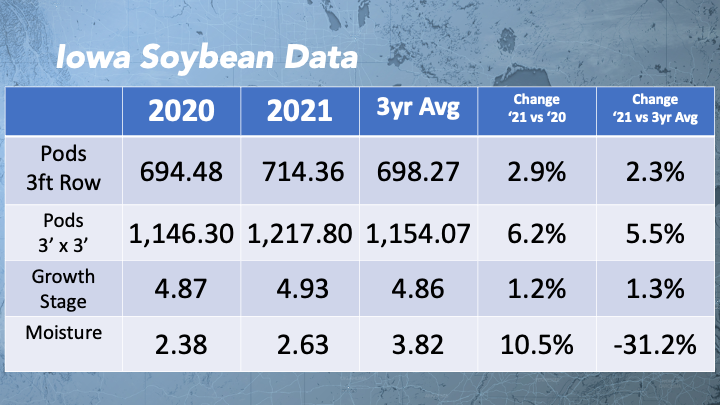 Minnesota Also Missed Rains
As scouts on the eastern leg of the tour inched north, they moved closer to scouts on the western portion of the tour who were scouting Minnesota. .
Scouts near Blue Earth, Minn., saw dented corn and dry conditions.
"You kick the soil and it's dry on top," says Tim Gregerson, a scout on the western leg of Pro Farmer Crop Tour this year. "It looks like about 3" down, there's a little bit of moisture. "
As scouts grabbed ears across the Minnesota fields, the results were extremely mixed
"Our first samples in Blue Earth were monsters," says Gregerson. " I mean, it was like right at 270 [bu. per acre]. Then we dropped down to about 190 [bu. per acre] on our second sample.
As the scouts started to see more stress, it was a theme that spilled over into the soybean crop, as well. The Pro Farmer Crop Tour found soil moisture in soybean fields declined 36% compared to the three-year average.
"There's dryness problem here; they're going to need another couple of rains to really fill out these pods and complete the crop," says Bruce Blythe, of Pro Farmer, who was scouting the same fields in Minnesota.
Scouts say those rains need to come within the next five to seven days to save the crop potential in area fields.